The Island Where France's Colonial Legacy Lives On
A memorial for the slaves of Guadeloupe has become a flashpoint for still-unresolved social and economic grievances.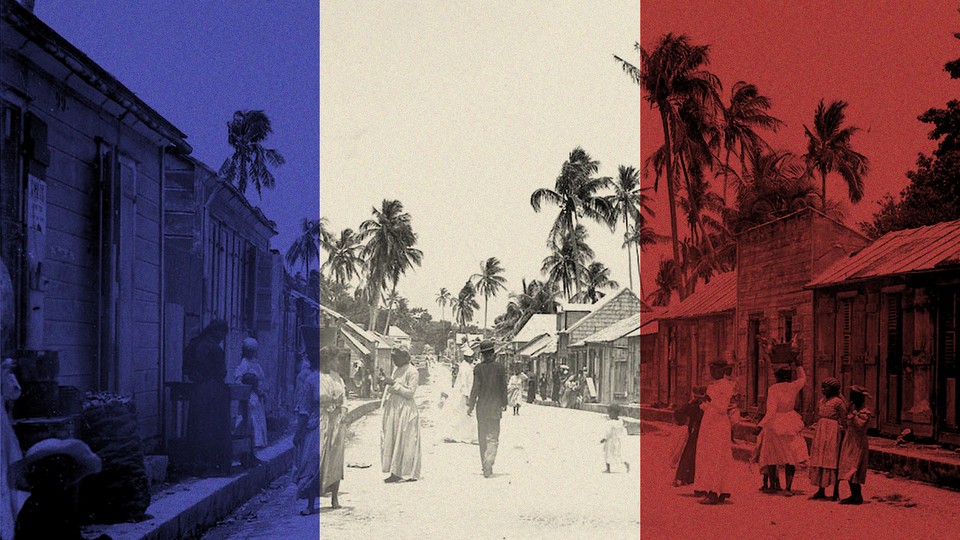 Long before it became the first slavery memorial in the French West Indies, the Darboussier Sugar Factory powered France's Caribbean empire. In the 19th century, the 77,000-square-foot factory, located in Pointe-à-Pitre, the largest city on the butterfly-shaped island of Guadeloupe, exported goods produced by slaves to mainland France. In the process, it transformed the Lesser Antilles from a forgotten tropic into an economic El Dorado. Today, the factory, which was abandoned after France officially abolished slavery in its colonies in 1848, is known as Memorial ACTe. Strings of quartz, meant to represent the lost souls of the slave trade, crawl up its black-box-like exterior, embodying what has become the memorial's unofficial motto: Memory Inspires the Future.
Guadeloupe's colonial history began when Christopher Columbus first set foot on the island in 1493. It was passed from native Arawaks to Carib Indians to the Spanish until the French expelled them and slaughtered the local population, officially claiming Guadeloupe as a colony in 1635. In 1946, it became a French département, an ambiguous status giving the island a locally elected government that reports to the national government in Paris. The effort to build Memorial ACTe began 58 years later when Victorin Lurel, Guadeloupe's representative in the French Assembly, announced that the island needed a slavery memorial so that "the children of Guadeloupe [could] create a new humanism based on reconciliation and fraternity." The decision to build it on the site of the old factory was a symbolic gesture towards "rebirth," as Lurel put it.
But for some, the very idea of a slavery memorial in Guadeloupe is an odd gesture. Nearly three-quarters of the 405,000 people living on the island descend from West African slaves, but many have little connection to their ancestry. When slavery ended, former slaves were declared French citizens—yet no official record of their ancestors' arrival to the island exists. It was as if history had been wiped clean, plunging Guadeloupean society into a "cultural amnesia," as Jacques Martial, a French actor who is currently the chairman of Memorial ACTe, put it. "Everyone wanted to forget the past after 1848, and nobody could. Guadeloupeans were saying, 'Enough is enough. We cannot go forward and forget our ancestors.'"
Yet Memorial ACTe, which today receives up to 300,000 visitors a year—nearly all of them foreign—has been a source of controversy since its inauguration on May 10, 2015. On that day, François Hollande, then the president of France, toured the memorial and declared that "France is able to look at its history because France is a great country that is not afraid of anything—especially not of itself." But outside the memorial, the mood was anything but reflective. Protestors had gathered, chanting: "Guadeloupe is ours, not theirs!" Most of them regarded the presence of a French president, especially one inaugurating a slavery memorial, as an extension of France's colonial legacy. Others demanded not a memorial, but reparations: Most of the cost of the memorial had been paid out of local tax revenue, according to the European Commission—a steep price in a place where the average salary is less than 1,200 euros a month. For many Guadeloupeans, the memorial offered France an out, a way of exonerating itself from the bloody legacy of a 200-year slave trade without grappling with the past, as Eli Domota, the leader of the labor union Liyannaj Kong Pwofitasyon (LKP), or Alliance Against Profiteering, told me.
Sidestepping the past also appeared to be the preference of Emmanuel Macron, the current president of France. Last November on a trip to Burkina Faso, another former French colony, he gave a speech in which he argued that France's imperial history should not shape his government's current relationship with the country. "Africa is engraved in French history, culture and identity. There were faults and crimes, there were happy moments, but our responsibility is to not be trapped in the past," he said. On a trip in December to Algeria, another former colony, Macron visited President Abdelaziz Bouteflika and urged the country's youth "not to dwell on past crimes." In March, he said that French should be the official language of Africa, because it is the "language of freedom." His first and only visit to Guadeloupe came after Hurricane Irma, when he pledged that France would pay 50-million euros of aid and provide Guadeloupeans with free flights to France. But locals criticized his visit, saying that white tourists were given priority access to emergency supplies. Macron has not visited the Caribbean since.
Among Guadeloupeans, then, there remains a fundamental tension over how to navigate their "French" status—especially on an island whose local economy caters almost entirely to French tourists. Whether Memorial ACTe has helped resolve that tension is an open question. But the opposition to it has revealed two contrasting visions for Guadeloupe's future: continued unity with France, or complete autonomy from it.
Not unlike Puerto Rico for America or Anguilla for Britain, Guadeloupe is France's modern colonial problem. Guadeloupeans have French passports, can travel freely within the European Union, and can vote in French elections. (In the last presidential election, Guadeloupe's abstention rates were higher than 60 percent.) Outside of the classroom and outside of the cities, Creole is the unofficial language. Guadeloupeans follow the French legal and political system; in school, they learn from the same curriculum as students in mainland France.
But few in Guadeloupe enjoy a quality of life comparable to that of mainland France. Although Guadeloupe receives 972 million euros from the EU each year, its youth-unemployment rate has hovered around 50 percent for decades. Much of the local economy is still controlled by békés, descendents of white French slave owners who received reparations from the French government after 1848 after losing their livelihoods.
The discontent black Guadeloupeans feel towards France dates back to the 1950s. In those years, a number of black Guadeloupeans, Martiniqueans, and French Guianans, emigrated to mainland France in search of work. But many returned home, disenchanted by the lack of opportunity. At the same time, violent anti-French separatist groups began to form, headquartering in Guadeloupe. Support for them grew through the 1960s and 1970s. Spray-painted local Creole slogans like "French Assassins" and "Frenchmen Out" appeared in Pointe-a-Pitre. In 1980, after setting off 15 bombs over nine months, the Guadeloupe Liberation Army issued a warning to all white French people on the island to "pack their bags and leave." The French government began to panic, and enforced new laws for all its départements: Anyone who threatened the "territorial integrity" of France was subject to arrest. Undercover police began heavily surveilling suspected activists, forcing many into exile.
In 2009, Guadeloupeans staged a protest over exorbitant oil prices, which are determined by France. Soon, the protests morphed into a 45-day national struggle against colonial exploitation. Led by Domota, the leader of the trade union, 100,000 people took to the streets, many chanting what became the movement's slogan: "Guadeloupe is ours, not theirs!" (It would be heard again on the day of Memorial ACTe's inauguration.) Soon, Guadeloupe's international airports shut down. The Sarkozy government sent 500 soldiers to quell the situation, further aggravating protestors. One died. By the end of March, Sarkozy summoned labor leaders from Guadeloupe to Paris to negotiate a 120-point reform plan that granted workers higher wages—but not independence.
Yet, as Yarimar Bonilla argued in her book French Caribbean Politics in the Wake of Disenchantment, the 2009 protests did more than channel a growing frustration with France: They sparked a major shift in the Guadeloupean political imagination. What was both du jamais vu (never seen before) and de l'impensé (unimaginable) was suddenly a living possibility. What began as a growing resentment towards what many local workers referred to as la pwofitasyon—a Creole expression referring to abusive colonial power, profit, and exploitation by the French—grew into a "strike that addressed the lingering social legacies of colonialism and slavery, particularly the racial hierarchies that persist on the island and the discrimination felt by local workers," Bonilla wrote. Though the strikes did little to alter Guadeloupe's status as a territory of France, the movement made it clear that a growing number of Guadeloupeans weren't just dissatisfied with being deemed French. They wanted mainland France to change how it saw them.
---
When I came to Pointe-a-Pitre last February to learn more about France's racial history, I initially found little evidence of its violent past. The city was a modern labyrinth of colossal concrete apartment buildings, paved highways, and hybrid cars rented by tourists heading in every direction towards the island's virginal white beaches. But an underlying discontent, if not resentment, towards France, seemed to persist. "The Guadeloupeans are like the people in Paris' banlieues," a taxi driver explained to me, using a pejorative term for the slums outside of Paris that house mostly immigrants. "Except with warm weather."
Built just off the bay of Pointe-a-Pitre, Memorial ACTe is a massively modern two-story structure, with gleaming wiry beams and a series of statues outside. On my three-hour guided audio tour of the memorial, an American-accented voice told me the story of the first French people to arrive in Guadeloupe in 1626 to establish a trading colony. The tour included a series of interactive virtual maps and props, including various types of whips and shackles. The memorial's exhibition was divided into six rooms, featuring work from internationally reputed black artists like Kara Walker, Shuck One, and Abdoulaye Konaté.
But when it came to the memorial's depiction of the present, the narrative seemed to recede: A single dark room featured flickering abstract images of "present-day Guadeloupe" filmed by Nicolas Mérault, a Guadeloupean graphic designer. I watched a screen that showed water slowly trickling over an unknown face. The next screen showed a dilapidated building, with a few birds perched on its balcony. The room offered no questions, no explanations, no words.
Museums and monuments can serve to consecrate history, and play a vital role in citizenship itself. As Hannah Arendt wrote in her book The Human Condition about World War I memorials: "The erection of the monuments [was] to the 'unknown,' to all those whom the war had failed to make known and had robbed thereby, not of their achievement, but of their human dignity." But the boundary between past and present can be ambiguous. For many who live in Guadeloupe, the past that Memorial ACTe seeks to commemorate is still very much living in their present.
"Memorial ACTe should be burned," Domota told me when I met him at his headquarters in Pointe-a-Pitre. To him and his roughly 80,000 followers, Memorial ACTe was a way for France to control, or suppress, the local culture. "All countries need museums," he explained. "But France wants to recreate history. They built Memorial ACTe just to rewrite colonial history to make us Guadeloupeans think they always loved us, they still love us, and that we should forget the past."
Yet, it is precisely a remembrance of the past that lies at the heart of Memorial ACTe's founding ambition. As Jacques Martial told me: "Les colons, the ancient slave owners, didn't want to remember what happened. But we couldn't forget." When I asked him about Domota's criticism of Memorial ACTe, he grew frustrated. "We need new answers, new ways of understanding, of making connections, not accusing each other. We are not children here. Domota's way is not the way forward. How can you pretend to educate people without telling them what happened?"
Domota said that the French had abdicated their right to tell their history of slavery—not to Guadeloupeans, at least. "Macron is not responsible or guilty of colonization, but he is an heir of it," he said. "France cannot move on from a crime that it's still benefitting from." To him, Guadeloupeans didn't need an apology or a memorial, but a chance to live in independence: to have the right to vote and legislate locally, build a grassroots economy, speak their own language, and learn their own history. "Slavery has not ended," Domota said. "We are still France's modern slaves."