This Is Not the 'End of an Era' in Cuba
The newly elected president represents an evolution of the Castro regime—an act of self-perpetuation masquerading as change.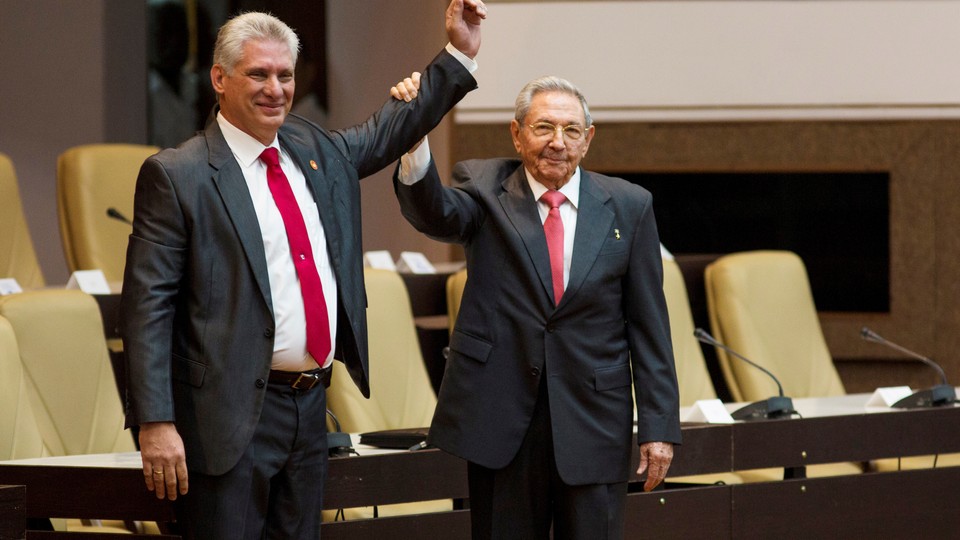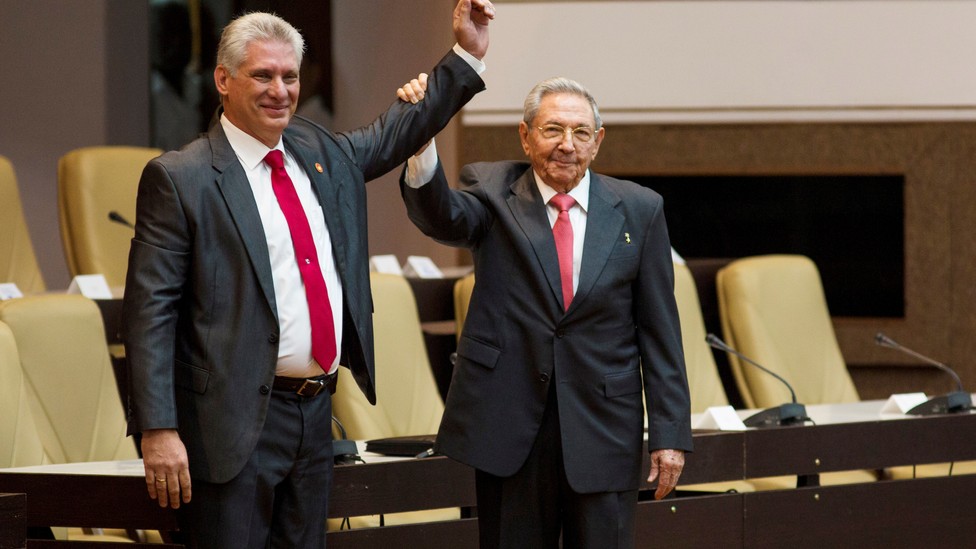 Cuba's new president, Miguel Diaz-Canel, boasts relative youth and Castro-free genes. But the myth that his election will yield significant change on the island is flat-out wrong.
His 86-year-old predecessor, General Raul Castro, was due for departure. Fidel was 81 when he handed power over to his little brother. At age 57, Diaz-Canel seems a mere babe when compared to his octogenarian predecessors. Yet in terms of policy, there is little difference between them.
Diaz-Canel's political education was forged under the Castro brothers. During his military service, he was part of their security detail. The Cold War era was an active time for the young soldier. While 20-somethings in 1980s America were watching music videos, he was Cuba's Communist Party liaison to Nicaragua, an ally of both Cuba and the Soviet Union. He has not strayed far from the family since then, assuming various roles in the Communist Party and later in government.
His loyalty has paid off. In 2013, he was appointed First Vice President. Then, on April 18 of this year, the single-party National Assembly elected him president. This was not a difficult choice for the Assembly: Diaz-Canel was Raul Castro's handpicked successor and the only candidate on the ticket. He assumed office the following day.
Though Raul Castro may no longer occupy the president's office, he is anything but a has-been. He still controls the island's power centers: the Communist Party and the armed forces. Article 5 of Cuba's constitution lays out the party's supreme authority, stating, "the Marxist-Leninist Communist Party of Cuba … is the leading force of society and of the State." And Cuba's Revolutionary Armed Forces have been led by the younger Castro since its creation in 1959. (Incidentally, Diaz-Canel is not the first non-Castro president to serve the regime. From 1959 to 1976, Osvaldo Dorticos Torrado held that title. But many today are unfamiliar with his name, because the presidency in Cuba is a powerless role when occupied by someone who doesn't control the party and the military.)
Much like in the case of Che Guevara, romanticized recollections of Diaz-Canel as a long-haired, bicycle-riding youth are at odds with the facts. Only a shrewd political operative could have survived the bare-knuckled world of Cuban politics and emerged as president.
Immediately after assuming office, Diaz-Canel ended speculation that he would be an agent of change. "I affirm to this assembly that comrade Raul will head the decisions for the present and the future of the nation," he announced. "Raul remains at the front of the political vanguard." Diaz-Canel also vowed to prevent the restoration of capitalism.
The last 59 years of Cuban history demonstrate that the government exists to serve the Castros' desire to advance communism. For years, Raul Castro fooled many into believing he was a pragmatic reformer. He pushed surface-level economic changes—enough to provide Cubans with cash, but not so much as to risk inspiring political change. Restrictions were loosened for Cuban entrepreneurs, but only under the strictest of conditions. A license was required for all commercial activity, including driving a cab and repairing a mattress. Government dissidents were excluded for obvious reasons.
While regime apologists insisted Raul would open Cuba to the world, he was busy making other plans. Under his leadership, control of Cuba's state-run economy was slowly transferred to Raul loyalists. His ex-son-in-law, General Luis Alberto Lopez-Callejas, took over GAESA, the Armed Forces Business Enterprises Group. GAESA is run as a state-owned-and-operated holding company of over 50 business entities, from airlines to currency exchange services.
GAVIOTA, the military's tourism company, is the crown jewel in the GAESA empire and the backbone of the Cuban economy. National Review editor Rich Lowry compared the setup to the Pentagon owning the Radisson, Marriott, and Hilton hotel chains. Throw in the auto rental industry, tour guides, and other enterprises that make money off various travelers, and you get the idea.
Raul's son, Alejandro Castro Espin, became a leading official in Cuba's domestic intelligence services. Under his father's direction, Alejandro shifted the mechanisms of political repression. The days of long-term political sentences are gone. In their place have come short-term imprisonments, augmented by the use of government-sponsored mobs to attack counterrevolutionary human-rights activists.
The regime arrested nearly 10,000 dissidents in 2016 alone, 498 of them during President Obama's three-day trip to the island. Cuba's long, sad history of repression will apparently continue under Diaz-Canel. He has lashed out against Cuba's dissidents and the countries that support them, and he appears to be perfectly fine with censorship.
I grew up in Miami, the daughter and granddaughter of Cuban political refugees. They left during the Mariel boatlift of 1980, after hiding out at the Peruvian embassy in Cuba. My grandfather vividly recalled hearing Fidel Castro and Che Guevara's firing squads slaughtering counterrevolutionaries. Now, the firing squads have been replaced with subtler means, but the regime remains unalterably opposed to relaxing its iron grip on power. When anticipating the future of Cuba and U.S.-Cuba relations under Diaz-Canel, it would be a safe bet to expect more of the same. Had Cuba wanted to signal to the U.S. and the international community at large that times are changing, the mid-April Summit of the Americas in Lima, Peru, would have been the prime opportunity.
Instead, Cuba gave hopeful well-wishers a single-finger salute. The Castro regime brought its police state to a peaceful gathering in Lima. State-sponsored thugs shut down meetings critical of Cuba and their Venezuelan benefactors. Even on foreign soil, dissent is not tolerated.
In totalitarian systems, titles really do not matter. Diaz-Canel's election to the presidency does not represent a new era in Cuba. Rather, it represents an evolution of the Castro regime—an act of self-perpetuation masquerading as change.