The Wild Card in the Russia Spy Case
British investigators had a strong case against Vladimir Putin. But they hadn't accounted for Boris Johnson.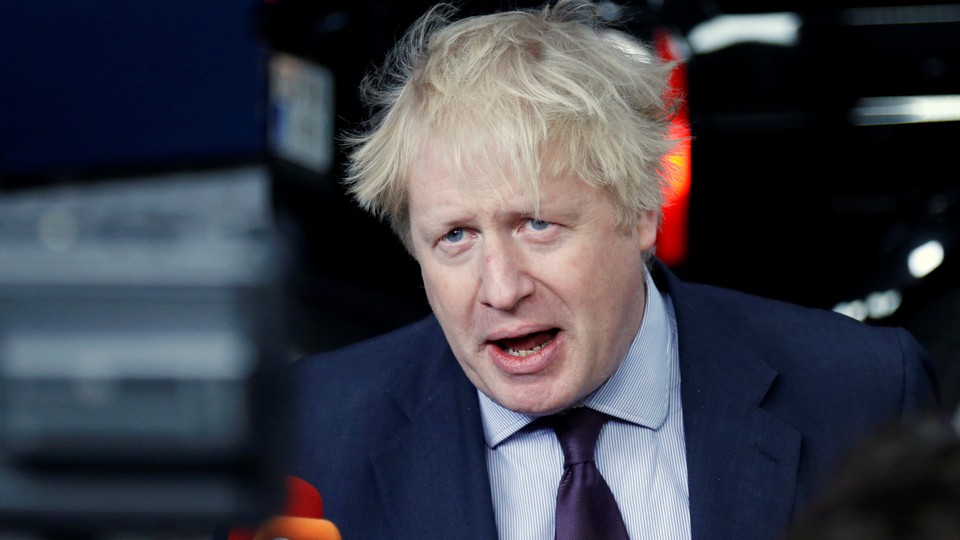 Russia has been working overtime this past month to absolve itself of alleged involvement in the poisoning of former spy Sergei Skripal and his daughter Yulia on British soil. It has claimed that it does not possess Novichok, the military-grade nerve agent used in the attack. It has accused the United Kingdom and its allies of spearheading an anti-Russia "crusade." It has even gone so far as to suggest that the U.K. might itself have been behind the attack.
But, lacking evidence to back up such claims, Moscow's effort to cast doubt on the accusations against it have been futile. That is, until British Foreign Secretary Boris Johnson stepped in.
On Wednesday, the U.K.'s foreign office confirmed that it deleted a March 22 tweet claiming that British defense laboratory Porton Down had identified Russia as the source of the nerve agent used in attack. The deletion came just one day after Gary Aitkenhead, Porton Down's chief executive, told Sky News the lab was unable to pinpoint the exact source of the nerve agent, noting: "It is our job to provide the scientific evidence of what this particular nerve agent is … it is not our job to say where it was manufactured."
This discrepancy was made even more awkward by the fact that Johnson himself spouted the erroneous claim last month during an interview with German broadcaster Deutsche Welle. When asked how the British government could be sure that the Novichok used in the attack was of Russian origin, Johnson cited the scientists at Porton Down. "They were absolutely categorical," he said. "I asked the guy myself, I said, 'Are you sure?' And he said there's no doubt."
Moscow, unsurprisingly, seized on the disparity to discount British claims about Russian involvement in the attack. In the U.K., Labour Party leader Jeremy Corbyn accused Johnson of exaggerating British evidence against Russia—a move he said left the foreign secretary with "egg on his face." Johnson fired back by accusing Corbyn of choosing "to side with the Russian spin machine."
Johnson's proclivity for diplomatic gaffes is almost as notorious as his inability to apologize for them. In September, he was lambasted for his ill-timed recitation of Rudyard Kipling's "Mandalay" during a visit to Myanmar, a move widely regarded as insensitive given its allusions to British colonial rule of the country. In October, Johnson faced further backlash after he made a crass comment about "dead bodies" in Libya. One of his most serious blunders came in November when he mischaracterized why British-Iranian national Nazanin Zaghari-Ratcliffe, who is currently being held as a political prisoner in Tehran, was visiting Iran—a move that threatened to double her sentence.
At best, Johnson's latest comments demonstrate a habit of perpetual verbal clumsiness. At worst, they were intentionally false and misleading. Though a statement by 10 Downing Street appears to suggest the former, noting that Porton Down's findings were "only one part of the intelligence picture" that pointed to Russia's involvement, the comments nonetheless demonstrate a blow to the U.K.—one that is not only self-inflicted, but that has also enabled Russia to cast doubt on the U.K.'s investigation in ways it has otherwise failed to do.
For now, Moscow's PR coup appears to be limited. Russia's call for a joint U.K.-Russia investigation into the Salisbury attack was rejected Wednesday by the Organization of the Prohibition of Chemical Weapons in a 15-6 vote (17 countries abstained). In a statement, the European Union reaffirmed its solidarity with the U.K., adding that Russia's insinuations against EU countries (including its recent assertion that the U.K. might have been responsible for the attack) are "completely unacceptable."