Exit Macron, Enter Merkel
For all his storied rapport with Trump, the French president left without securing commitments Europe wants. It's the German chancellor's turn to try.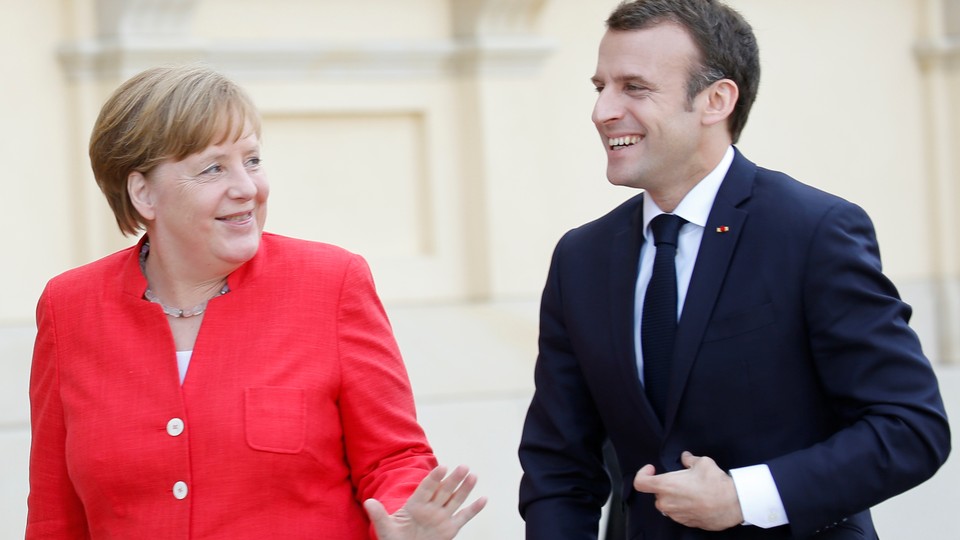 Angela Merkel is in Washington on Friday. But she will not get the reception of her French counterpart Emmanuel Macron, whose U.S. visit this week was capped with a glitzy state dinner and a rousing congressional address. There will be no fanfare for the German chancellor. She is in the U.S. capital for a working visit, which lacks the pomp of a formal state visit. Nor, based on the awkward interactions that marked her last Washington visit in March, is she likely to display the same kind of easy rapport Macron did with the U.S. president.
Whereas Macron got cheek kisses, Merkel famously offered Trump a handshake and was ignored. Yet like Macron, she differs with Trump on many issues, including immigration (Trump called the chancellor's open-door refugee policy a "catastrophic mistake"), trade (he has derided the U.S.'s "massive" $64-billion trade deficit with Germany), and defense spending (he thinks Berlin should have more of it).
For the Europeans' part, Macron gave perhaps the fullest articulation of the divergence of the continent's priorities and Trump's in his congressional address on Wednesday. As my colleague Rachel Donadio noted, having embraced Trump, he denounced Trumpism on the House floor. On climate change, Macron predicted the U.S. would return to the Paris climate agreement because "Let's face it: There is no planet B." On the U.S.'s aluminum and steel tariffs (to which Trump has offered Europe only a temporary exemption), Macron warned against trade barriers, noting that "commercial war is not the proper answer." On the Iran deal, Macron urged the U.S. to honor its international commitments and stressed that "we should not abandon it if we don't have something more substantial instead."
And yet, as he was leaving, he seemed to recognize he may not have reached his intended audience. Speaking to reporters Wednesday, Macron said: "My view—I don't know what your president will decide—is that he will get rid of this deal on his own, for domestic reasons."
Enter Angela Merkel, who comes carrying much the same message about the Iran deal and trade. But if Macron is unable to convince Trump, there is little to suggest Merkel can. And it's not just because of her personal rapport with Trump. It also has to do with the constraints she faces at home. Not only did she have a general election to think about last September, but she also had to contend with six months of cross-party negotiations after the election failed to deliver her ruling Christian Democratic bloc enough seats to form a government.
"During that time, it was very difficult for her to be too friendly to [Trump] because there was a real chance that she could be seen as a sort of lapdog," Marcel Dirsus, a political scientist at the University of Kiel, told me, noting Trump's unpopularity in Germany. "Some of those constraints are now lifted because the election is over and the government has been formed, so she will have more leeway in dealing with him. But that doesn't change the fact that Germans really detest him."
Still, the U.S. remains an important ally to Germany, as well as its fourth-largest trading partner. And now, less constrained by politics at home, Merkel has every reason to try and revamp her relationship with the president. On trade, it's in Germany's interest to ensure that Trump avoid a trade war with U.S. allies by permanently extending Europe's tariff exemption, which is set to expire next week. It's also in Germany's interests to convince Trump to reconsider his ultimatum on the Iran deal, which he has threatened to abandon if European leaders can't fix its "terrible flaws" before May 12. One way Merkel could do this is by appeasing Trump's grievances over German NATO contributions. Though the German government is notionally committed to the alliance's 2-percent defense-spending target, it only spent 1.2 percent of its GDP on defense last year—an amount her coalition partners, the Social Democrats, and more than half the German public oppose increasing.
Still, with Merkel's role on the international stage seemingly eclipsed by Macron, some have questioned whether the chancellor has what it takes to sway Trump on issues where even Macron appears to have failed. But Macron's strategy may not be the only way. "What remains to be seen is whether [Macron] can actually turn that bromance into results," Dirsus said. "We've had funny photos, we've had very strange videos, but we haven't really seen any results from the French approach yet."
When I asked what could make Merkel more effective this time around, he said Merkel knows what to expect this time. "Merkel has come to terms with Trump being Trump, but she's trying to take the edges off," he said. "She has probably made peace with him not supporting the liberal international order, but at the very least she would like him not to take a wrecking ball to it."