Theresa May's Incredible Vanishing Government
After weeks of an immigration scandal, the U.K. contends with its fifth cabinet resignation in 10 months.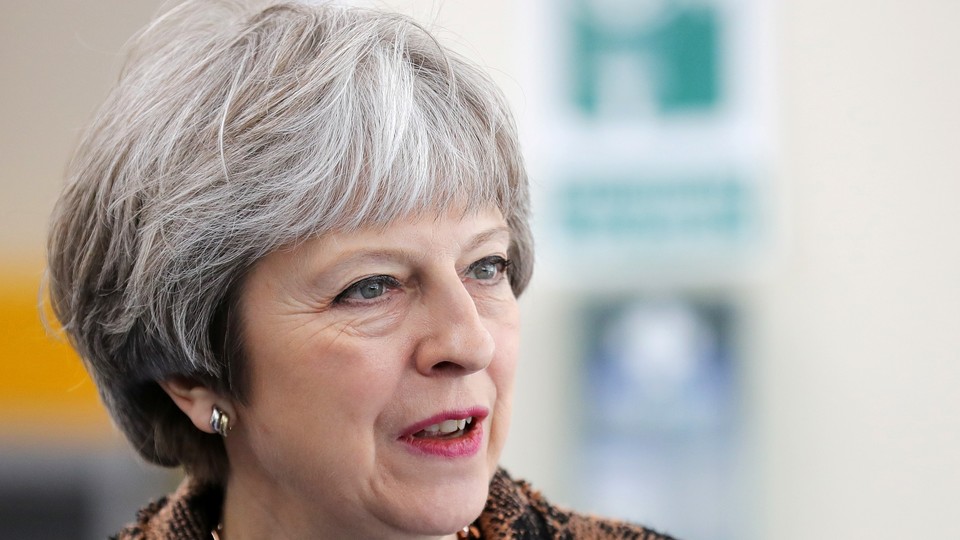 It's looking to be another terrible, horrible, no good, very bad week for Theresa May. The British prime minister has lost another cabinet member after Home Secretary Amber Rudd, under pressure over a mounting immigration scandal, tendered her resignation late Sunday night. It's the fifth resignation to rock May's 10-month-old cabinet and, far from putting an end to the government's latest political crisis, it marks a significant intensification.
Rudd's departure capped weeks of debate over immigration policies May has described as aimed at creating a "hostile environment" for newcomers. In practice, this has meant imposing policies that require people to continually prove their right to live in the U.K.—from renting a home or opening a bank account to accessing health insurance—and effectively tasking landlords, employers, and doctors with immigration control. Most recently it was revealed that the Home Office, led by Rudd, had threatened thousands of lawful immigrants known as the "Windrush generation" with deportation. (Named for one of the boats that carried Caribbean migrants to the U.K., at the government's invitation, to address a post-World War II labor shortage, those belonging to the Windrush generation are legally in the country though many lack the documentation to prove it.) The scandal led to further revelations the government had set targets to deport migrants, with the "aim of increasing the number of enforced removals by more than 10 percent over the next few years." As The Guardian revealed on Sunday, both Rudd and May were aware of these targets.
Rudd didn't resign over her office's handling of the Windrush generation, nor did she resign because of the government's deportation aims. Rather, she resigned because she had "inadvertently misled" lawmakers about the deportation targets—first by claiming they didn't exist, and then by saying she wasn't aware of their existence. Both apparently proved to be false—though Rudd claimed she did not see or approve targets for removal, a private letter she wrote to May about the targets in January 2017 refers to such targets directly.
As was the case with previous cabinet resignations, it wasn't the scandal itself that proved to be the sackable offense—it was lying about it. Priti Patel, the former international-development secretary, resigned in November after making false claims that the U.K.'s Foreign Office was aware of her undisclosed visits with Israeli officials, including Israeli Prime Minister Benjamin Netanyahu, during a family holiday (they weren't). A month later, former first secretary of state Damien Green resigned because of  "inaccurate and misleading"statements he made about the presence of pornography on his office computer. The remaining ministers to have left May's cabinet include former Defense Secretary Michael Fallon, who resigned in November over allegations of sexual harassment, and former Northern Ireland Secretary James Brokenshire, who resigned in January for health reasons.
The circumstances of Rudd's departure, as well as May's confirmation Monday that she was also aware of the deportation targets, leave little doubt that the "hostile environment" strategy is here to stay, with or without Rudd at the Home Office. "There has not been anything at the moment to suggest that the government thinks that its policy is the wrong policy and that it wants to change it radically," Simon Usherwood, a senior lecturer in politics at the University of Surrey, told me, adding that this is "very much about Westminster politics rather than about changing the policy view of the government or the country at this stage."
The Sunday resignation was just the start of a busy week for May. Not only are there expected to be crucial discussions on the U.K.'s post-Brexit customs plans and a vote on the EU Withdrawal Bill in the House of Lords, but this week also features Thursday's local elections in London, in which May's ruling Conservative Party is projected to suffer substantial losses. Add to that Rudd's exit, which will keep stoking the debate about the government's immigration policies and how Sajid Javid, who was confirmed Monday to be Rudd's successor, might influence them.
The son of Pakistani immigrants, Javid was vocal about the U.K.'s treatment of the Windrush generation, noting that "My parents came to this country from Pakistan, just like the Windrush generation. … That could be my mum ... it could be my dad ... it could be my uncle ... it could be me." Still, it seems unlikely that Javid will pursue any radical changes to the U.K.'s existing immigration policies. He has a track record of supporting of May's "hostile environment" policies and in a 2014 interview with the Sunday Telegraph appeared to sympathize with vocal Brexiteer Nigel Farage's fervent opposition to immigration, noting that "many people throughout Britain are concerned about excessive immigration. And they should be." When asked Monday whether he would put an end to the "hostile environment" policies, Javid said he would continue what he characterized as his predecessor's aim of seeking an immigration policy that is "fair" and "treats people with respect."
Still, Javid's appointment marks a major shift in other ways.  Not only will he be the first ethnic minority to serve as Home Secretary, but he will also shake up the political balance of May's cabinet: Though Javid, like his predecessor, voted to remain in the European Union, he is also a self-dubbed Euroskeptic and opposes the U.K. remaining in the EU's customs union.
Javid has been lauded by many as a good choice to succeed Rudd, but there is one job where he can't quite replace his predecessor: defending May. Rudd was able to absorb much of the criticism over the U.K.'s immigration policies, but it was May who championed them during her tenure as home secretary. With Rudd no longer in the picture, the prime minister is left exposed—and critics have already begun pointing in her direction. "It's now becoming [May's] policy—she set it up as home secretary, and she can't lay it at anyone else's feet," Usherwood said. "If there are problems and injustices and cover-ups, she really doesn't have anyone else that she can ask to resign. It's going to come to her."