What Russian Scientists Are Saying About Nerve Agents
"Your eyes grow narrow, you lose vision. Next is vomiting, breathing problems, and incessant convulsions."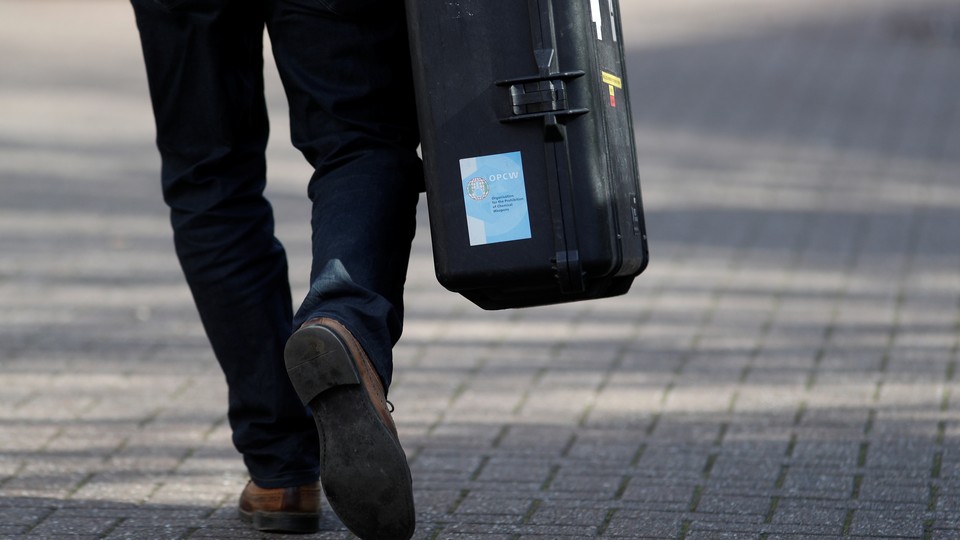 It's paralyzing. It can be lethal. And only a state actor is capable of producing it. This much we know about the class of nerve agents known as Novichok, a type of which British authorities say was used earlier this month to poison a former Russian spy, his daughter, and a British police officer in the English city of Salisbury. But that leaves room for substantial mystery. Who developed it? How did it end up in Salisbury? And how precisely did it get into the nervous systems of Sergei and Yulia Skripal and Nick Bailey?
While the British and others investigate these questions, Russian scientists who say they observed the development of the substance itself before the 1990s have been offering answers about the history of the nerve agent and how it works. One of them is Vil Mirzayanov, a former chemist and head of the Soviet-era technical counterintelligence department, who said his job involved concealing the existence Novichok from foreign intelligence services. "I was working to protect these weapons," he told The Atlantic.
But then something changed. It was Mirzayanov himself who first revealed the existence of the substance publicly in the 1992, as Russia was preparing to join the Chemical Weapons Convention, an international treaty that bans substances like it. He says he saw the weapon as representing a direct violation of Russia's international commitments. He and another scientist, Lev Fyodorov, went public in an article for the Russian newspaper Moskovskiye Novosti and in an interview with The Baltimore Sun. At the time, the Sun reported that according to Mirzayanov, "the nerve gas is 10 times more effective at killing people than the U.S. equivalent, known as VX." But his story was greeted with doubt. An American scientist the paper interviewed said it was "spurious" and "hard to imagine" a nerve agent that powerful, given the known state of the science at the time. Mirzayanov was fired, arrested, and charged for divulging state secrets, though these charges were eventually dropped.
The Skripals remain in critical condition; Bailey has been released from the hospital. How they will ultimately fare, Mirzayanov said, depends on the dosage they were exposed to. He described the effects this way: "Your eyes grow narrow, you lose vision. Next is vomiting, breathing problems, and incessant convulsions. If it's a lethal dose, then there are lethal results."
Mirzayanov defected to the U.S. in 1996, where he has lived ever since, and he hasn't stopped talking about Novichok. He published the chemical agent's formula in his 2009 book, State Secrets: An Insider's Chronicle Of The Russian Chemical Weapons Program, and in the aftermath of the Salisbury poisoning, spoke out again—this time, to point to Russia as the plausible perpetrator. On Friday, he told the Guardian that no state other than Russia—which had successfully invented, tested, and weaponized Novichok— had demonstrated its capability to use that substance.
Russian President Vladimir Putin dismissed these kinds of accusations as "total nonsense," and claimed that Russia "does not possess such agents." (Russia claimed to have suspended the Novichok program following Mirzayanov's revelations, and acceded to the Chemical Weapons Convention in 1997.) But Vladimir Uglev, a Soviet-era scientist who was involved in the development of nerve agents like Novichok between 1972 and 1988, said they have been used in Russia before. Uglev told the independent Russian news site The Bell on Tuesday that a variant of Novichok poisoned the Russian banking magnate Ivan Kivelidi and his secretary in Moscow in 1995; the substance, he said, had been applied to a cotton ball rubbed on a telephone receiver in Kivelidi's office. Leonid Rink, another scientist who worked on Russia's chemical-weapons program, confessed to secretly supplying Kivelidi's business partner with a toxin via intermediaries, for which he served a one-year suspended prison sentence.
Though Uglev estimated that there are only "several dozen people" in Russia who are familiar with the chemical composition of Novichok, he did not rule out that other countries like Britain or Germany could have produced their own samples of the agent. He added that whoever administered the poison would have had to transport it in a container "suitable for combat use," and that of the four variants, only the latest iteration, developed in 1980, comes in powder form. The rest, he said, are liquid.
Of the scientists now speaking publicly about their role in Novichok's development, only Rink doubts Russia's involvement. The reason: Too obvious, plus the victims are still alive. "Even an unprofessional Russian agent would not use the one substance of Russian origin and with a Russian name," Rink told Russian state-owned news agency Sputnik on Tuesday. "There are plenty of more appropriate substances. Firing at an unimportant target with a rocket and missing is the utmost stupidity."