Britain Accuses Russia of Poisoning—Trump Won't Agree
A normal White House would have rushed to its ally's defense by now.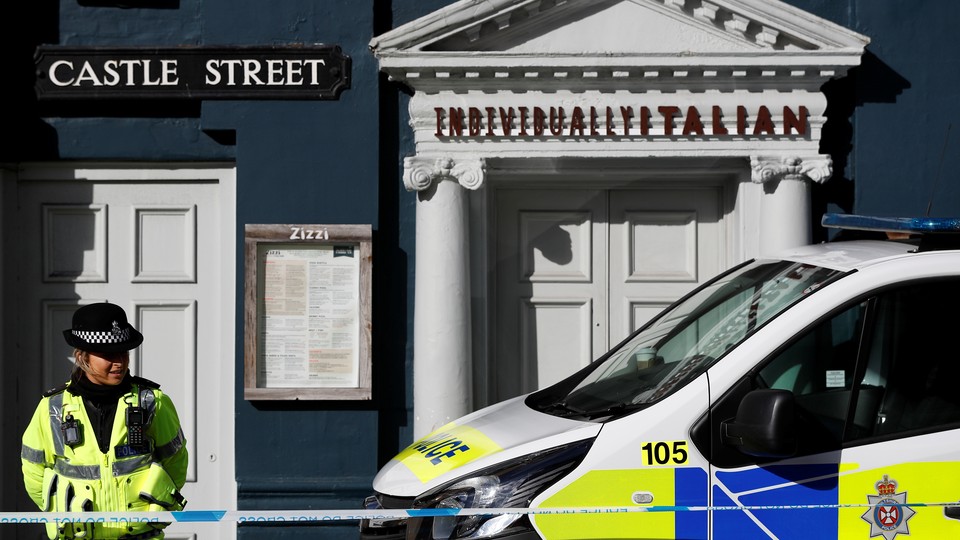 Here's what would normally happen after an outrage like the attempted murder of a Russian defector and his daughter with a nerve agent, in an attack that also poisoned a British police officer and exposed as many as 500 people to neurological risk.
The United States would instantly offer Britain any technical assistance it might require: forensic chemical analysis, other kinds of information collection.
Next, the U.S. president would reach out to the British prime minister with some visible demonstration of solidarity: typically, a phone call that would be photographed, with a readout of the call distributed to the media. If the British thought it useful, that phone call would be backed up by a visit by some senior member of the administration: the vice president perhaps, or the secretary of state.
The official statement Prime Minister Theresa May offered in the House of Commons today, saying it was "highly likely" Russia was the perpetrator, would be immediately supported by a carefully coordinated statement by the U.S. government, as well as other important allies in an effort led by the United States.
The U.S. would lead the way to forge some kind of common NATO statement, as well as—given the difficulties of Brexit—working to ensure that the European Union demonstrated solidarity, too.
Should the British decide to impose sanctions, the United States would actively cooperate. If the British sanctions, for example, targeted individual Russians, the United States would likely target those same people.
Except for the very first measure—which happens automatically, and which only affirmative presidential action would prevent—none of those normal actions had occurred as of this writing, more than a week after the poisoning. The United Kingdom has been left to deal with this matter alone by a U.S. administration that will not respond, even to a Russian WMD attack on NATO soil.
It's too early to say that the Trump administration will do nothing. Perhaps it may yet step up. Perhaps it may even calculate that joining the U.K. in sanctions upon Russians implicated in such an outrageous crime may quiet complaints about the Trump administration's refusal to implement sanctions for Russian meddling in the 2016 election. Those questions remain open. For now, though, we are presented with the most astounding yet Trump default from traditional U.S. alliances and leadership. At Monday's White House press conference, Sarah Huckabee Sanders rebuffed repeated questions about whether the U.S. even supported the U.K. finding of fact about Russian responsibility.
As the default continues and expands, the evidence accumulates: Trump simply will not act to protect the U.S. and its allies against even Russian aggression, even on their own territory, even in the form of attempted murder.
Trump's inaction speaks louder than any words. It is a confession for all to hear.