The Politics of Trade Wars
Europe has gotten another American president to back down on tariffs—by targeting products produced in politically sensitive districts.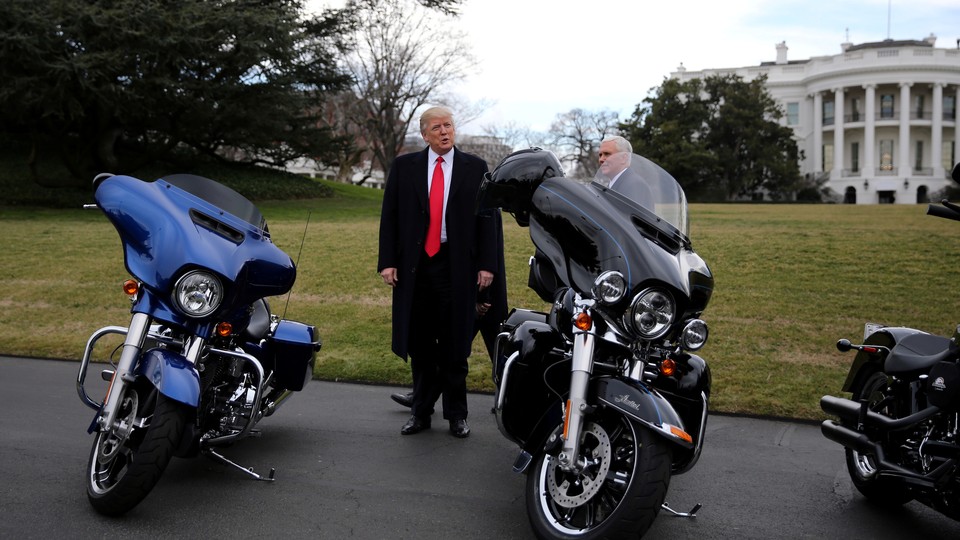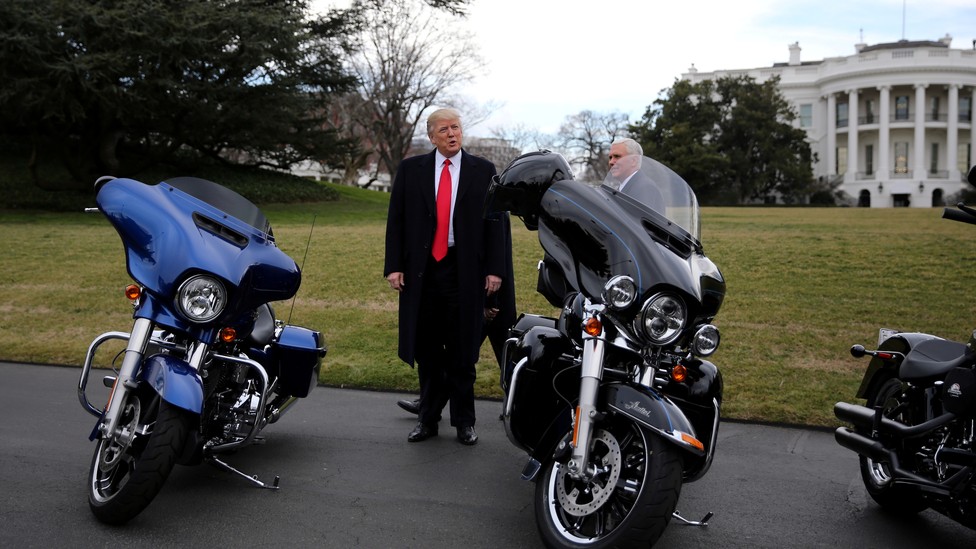 One inconvenient feature of the global trading system is that efforts to protect the jobs of voting workers in one country risk affecting jobs, and perhaps votes, in another. Thus President Donald Trump's proposed tariffs on imported aluminum and steel, offered with the rationale that American metalworkers had been losing jobs to foreign competition, alarmed Europe—the continent has its own metalworkers to worry about, whose jobs to some extent depend on access to markets like America's.
So the ironic effect of a nationalist trade gesture was to demonstrate how much politics can be global, namely when Europe threatened retaliatory tariffs affecting iconic American goods and, not incidentally, key congressional districts in the United States.
The European Union is the second-largest exporter of steel to the U.S. (behind Canada), and said after Trump first proposed the tariffs that it would consider imposing counter-measures against American exports to Europe, including bourbon whiskey and Harley Davidson motorcycles.
This kind of retaliatory posturing has helped the EU in the past—it contributed to George W. Bush's decision to back down from steel tariffs he imposed in 2002. And it's still unclear whether it managed to sway this particular president. On Thursday, Trump signed an executive order to impose the tariffs, but seemed to leave large loopholes for "friendly nations" to get out of them, which presumably makes the EU a candidate for relief. For now, the EU's official response perhaps resembles that of much of the rest of world—the bloc promised to "seek more clarity."
This too is, perhaps deliberately, vague. One option the EU has is to pursue joining countries like Canada and Mexico, which have been exempted from the tariffs. "I have the right to go up or down depending on the country, and I'll have a right to drop out countries or add countries," Trump said, noting that his generosity, even to traditional allies, could be limited. "If you look at NATO, where Germany pays 1 percent and we are paying 4.2 percent of a much bigger GDP, that's not fair. NATO countries, some owe billions and billions of dollars. Defense is also part of trade—to a certain extent they go hand-in-hand."
But if somehow the bloc doesn't manage to meet the standards "friendly nations" must to get out of the tariffs, it has the potential to get much less friendly. After President George W. Bush attempted to impose a 30-percent steel tariff in 2002, the World Trade Organization ruled that the move violated global trade rules, enabling the EU to threaten retaliation with its own tariffs. Those ones were set to target Harley Davidson motorcycles, Michigan-manufactured cars, and oranges from Florida, where the then-president's brother, Jeb Bush, was governor. The targeted goods were also produced in electoral swing states. Bush ultimately backed down.
This time, the bloc outlined more than 100 possible products this week—$3.5 billion worth of them—that it might target for tariffs, including some familiar ones: bourbon whiskey, Harley Davidson motorcycles, oranges. And again, the choices are not random, especially given upcoming midterm elections in the U.S. "Harley Davidson motorcycles and bourbon, which come from Wisconsin and Kentucky, are not coincidentally the home states of the Republican leaders in the House and the Senate," Matthew Oxenford, a researcher on transatlantic economic relations at the London-based Chatham House, told me. "That's very consciously being done with an eye towards influencing a particular political player. Florida oranges is another thing because Florida is always a close state in U.S. elections."
André Sapir, a senior fellow at the European economic think tank Bruegel, said that before the EU could follow through on such a threat, if it wanted to, the bloc would first go to the WTO, where it would charge the U.S. with running afoul of global trade rules. Sapir, a former economic adviser to the president of the European Commission, told me it was the WTO's ruling against U.S. steel tariffs in 2003 that "gave the green light to the EU and other parties to take countermeasures." This time around, the EU is expected to call into question the Trump administration's assertion that the tariffs were imposed to protect the country's national security—a "safeguard" action that, though considered valid under certain conditions, is rarely invoked. "We cannot see how the European Union, friends and allies in NATO, can be a threat to international security in the U.S.," Cecilia Malmström, the EU trade commissioner, said Wednesday, adding: "From what we understand, the motivation of the U.S. is an economic safeguard measure in disguise, not a national security measure."
If the U.S. cites national security as its reason for imposing the tariffs in the face of a WTO challenge, it's unclear how the trade body would respond. "The WTO doesn't have a lot of experience in adjudicating this sort of dispute," Oxenford said, noting that the U.S.'s decision to effectively target its allies and geopolitical rivals alike could make the justification seem tenuous. Even if the WTO were to rule against the U.S., it's unlikely it would change the president's stance. Trump threatened to pull the U.S. out of the WTO, which he has also accused of being biased against the U.S. "We lose almost all of the lawsuits within the WTO because we have fewer judges than other countries," Trump said in October. "It's set up. You can't win."
The president has already demonstrated his willingness to undermine the WTO. Since 2017, the Trump administration has exercised its veto power to block the nominations of judges to fill vacant seats on the WTO's seven-member appellate body, which hears disputes between countries. There are four members left, with the next judge's term due to end in September. "When the next judge's term expires, there will only be three members of the panel left to adjudicate any sort of international trading claims," Oxenford said, noting that if the number of judges goes below the three required to adjudicate claims, "that gets us into uncharted territory."