Trump Could Be Bumbling Into a Trade War With China
The president is right to want to punish unfair trade practices. But America First keeps translating into America alone.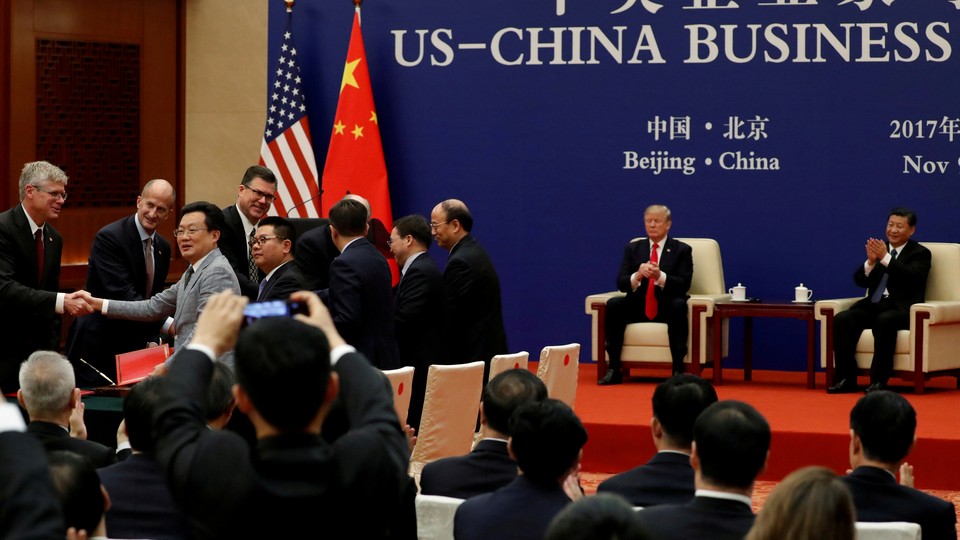 In an early morning tweet on March 2, President Donald Trump avowed that "trade wars are good, and easy to win." We're about to find out if he's right. Trump may have just started one with China.
Trump's recently announced tariffs on steel and aluminum look trivial by comparison—especially if, as expected, he ends up granting exemptions to U.S. allies. Using an arcane statute of the Trade Act of 1974, the office of the U.S. Trade Representative (USTR) has concluded an investigation of China's unfair practices against U.S. firms, including forced technology transfers, joint venture requirements with Chinese partners, and outright cyber espionage.
Well aware of these problems, the U.S. government has struggled over the years to find a response that doesn't shoot America in the foot by driving up consumer prices and damaging a trade relationship that is now worth more than $600 billion in goods and services annually. For the most part, U.S. executives have been complicit, happy to meet quarterly earnings even if it means getting squeezed out of China's market in the long run.
Now the Trump administration is saying the jig is up. They're sick of China's empty promises and fruitless dialogues. They don't think the World Trade Organization can rein China in. And they're worried that another decade of Beijing's abusive policies will destroy what's left of America's manufacturing base, as well as result in Chinese dominance in future technologies like artificial intelligence and robotics.
The big reveal of the investigation was the size and scope of penalties against China to recoup losses for its discriminatory behavior against U.S. companies. On Thursday, Trump announced tariffs on at least $50 billion of Chinese imports, giving USTR 15 days to provide a list of targeted products. Trump also directed the Treasury Department to recommend new restrictions on Chinese investments in the United States, including those involving sensitive technologies. Finally, the president called on USTR to challenge China's discriminatory technology licensing practices at the WTO.
Skeptics had wondered whether Trump would ever follow through, either because of the negative effects on the U.S. stock market or because of his self-professed admiration for Chinese Communist Party Chairman Xi Jinping. Alternatively, the Chinese could have convinced Trump that they were ready to address the underlying problems, if only the president backed off. Xi had been sending a steady stream of senior Chinese officials to Washington to find a way out.
Still, Trump had big campaign promises to fulfill. Recall his comments at a rally in Fort Wayne, Indiana in May 2016: "We can't continue to allow China to rape our country and that's what they're doing. It's the greatest theft in the history of the world." Trump hasn't changed his mind, and has been telling his staff for months that he wants tariffs on China.
His rapidly evolving inner circle has long been gearing up to deliver the results we see today. The stage was set with the promotion of Peter Navarro (author of Death by China and leading trade hawk in the administration), and the sidelining of more moderate voices in Rex Tillerson, Gary Cohn, and Rob Porter. Trump's national security team is on board, having already declared in its new National Defense Strategy that strategic competition with China, "not terrorism, is now the primary concern in U.S. national security." In a recent memo to Commerce Secretary Wilbur Ross, Defense Secretary James Mattis cautioned against levying tariffs on U.S. allies, but supported targeted action against China.
The souring politics of China in Washington only further tipped the scales toward concerted action. Republicans in Congress have been crying foul about global tariffs on steel, but you won't hear a peep of protest about actions aimed at China. Democrats, meanwhile, have been painting Trump as a paper tiger on China, looking to win back working-class voters. As for Trump's populist base, former campaign officials credit his negative rhetoric on China as a key factor driving crucial victories in the upper Midwest.
Trump would have been outflanked on all sides if he had under-delivered on China. It's hard to imagine any president letting that happen ahead of the 2018 midterm elections and going into 2020.
Expect the Chinese to retaliate now that Trump has pulled the trigger. Conventional wisdom in Beijing is that Americans have a low threshold for pain, meaning that a few targeted actions will have Washington crying uncle in no time. Among the likely victims at the outset will be U.S. agriculture, which earned over $19 billion in exports to China in 2017. Soybeans, in particular, appear to be on the chopping block. Beyond that, Beijing has studied the U.S. congressional map to find political weak spots, with an arsenal of domestic laws and regulations that can make life difficult for American businesses.
How soon Trump flinches is anyone's guess. The chaos inside the administration has meant that various factions are pursuing different goals. Some want a smaller trade deficit with China. Some want more market access in China for U.S. firms. But there's also a group—and this is what should really scare Beijing—that simply wants greater separation of the U.S.-China economic relationship to reduce U.S. dependence and vulnerability. This crowd isn't vying for major concessions from China (it doesn't think Beijing would ever make them anyway), and it would welcome a trade war that results in less overall commerce between the world's two largest economies.
The tragedy in all of this is that Trump is right to be saying enough is enough. But his administration is going about it all wrong. Leading with global tariffs on steel was not only bad economics, it picked fights with America's closest allies in Europe and Asia who should be indispensable partners in combatting China's predatory practices.
Trump's withdrawal from the Trans-Pacific Partnership was another self-inflicted wound. The trade deal, covering 40 percent of global GDP, was designed to defend against many of China's unfair policies, including on intellectual property, government procurement, and state-owned enterprises. Tariffs and investment restrictions make for good defense, but what American businesses really need is a fairer global economy that connects high-standard trade agreements between Asia and Europe. That's not fighting a damaging trade war—it's besting Beijing without firing a shot.
The Trump administration has the right idea. But America First keeps translating into America alone. And Trump's trade policies continue falling short in making the United States more competitive, rather than just more confrontational, with China.