Can a New President Really Solve South Africa's Corruption Problem?
Cyril Ramaphosa has vowed to clean up the country. His early appointments send an ambiguous message about whether he can.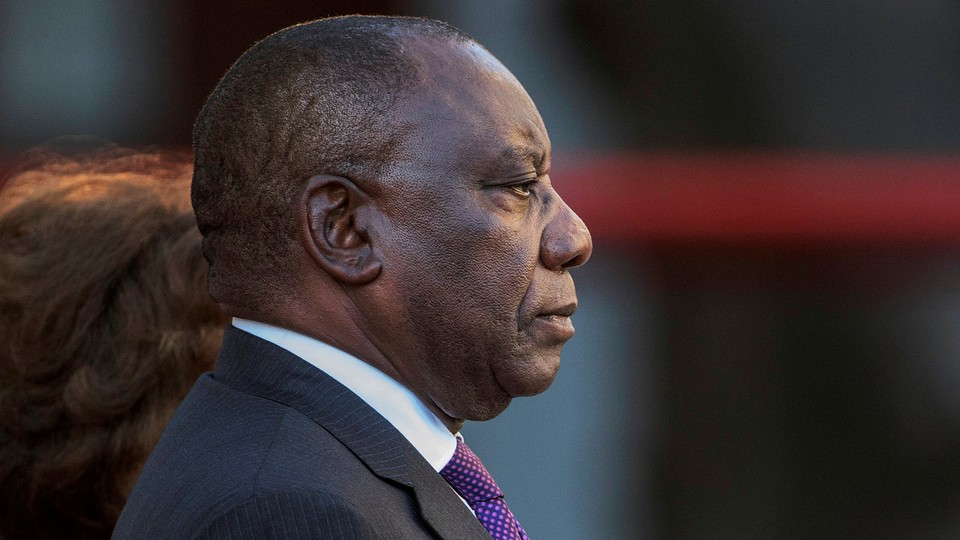 "South Africa's Lost Decade," the Economist called it. Before being shoved from power last month, President Jacob Zuma enriched himself and his patrons while presiding over economic disaster for his citizens. The burden of public debt nearly doubled over the Zuma years. More than one in three working-age South Africans is jobless. Unemployed men turn to crime, tainting South Africa as one of the most unsafe countries on earth, worse than El Salvador, Honduras, or Pakistan.
No wonder the elevation of a new president has excited so much hope among international well-wishers. That new president, Cyril Ramaphosa, was described thus by a former British Cabinet secretary: "By far the most impressive South African I ever met in a decade of working with the black independent trade unions that grew into the force that effectively destroyed apartheid from within." Ramaphosa is widely reputed to have been Nelson Mandela's preferred successor back when Mandela retired from office in 1999.
Zuma by contrast is a rustic, clownish figure. His polygamy, while permitted under South African law, offends urban sensibilities. For much of the growing urban middle class, polygamy is something to watch on reality TV or to be policed by courts—not to welcome into the office of the presidency of a country constitutionally committed to gender equality. Zuma lavished millions in public funds upon his personal compound near his birth village. Zuma polled poorly among the urban middle class of all races, who inflicted upon his African National Congress a stinging series of defeats in local elections in metropolitan areas. Zuma returned the disdain, most famously in a 2012 speech in which he complained about middle-class blacks who "become too clever." In his words, "They become the most eloquent in criticizing themselves about their own traditions and everything."
Zuma epitomized a tradition of which the new black middle class had become especially critical: graft. One-third of South Africans report having paid a bribe a police officer in 2013, according to a Transparency International survey that year. About a third bribed a judge or magistrate. Even more than that have paid for a permit or license. South Africans are extorted for bribes at schools and hospitals, to obtain electricity and water. In 2017, South Africa ranked 71st on the Transparency International "perceptions of corruption" index, sliding from the 38th position it held as recently as 2001.
Zuma was brought down by the grandest corruption project to date: a proposal to purchase six to eight Russian-made nuclear reactors at a cost of more than $73 billion, opening vast opportunities for fees and kickbacks. South Africa's demand for electricity has stagnated since 2011, and the country does not lack for sunshine to generate solar power. Zuma insisted. Then finance minister Pravin Gordhan resisted—in what became the last of an escalating series of battles over central bank independence and other institutional issues. Zuma fired him in March 2017, tumbling stock markets and the value of the rand.
In his first speech as president, Ramaphosa promised to "turn the tide of corruption." He vowed to end the "plunder of public resources" and to "put behind us the era of diminishing trust in public institutions and weakened confidence in our country's public leaders."
I asked Tony Leon, the former leader of South Africa's opposition Democratic Alliance, how the outside world can track whether Ramaphosa is making progress toward his goals. Leon answered that we should monitor four key jobs that, when Zuma resigned, were held by compromised people:
Ramaphosa's first round of appointments sends an ambiguous message. Two business-friendly figures, both previously fired by Zuma, have been added to the administration. Nhlanhla Nene has been restored to the ministry of finance, from which he was fired in December 2015 after his own conflicts with the overbearing Zuma. Nene's successor Pravin Gordhan will oversee the government's troubled and corrupt state-owned enterprise portfolio as Minister of Public Enterprises. Both remain opponents of the nuclear deal.
But Ramaphosa could not bring himself to fire outright Zuma's last finance minister, Malusi Gigaba. Gigaba—notoriously inexperienced in financial affairs—will return to his former job at the Home Office, where he had gained a reputation for assisting Zuma's financial backers with their immigration and naturalization difficulties in South Africa. Meanwhile, Ramaphosa has appointed one of Zuma's ex-wives—Zuma's own preferred successor as head of the ANC and president—to head the planning-and-monitoring section of his own office. Nkosazana Dlamini-Zuma is blamed by many for ultra-cronyism. An angry tweet from her account in spring of 2017 denounced anti-corruption protests as "rubbish and an expression of "privilege." (She later repudiated the tweet as "fake," without any explanation of how it came to be issued from her account.)
The current public protector, Busisiwe Mkhwebane, has been condemned by one of the country's highest courts as "grossly incompetent" for cooperating with President Zuma to overturn the independence of the South African Central Bank.
Clearing out unworthy officeholders will be challenging. After people are removed, they must be replaced—and that presents two daunting problems of its own. The first is a problem of party management: Much of the whole ruling ANC was complicit in Zuma's authoritarian corruption. The second is a problem of state capacity.
South Africans almost universally despise graft, especially at the top. But corruption has spread through South African society for reasons intimately bound up in the post-apartheid political settlement.
Under apartheid, the civil service and higher education were monopolized by the white elite, fortified by other ethnic minorities. Post-apartheid governments put an end to that monopoly, as they should and must. But the post-apartheid governments did more than open opportunities. The African National Congress aspired to merge party, state, and economy in a synthesis sometimes satirically described as "Market-Leninism." Conventional parties had "members." The ANC had "cadres." Party doctrine called for inserting these "cadres" into top jobs not only atop the civil service, but throughout the government—and the private sector too. The term for this insertion was "cadre deployment," but another satire amended the term to "cadre employment." The parents and grandparents of today's cadres had braved personal risks to support a prohibited revolutionary movement. Today's cadres tend to be careerists whose party loyalty often substitutes for competence and integrity.
Fewer than 10 percent of black South Africans complete university, and many of those degrees frankly do not mean what they should. According to one oft-cited ranking of global universities, the QS survey, South Africa's universities lag far behind their developed-world counterparts. The country's best university, Cape Town, is scored at 191st place. The others trail off from there. Universities are compelled to keep tuition cheap; public funds do not begin to make up the difference.
Nor is the state making compensating investments in primary and secondary education. An OECD survey of the world's 45 more advanced countries found that South Africa ranked 39th in the percentage of its people who complete high school. The problem is getting worse with time: if you look only at people under 35, South Africa ranks 41st. Nor does the near future look more promising, even under better government. South Africa's population has nearly doubled since the end of apartheid, to nearly 60 million people. To add schools and teachers even to keep pace with that surging population exceeds the capacity of the South African state. Raising per-student spending is all but impossible. Improving teacher quality is also all but impossible.
South Africa's most highly educated minorities want out. The white middle class is emigrating in the hundreds of thousands to Canada, Australia, the United Kingdom, and the United States. South Africa's Jewish population has declined especially sharply, its exodus accelerated by increasingly strident and even violent anti-Semitism, especially at South Africa's stressed universities.
The recent vote of the South African parliament to expropriate without compensation white-owned farmland will not help. The vote is non-binding because frankly unconstitutional—but the willingness of the ANC majority to recommend constitutional change to allow uncompensated seizures is not reassuring for the country's future development.
No South African likes to be asked "for a cold drink"—the euphemism for a police bribe. But the police won't stop until and unless South Africa transitions from Market-Leninism to a true rule-of-law society. Such a transition would impinge on persons and interests much more powerful than underpaid cops. And a key exponent and practitioner of Market-Leninism is South Africa's new president himself.
The one-time trade union leader has amassed one of South Africa's largest fortunes—estimated at anything from $400 million to $700 million—not by inventing a product or building a company, but by using his power over union pension funds to get equity for himself in other people's enterprises. When he invested union pension funds, he would be rewarded with a preference share in the investment for himself personally.  South African law requires high levels of compliance with what is locally termed "black economic empowerment"—and for many foreign and local companies, Ramaphosa has become the first partner to talk to. He has, for example, held large stakes in Coca Cola's and McDonald's South African investments. He often gained executive roles so that the firm in question could qualify under the BEE scheme for government contracts.
Given South Africa's long, harsh history of racial subordination, Ramaphosa's rise to wealth may be regarded as a form of restitution: the still powerful white elite sharing spoils with a rising black elite. Yet Ramaphosa's way to wealth—the crucial first step of which was his control over retirement funds belonging to others—is different in scale, not in kind, from the principal of the local school granting the snack counter concession to his wife (a much-complained-of abuse in South Africa). International investors have become wary of the politicization of business enterprise in South Africa. Foreign investment is avoiding South Africa: only $2.2 billion of new money in 2016. To put that amount in perspective: It's only slightly more than tiny Estonia and Latvia together received. It hardly begins to offset the $30 billion that flowed overseas out of South African stocks and bonds in 2016 and the first half of 2017.
Jacob Zuma was the unacceptable, unsophisticated face of South African petty corruption. Cyril Ramophosa is the credentialed, Davos-attending face of a blend of state power and private wealth familiar from Putin's Moscow to Trump's Washington. It's perhaps an improvement to replace the one with the other. But South Africa's transition to democracy will not be secure until and unless it recognizes that its future will be as stunted by institutionalized corruption as its past was deformed by institutionalized racism.