The Russian Ex-Spies Who Got Poisoned in Britain
What happened to Sergei Skripal?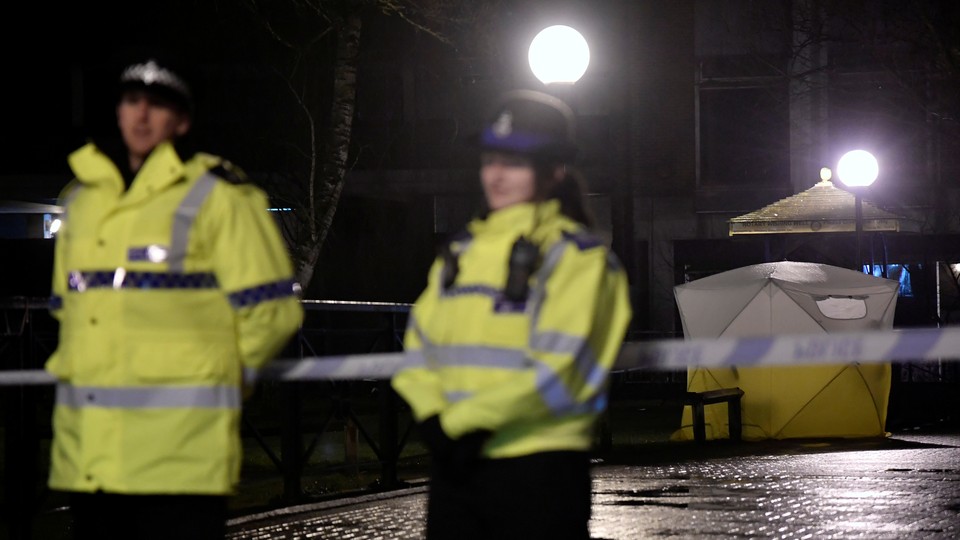 When Sergei Skripal and his daughter Yulia both suddenly collapsed onto a shopping center bench on Monday, it immediately looked suspicious. The two had been out together in the southern English city of Salisbury, and there was no apparent reason both would have taken ill at the same time. But there were reasons to think something else was going on. After all, Skripal had served for several years in Russian military intelligence, the GRU—and then, according to Russian prosecutors, in the 1990s he became a double agent for British intelligence. The incident looked at least superficially similar to the fate of another former Russian spy: Alexander Litvinenko, who died in 2006 of a sudden illness and was later found to have been poisoned by a radioactive substance.
New revelations reinforced that suspicion on Wednesday, when British authorities confirmed the two had been poisoned with a nerve agent, and that Scotland Yard believed they had been targeted specifically. They did not specify what specific substance was used, but that news brought up another eerie parallel: the assassination of North Korean dictator Kim Jong Un's half-brother by the nerve agent VX in Malaysia last year.
The presence of a nerve agent suggests, but doesn't guarantee, a state actor behind the attempt; just as the targeting of a former Russian spy suggests, but doesn't guarantee, that Russia is a possible culprit. Skripal, 66, and Yulia, 33, have been hospitalized in critical condition. A police officer who responded to the scene has been hospitalized. British officials are urging circumspection about possible culprits until the investigation is completed, and Russian authorities quickly denied any involvement.
But in the meantime, and in the absence of more detail from investigators on what happened, there is a history of Russian ex-spies and dissidents being creatively poisoned abroad, especially in Britain. Litvinenko had been a defector from Russia's infamous Federal Security Service (FSB) and a vocal critic of Russian President Vladimir Putin when he was poisoned by tea laced with polonium. Alexander Perepilichny, a Russian whistleblower, died in London six years later after suffering a fatal heart attack that was later linked to a highly-toxic plant called gelsemium.
Like Litvinenko and Perepilichny, Skripal had antagonized the Russian state. He was convicted in 2006 of "high treason in the form of espionage" after confessing to passing Russian state secrets to British intelligence. Though he was given a 13-year sentence, he never completed it. In July 2010, he was one of 14 prisoners to be part of a U.S.-Russia spy swap, in which Moscow traded four Russian double agents (including Skripal) for 10 members of a Russian sleeper cell planted in the U.S. by Moscow. Though it was considered the largest spy swap to take place in decades, the transfer itself was notably un-shadowy—the widely-publicized exchange took place on an airport tarmac in Vienna.
Matt Tait, a senior fellow at the Robert S. Strauss Center for International Security and Law at the University of Texas at Austin and a former British intelligence officer, told me the Soviet Union had targeted individuals deemed traitors during the Cold War, and noted that the seeming pattern in the British cases could be deliberate. "This is a very extreme form of killing in a way that is designed to project that this is a nation state that's doing it," he said. "Nobody can be under any sort of illusions that this is some sort of run-of-the-mill killing. … They're reserving these very extreme killings [or attempted killings, in Skripal's case] for people who used to work in their intelligence services and have fled the country and started spilling secrets."
If in fact the Russian state was involved in this case, the next question will be how the British government responds. In 2013, U.K. Prime Minister Theresa May, who was then serving as home secretary, admitted that the government's decision to refuse a public inquiry into the death of Litvinenko was due in part to fears of alienating Moscow. The British government's failure to investigate assassinations further was later revealed to be a trend—an extensive investigation by Buzzfeed revealed in June that despite 14 deaths on British soil being linked to Moscow over the past decade, foul play was ruled out in every case.
"The reason that they're doing this must be to send a message, to say something more publicly than would otherwise be the case," Tait said. "The clear message that they're sending to both people who currently work for their intelligence agencies and also people who used to work for their intelligence agencies … they will make an example of you."