How Did Rex Tillerson Manage to Keep His Job?
His survival is a testament not only to his ability to ignore the machinations that dominate Washington, but also to the president's penchant for political drama.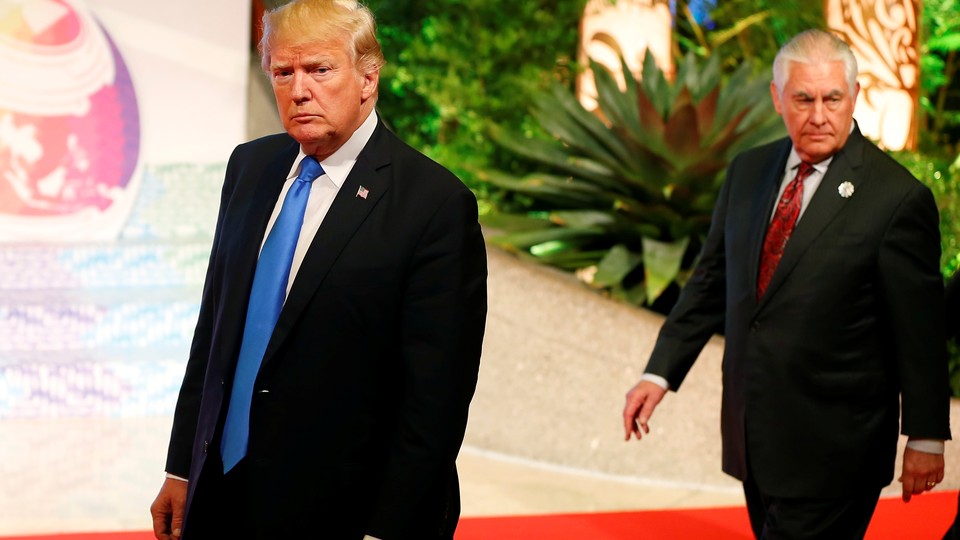 Policy differences with your boss, especially if he is the president, are one thing; reportedly calling him a "moron" and declining to say whether he represents American values are quite another. And yet a little more than a year after Rex Tillerson was sworn in as the U.S. secretary of state, and amid umpteen stories of his imminent departure from that position, including in The Atlantic, he's still in his job while high-profile Trump loyalists such as Hope Hicks are out.
Tillerson's tenure is a testament not only to his focus on his job, at the expense of overlooking the machinations that dominate Washington, but also to Trump's penchant for political drama—a fondness the president acknowledged Tuesday.
"I like conflict. I like having two people with different points of view, and I certainly have that," Trump said at a news conference with the Swedish prime minister when he was asked about potential staffing changes at the White House. "And then I make a decision. But I like watching it, I like seeing it, and I think it's the best way to go. I like different points of view."
Hours later, the White House announced that Gary Cohn, the former Goldman Sachs executive who was the director of the president's National Economic Council, was stepping down. Cohn, who many Trump loyalists labeled a "globalist," opposed Trump's plan to impose tariffs on steel and aluminum imports. But he is hardly the first administration official to quit.
Hicks, Trump's longest-serving aide who rose to the position of White House communications director, said last week she was resigning, a day after she reportedly told the House Intelligence Committee that she sometimes told "white lies" on Trump's behalf. Dina Powell, the respected deputy national security adviser, left in January to return to Goldman Sachs. Tom Price, the former secretary for Health and Human Services, resigned last fall amid criticism of his use of privately charted planes, as well as military aircraft, for official travel. Steve Bannon, Trump's chief strategist, was fired last fall amid reports the president was unhappy with him. Reince Preibus, the White House chief of staff, was fired last summer. Mike Flynn, the president's national security adviser, was the administration's first major casualty. He was fired after less than a month on the job for lying to Vice President Mike Pence about his contacts with Russia's ambassador to Washington. There were other departures as well, including that of Rob Porter, Omarosa Manigault-Newman, Sebastian Gorka, Anthony Scaramucci, Sean Spicer, and Mike Dubke.
It is worth pointing out that all of Trump's picks for Cabinet positions—whether or not they are reported to be in the president's favor—are still in their jobs, save Price. (The average tenure of a Cabinet official since 1981 is 4.08 years, according to a Washington Post analysis; the figure for a secretary of state is 3.35 years.) But among those Cabinet officials, it was Tillerson's name that cropped up most often for a quick exit. It didn't help that the secretary of state's plan to overhaul the U.S. State Department was met with internal opposition and poor morale, or that he rarely gave interviews, and doesn't seem happy doing news conferences. That private nature might have worked well when he was CEO of ExxonMobil, but it appeared not to be as effective for the nation's top diplomat parrying not only with America's adversaries, but also his own foes in the administration.
"The secretary is laser focused on solving the big problems," R.C. Hammond, who served as senior adviser to Tillerson for public affairs until last December, said in an email. "He isn't interested in winning political skirmishes."
Perhaps that's why it sometimes seems Tillerson won't survive those skirmishes. He was an unusual person for the job—if highly recommended by both Condoleezza Rice, the former secretary of state, and Robert Gates, the former defense secretary. Prior to becoming secretary of state, he'd spent his entire career at Exxon, joining as an engineer in 1975 after getting his degree at the University of Texas at Austin, and becoming CEO in 2006. Along the way, he lived around the world in places where Exxon had commercial interests, including in Russia, Yemen, and Southeast Asia. During that time, he built relationships with individuals who are now kings, presidents, ministers, and senior officials in their own countries. He told CBS in a recent interview that he saw his job as secretary of state as, evoking the Code of the West, "riding for the brand." And, he said, "the State Department of the United States government. The American people are my brand." Even critics of what Tillerson has done at the State Department have at times credited his diplomacy around the world. One of those critics is Laura Kennedy, who served at the State Department for four decades until 2015 under both Republican and Democratic administrations. She said Tillerson's stewardship of the State Department "terrible," but added:  "I've always believed he's a man of decency and intelligence and accomplishments." Kennedy described Tillerson's foreign-policy views as being on "the sensible end of the spectrum."
Tillerson's imprimatur has been the clearest in some of the thorniest issues facing the United States: the future of the Iranian nuclear deal, which is still alive despite Trump's opposition to it; Qatar's impasse with its Arab neighbors; and, of course, North Korea, where Tillerson has advocated dialogue from almost the beginning—and pursued a low-key but effective campaign to get other countries to cut ties or exert economic pressure on North Korea.
"I think that Rex Tillerson, in an unusual administration with an unusual president, who has never been in government before, is really doing a very good job on the diplomacy and is just putting his head down and going about that work," Condoleezza Rice said last Sunday on CNN's Fareed Zakaria GPS.
But news of Tillerson's impending departure began to circulate almost as soon as he began his work as secretary of state. He clashed with the president and some of Trump's other advisers on numerous issues, including the Obama-era multilateral nuclear agreement with Iran (Trump wanted to tear it up; Tillerson and others said though it was imperfect it was working); NATO (which Trump described as irrelevant, leaving Tillerson and others to defend the alliance that has been the cornerstone of Western security since the end of World War II); North Korea (where Tillerson said the U.S. was ready for talks even about the "weather," a position the White House contradicted saying North Korea must agree to get rid of its nuclear weapons program as a precondition for talks); and Venezuela (where he argued against tougher sanctions on Nicolas Maduro's regime). It was even reported that CIA Director Mike Pompeo would replace Tillerson, with Senator Tom Cotton, the Arkansas Republican, taking Pompeo's job at the CIA. The reports became so frequent that BuzzFeed News reported last fall that Tillerson, Defense Secretary James Mattis, and Treasury Secretary Steve Mnuchin had a "suicide pact" in which all three men would resign if Trump moved against any one of them.
Kennedy told me that at one point she believed Tillerson would leave after the State Department's redesign (a process that's not yet complete) and use that contribution as his legacy. But it seemed as if the incessant leaks made "him dig his feet in … to stick with the job whether he was enjoying it or not."
Still, policy differences in any presidential administration are not unusual. Even the Obama administration, which was perceived as disciplined, was publicly split over what the U.S. should do in Libya and Syria; ditto with the Bush administration and the war in Iraq. But what has set Tillerson's  tenure apart are the regular leaks against him, presumably from his political rivals—and even his foreign critics. The BBC reported this week that the United Arab Emirates lobbied Trump to fire Tillerson for "performing poorly." The Emiratis were reportedly angry about what they saw as Tillerson's support for Qatar in the dispute among the Arab states.
It has even been even reported that Trump saw Tillerson as "too establishment." NBC News reported that Tillerson, an Eagle Scout and past president of the Boy Scouts of America who takes his membership of the organization seriously, was angered by Trump's overly political speech to the organization in July 2017, as well as the policy differences he had with the president. He reportedly threatened to quit, until Vice President Mike Pence talked him out of it, according to NBC. Then came reports that Tillerson privately called Trump a "moron"—leading to the kind of media feeding frenzy that has become the hallmark of Trump's Washington. (Trump challenged him on Twitter to an IQ test.) Then in August, after the white-supremacist rally in Charlottesville, Virginia, that Trump said included "some very fine people," Tillerson declined to say on television whether the president represented American values, saying "The president speaks for himself."
That did little to cement Tillerson's place in Trump's Cabinet, and reports continued to circulate in the media about his future. Tillerson declined to be drawn into the controversies.
"I'm not going to deal with petty stuff like that," he said last October when reports of his impending departure reached a fever pitch. "This is what I don't understand about Washington. Again, I'm not from this place. But the places I come from, we don't deal with that kind of petty nonsense." But Tillerson did say at the time that Pence never had to persuade him to remain secretary of state, "because I have never considered leaving this post." He also praised Trump and added he himself was "here for as long as the president feels I can be useful to achieving his objectives."
That, ultimately, is the takeaway from any presidential administration: Cabinet secretaries, no matter how good they are at their job or how effective, ultimately serve at the pleasure of the president. Trump doesn't hesitate to make his displeasure known in person, on Twitter, or in public. But even if the president's anger is directed at any one individual, most recently Jeff Sessions, the attorney general who has recused himself from the FBI's investigation of Russian interference in the 2016 presidential election, President Trump, unlike his persona on The Apprentice, seldom, if ever, has directly fired someone—even if he berates them online and reportedly ignores them in meetings.
Tillerson and some of his colleagues may be safe for now—but there's no guarantee that the president will be satisfied with them in the near future. When Laura Ingraham, the Fox News host, asked Trump last November about Tillerson, the president said his secretary of state was "working hard" and "doing his best." But when she asked Trump whether the secretary would last for the duration of the president's term, Trump replied: "We'll see."