James Mattis Has Somehow Stayed on Trump's Good Side
While the president has railed against other Cabinet officials, the defense secretary has avoided his wrath—so far.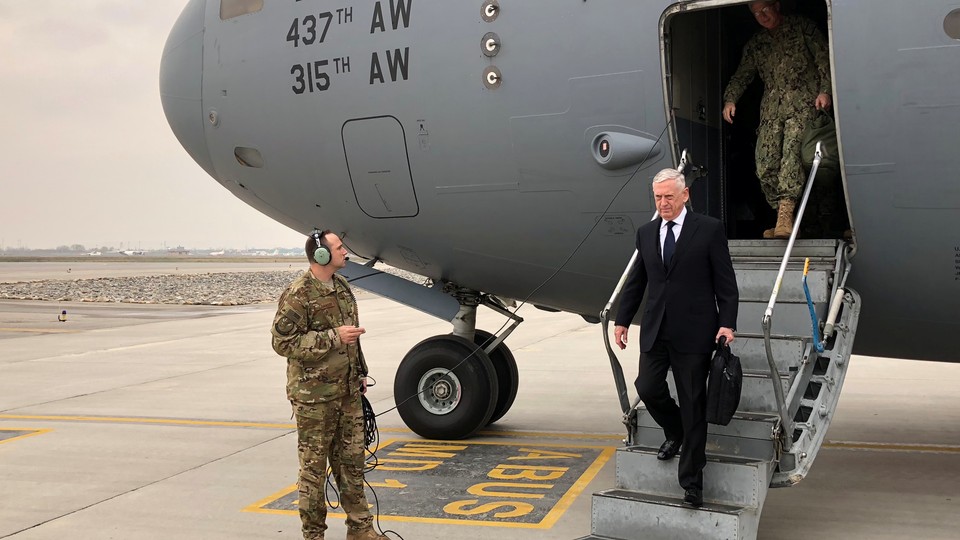 President Trump undermined Rex Tillerson before firing him on Tuesday. He has railed against Attorney General Jeff Sessions on Twitter; chided H.R. McMaster, the national-security adviser, also on Twitter; and pushed back against claims by John Kelly, the White House chief of staff, that the border wall would never be built. But there is one high-profile Cabinet official who has never publicly been on the president's wrong side: Defense Secretary James Mattis.
On the contrary, Trump has gone out of his way to praise Mattis, singling him out during his State of the Union speech in January for "doing a great job." Trump has acknowledged that he likes generals—so much so that he named three of them to his inner circle after becoming president: Mattis, McMaster, and Kelly, who was initially the Homeland Security secretary before moving to his White House job. But the military rank is not the only reason why Trump's relationship with Mattis hasn't deteriorated as it has with the other generals—and indeed much of the rest of his Cabinet.
As The Washington Post reported last month, "Mattis has been one of the least visible and most consequential members of Trump's foreign policy team. In Situation Room meetings, he has established himself as a commanding voice, reining in discussions before they devolve into chaos. State Department ambassadors say they have spent more face-to-face time with him than they have their own boss, Secretary of State Rex Tillerson."
That lack of visibility may be one reason why Trump thinks Mattis is "doing a great job." Axios reported Tuesday that Cabinet officials who have remained under the radar, sometimes deliberately, are still in the president's good books. They are, according to Axios: Agriculture Secretary Sonny Perdue, Transportation Secretary Elaine Chao, Labor Secretary Alex Acosta, the new HHS Secretary Alex Azar, trade representative Bob Lighthizer, and Small Business Administrator Linda McMahon.
Mattis and Tillerson, who was ousted Tuesday, had reportedly forged a particularly close working relationship. Mattis had said they spoke multiple times a day. There were even reports last year, amid a crescendo of leaks about Tillerson's supposedly imminent departure, that the secretary of state, Mattis, and Treasury Secretary Steve Mnuchin had a "suicide pact" wherein if Trump moved against one of them, the others would quit, too. So far, that has not happened.
What is not publicly known is the nature of Mattis's relationship with CIA Director Mike Pompeo, who Trump named as Tillerson's replacement. Given their present positions, they have likely worked on a variety of issues. But for an administration that has been the leakiest in recent memory, there is little evidence to suggest that the men don't get along—in fact there's some indication they work well together. Either way, both men support a hard line on Iran, though Mattis, unlike Pompeo, is reported to want the U.S. to remain in the nuclear agreement the Obama administration negotiated with the Islamic Republic.
Tillerson's departure will also raise the profile of Nikki Haley, the U.S. ambassador the UN, who at one time was mentioned as a possible replacement for the outgoing secretary of state. Mattis has previously praised her. His relationship with McMaster is reportedly tense, though The New York Times reported Tuesday that the national-security adviser may also be own his way out—to be replaced by John Bolton, the Bush-era ambassador to the UN who is hawkish on Iran. Mattis might not get along with McMaster, but it's unclear if he takes Bolton seriously.
Ultimately, as with any president and his Cabinet officials, they serve at his pleasure. Mattis enjoys that for now. It's unclear how long that will last.