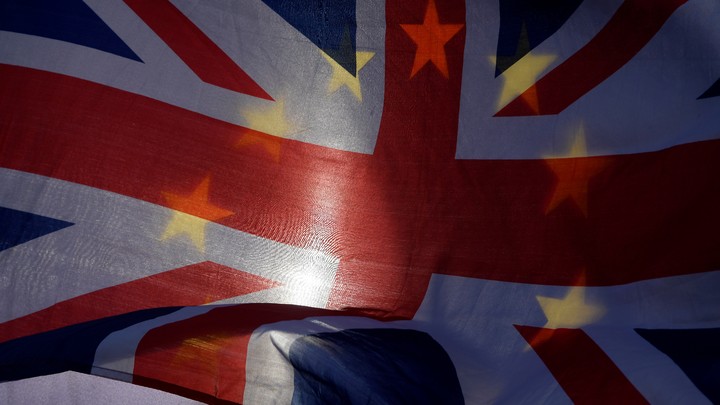 At first, Elena Remigi thought getting British citizenship would be a formality. Though she was born in Milan, she had lived in the United Kingdom for more than a decade. She owned a house, she had a car, and she even got permanent residency—an arduous process that involves filling out an 85-page application and providing a stack of documents to prove eligibility. But after Britons voted in June 2016 for the U.K. to leave the European Union, she thought the long and expensive process to get a British passport would be worth it.
It was so easy before. In much the same way an American from, say, Nebraska, could pick up and move to New York without having to go through an immigration process, let alone change citizenship, one point of the European Union was to give all European citizens the same kinds of rights to live and work anywhere in Europe. Moving from Milan to London was a lot like moving from Omaha to Ithaca. Except it's not anymore—but nobody's exactly sure yet what it's supposed to be like.
The practical implications of this became clear to Remigi when she filed her citizenship application, which included sheafs of utility bills and a detailed list of flights she had taken in and out of the country dating back five years. But that wasn't enough. She's a stay-at-home parent. "I had to prove my existence here, and since I do not work in a specific place, they couldn't prove that I was really a resident," she told me. "I have a house, I have a family here, I own a car, and still I had to send another three kilos of additional evidence just to prove that I existed here."
The referendum result set in motion a complex array of political machinations that can feel hopelessly abstract, but one very simple outcome is this: Nearly 5 million people living in democracies across Europe were suddenly unsure of their rights. Most of these are people from elsewhere in Europe, legally residing in the U.K. for now but unsure whether they'll get to stay. The same is true of a smaller number of British citizens who have made their homes across the Channel. And while a draft withdrawal agreement presented by U.K. and EU negotiators on Monday set out to clarify what some of these rights would look like after the U.K. fully transitions out of the EU at the end of 2020, plenty of unknowns remain. The3million, an advocacy group for citizens' rights, said in a leaked letter to European Council President Donald Tusk that the draft agreement "makes for a bleak, uncertain future."
"Nothing has been agreed, nothing is in writing, and there's no deal for citizens in case negotiations [on the terms of Brexit] fail," Maike Bohn, a German citizen living in the U.K. and a co-founder of the3million, told me. If, she asked, the parties can't agree on these people's rights, "What happens to us then?"
This uncertainty set Remigi on a fact-finding mission, which culminated in the June 2017 publication of In Limbo, a collection of testimonies of more than 100 EU nationals living in the U.K. between March and April 2017. The book includes the story of a Danish citizen who was denied permanent residency after living in the U.K. for 18 years due to an insurance requirement that many were unaware existed; an Italian couple who, despite being permanent residents in Oxford, are considering leaving the country due to a spike in hate crimes in the aftermath of the Brexit referendum; and a British national who is using her status as the granddaughter of German Jewish Holocaust refugees to apply for German citizenship in case her French partner's permanent residency application is rejected. "The book has been written to show the human side of the Brexit story—the human cost," Remigi said. "When you read these stories you realize the pain, the suffering … that our rights should have been guaranteed from the start."
On the other side of the Channel, U.K. citizens are experiencing some of the same confusion and uncertainty. In particular, prior to Brexit they had the right to move and work freely among European countries. When the terms of Brexit are finally settled, it's not clear they will. Daniel Tetlow, a British citizen who lives in Germany and is the co-founder of British in Germany, an advocacy group for British expats, told me losing this right could threaten the very livelihoods of some British expats. "If you live on a border and you have a catering industry and you are catering as much to Switzerland or France or Holland as you are to Germany, you're going to have major issues being able to do that as a British citizen," he said.
Europeans will be able to move to the U.K. before the Brexit process ends, but they will have to got through an application process to remain there—as if the proverbial Nebraskan in New York suddenly had to get permission to stay. And Remigi notes that, like all applications, this one "can be turned down."
The uncertainty is already showing real consequences. The U.K.'s Office for National Statistics revealed last month that EU net migration (the difference between those entering the U.K. and those leaving it) has fallen to its lowest level in five years—a "Brexodus" driven by a decreased number of EU nationals coming to work in the U.K. and an increased number leaving. Bohn said that of her group's 37,000 members, more than half are considering leaving the U.K. "People can't plan for the future," she told me, noting that while they aren't "sitting on packed bags," they are looking into contingency plans. "I've lived here for nearly 30 years, I've got a child at a British school who came here at five weeks, I have British friends. I don't just pack my bags, but I've been looking at jobs in Berlin just in case."
And it goes both ways. Redfern Jon Barrett, a British citizen who has lived in Germany since 2010, is one of thousands of Britons applying for German citizenship in the aftermath of the Brexit vote. Though Barrett has lived in Germany long enough to apply, he told me that isn't the case for a number of his British friends in the country. Germany, like many other EU countries, requires that applicants have at least five years of legal residency in the country before they can be eligible for permanent residency. "Many of them have been here maybe two years, maybe three," he said. "What's going to happen to them in the meantime? … I thought we would at least know what was going to happen to us."
Apart from negotiators in London and Brussels, there is one other body that could have a say: the European Court of Justice. Last month, an Amsterdam district court asked the EU high court to consider a case brought by five British nationals living in the Netherlands seeking to retain their EU citizenship after Brexit. Michaela Benson, a researcher at Goldsmiths, University of London and the leader of BrExpats, a U.K. in a Changing Europe-funded research project focusing on the rights of British residents in EU, said that if the high court deems EU citizenship irremovable, it could have major implications for Britons everywhere. "If it's successful, it won't just be about U.K. nationals living in the EU," she said. "It would be about all U.K. citizens who were, up until the point of Britain's withdrawal from the EU, considered EU nationals. … That could change the game."
Until then—or until the terms of Brexit are finally agreed—there's nothing they can do. "We will be in limbo until the very end," Bohn said, "and that is horrible."
We want to hear what you think about this article. Submit a letter to the editor or write to letters@theatlantic.com.