A Short Guide to John Bolton's Government Career
The incoming national-security adviser has advocated for war with North Korea.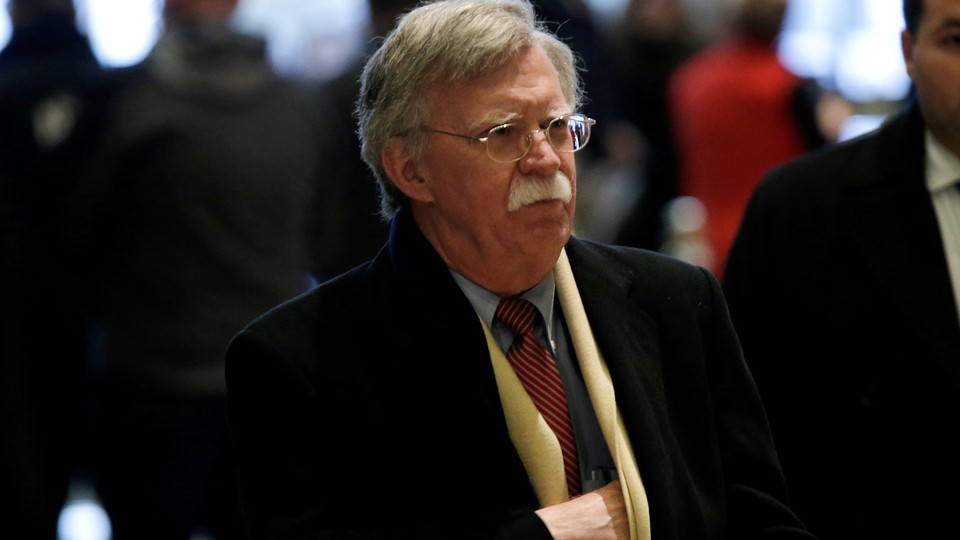 It is only fitting that, within the same week the United States marks 15 years since the 2003 Iraq invasion, John Bolton has been named the president's national security adviser.
Bolton advocated for another U.S. invasion of Iraq, following the first Gulf War, as far back as the 1990s, when he called on President Clinton to oust Saddam Hussein. Later, as under secretary of state for arms control, during President George W. Bush's first term in office, he told the BBC the U.S. was "confident that Saddam Hussein has hidden weapons of mass destruction and production facilities in Iraq." The evidence used to go to war in 2003 might have long been deemed mistaken, and some of the war's most ardent supporters might have expressed second thoughts since then given the immense cost of human life and the destabilization of the region, but Bolton has maintained that deposing Saddam was worth the effort—even if the decisions made after the invasion weren't always right.
It is that sort of steadfastness in views—or, depending on your perspective, unapologetic hawkishness—that apparently impressed President Trump, a critic of the war in Iraq. Bolton was a regular on Fox News, where he called for aggressive postures toward North Korea and Iran. Bolton, like Trump, is also a critic of multilateral institutions, international agreements, and free trade, and an advocate for a foreign policy based on what he sees as exclusively American interests.
Bolton has called for an "end" to North Korea and argued recently in The Wall Street Journal for a preventive first strike against the regime of Kim Jong Un, who Trump is expected to meet in May. Like Trump, he believes the nuclear deal China, France, Germany, Russia, the United Kingdom, the United States, and the European Union signed with Iran is a sham that does little to curb Tehran's activities. His appointment increases the likelihood the president will withdraw from the agreement in May.
Bolton served in government as a political appointee in the Reagan and George H.W. Bush administrations. He served at the U.S. Justice Department, the U.S. State Department, and the U.S. Agency for International Development in a variety of positions. His hawkish views on foreign policy won him many admirers (as well as critics). He remained a polarizing figure during the presidency of George W. Bush. He was named, at Vice President Dick Cheney's insistence, undersecretary of state for arms control in Colin Powell's State Department.  There, he made the case for the U.S. withdrawal from the antiballistic missile treaty with Russia, but later helped negotiate a pact with Russia that saw both countries commit to large reductions in their nuclear-weapons stockpiles. He did not win many admirers among U.S. allies during this time, with U.K. officials, in particular, seeing him as an obstacle to negotiations with difficult countries like Iran and Libya, and persuading Bush to keep Bolton off the negotiating teams.
Bolton, in his memoir, Surrender Is Not an Option, made clear what he thought about the State Department: "State careerists are schooled in accommodation and compromise with foreigners, rather than aggressive advocacy of U.S. interests, which might inconveniently disrupt the serenity of diplomatic exchanges, not to mention dinner parties and receptions." He called the department's  East Asian and Pacific Affairs Bureau, which works on issues including North Korea and China, the "EAPeasers." Those "State careerists" could be similarly skeptical of him. Christopher Hill, a diplomat of long standing who conducted negotiations with the North Koreans during the Clinton administration, characterized Bolton's appointment as a "major promotion." Bolton, Hill told me via email, has "never had this level of responsibility before. [He was] always a kind of in-house free electron, amusing but not particularly consequential. All that changes now."
Condoleezza Rice, who succeeded Powell as U.S. secretary of state, resisted the White House's efforts to make Bolton her deputy. Instead, he was dispatched to the UN as U.S. ambassador. Bolton was a longtime critic of the United Nations. In 1994, he famously said:  "The (UN) Secretariat building in New York has 38 stories. If it lost 10 stories, it wouldn't make a bit of difference." When U.S. senators asked Bolton what he meant by those remarks, he said he was making the case for a leaner bureaucracy in an organization notorious for its red tape. But comments like that, along with his other views, ensured that Bolton could never win over the Senate Foreign Relations Committee. Bush named him to the UN post as a recess appointment. Bolton served in the position for about a year before stepping down.
But if his blunt assessments of U.S. allies and adversaries alike, as well as his brusque manner, has won him admirers, Bolton's conduct with his colleagues has been criticized. Subordinates complained about his abrasive behavior. During Bolton's nomination hearing for the UN job, Carl Ford, an intelligence official and assistant secretary of state, as well as a self-described conservative Republican, testified that Bolton bullied an intelligence analyst over evidence about Cuba's suspected weapons programs, prompting an intervention from Powell. Bolton is a "kiss-up, kick-down sort of guy" who "abuses his authority with little people," Ford said at the time.
George W. Bush later appeared to regret his choice of Bolton, reportedly saying he didn't "consider Bolton credible." Those remarks, made in the final days of his administration, came after Bolton wrote a column in the Journal, criticizing the Bush administration: "Nothing can erase the ineffable sadness of an American presidency, like this one, in total intellectual collapse."
Trump had long wanted to name Bolton to a top Cabinet position, but in addition to the fact he would likely have faced strong opposition in the Senate, Rice and other Republican éminences grises advised Trump against it. And yet, a little more than a year after he entered the White House, Trump went his own way, announcing Thursday that Bolton would replace H.R. McMaster to become the president's third national security adviser. The position doesn't require Senate confirmation—a point that was also apparently relevant to Trump's appointment of his first national-security adviser, Michael Flynn, a controversial pick at the time who has since pled guilty to lying to the FBI. Bolton, meanwhile, had the president's ear while on Fox News. Whether he can keep Trump's attention now is a question for another day.