How Italy's Five-Star Movement Is Winning the Youth Vote
They can't find jobs, and the centrist parties have failed them, opening space for the populists.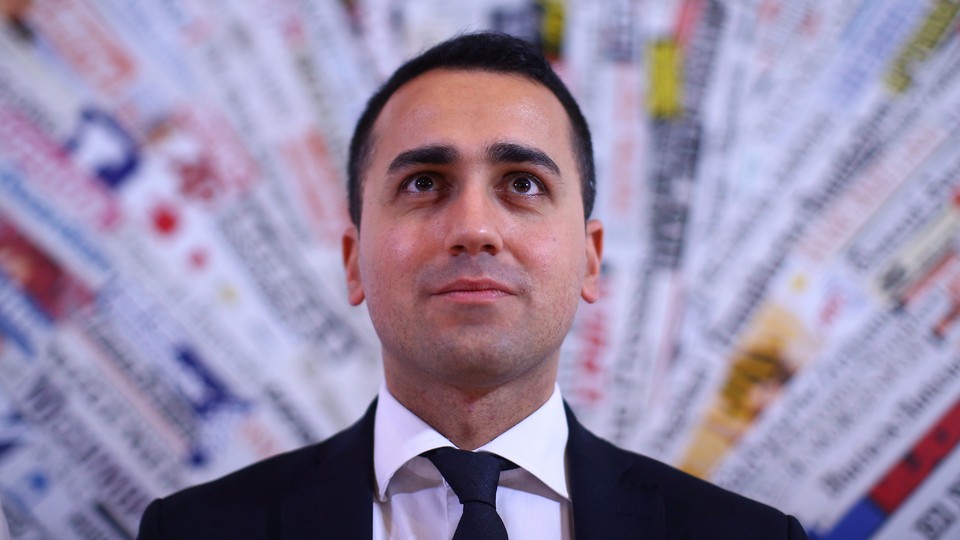 CASTELFRANCO VENETO, Italy—Eleonora Pettenuzzo, an 18-year-old high school student in this town of 33,000 about an hour's drive outside Venice, doesn't pay much attention to politics. Political headlines in Italy, she said, are "always about some scandals or corruption" and include "no messages to young people."
When I asked Pettenuzzo who she planned to vote for in the March 4 national elections—her first—she said she is leaning towards the nine-year-old Five-Star Movement. "The other parties … have already ruled during the last decades. The results of their government weren't so good, so much so that they have led to a deep crisis," she told me. The Five-Star Movement, by contrast, is a populist party founded as an internet-driven, anti-establishment movement by comedian Beppe Grillo. Even if it has its own share of scandals, Pettenuzzo said, it "tries to be transparent and [its] ideas are explained clear in its online site, which is easily accessible and understandable from everyone."
As Italy's campaign kicks into high gear, young voters like Pettenuzzo are increasingly turning away from traditional centrist parties and toward populist parties like the Five-Star Movement and the right-wing, anti-immigration Lega (or "League," formerly known as the Northern League). Fed up with what they see as a political establishment that ignores their problems, including high unemployment and waning opportunity, young people are helping shift the Italian political landscape in ways that could reshape the country's future.
Lorenzo Pregliasco, a pollster in Italy with Quorum/YouTrend, told me that pre-election polling is "consistent with the view of young people tending to go toward fresher, newer options." A survey conducted by his firm earlier this month found the Five-Star Movement winning the support of 31 percent of those aged 18 to 22 and 35 percent of those aged 23 to 28, both higher than the average support for the party among the total electorate. By contrast, Forza Italia, whose figurehead is the 81-year-old former prime minister Silvio Berlusconi, garnered the support of just 15 percent of 18- to 22-year-olds and 19 percent among 23- to 28-year-olds. The center-left Democratic Party, which currently leads the government, was the choice of 20 percent of 18- to 22-year-olds and 17 percent of 23- to 28-year-olds.
"Young Italians are, in general, very frustrated by their condition and disappointed by the current political situation," Alessandro Rosina, a Milan-based professor who helped conduct a study on Italian youth for the Toniolo Institute, told me. "The traditional parties are the main [people] accused by the Italian millennials: because they failed to improve their condition during the past governments, because they are not in tune with their language and their demands."
The Five-Star Movement began life as a series of meet-up groups for the politically disaffected across Italy—including at gatherings called Vaffanculo days (which roughly translates to "F***-Off" Days). Later, it evolved into an online network organized by Grillo and the late Gianroberto Casaleggio, a web strategist, serving as a forum for participants (or "activists," as the party refers to its members) to air grievances against the political system. Eventually looking toward electoral office, the Five-Star Movement stormed onto the political scene and ran its first-ever candidates in Italy's 2009 local elections. In the parliamentary elections just four years later, its candidates received more votes than any other party.
The Five-Star Movement's political ideology is difficult to discern. It rejects the notion that it fits on the traditional left-right political spectrum and refers to itself as an anti-establishment, anti-corruption movement rather than as a political party. The name "Five-Star" refers to five core positions of the party: public water access, sustainable transportation, sustainable development, a right to internet access, and environmentalism. Its politicians have also campaigned on euroskepticism and anti-immigration sentiment. Though immigration is not as singular a focus for the Five-Star Movement as it is for the Lega, opposition to immigration has certainly played a big role in its campaign rhetoric: The party's leaders have at times called for the immediate expulsion of immigrants, and leader Luigi di Maio suggested Italy should focus on improving its own birthrate rather than "resigning" itself to immigration.
This approach and this message appealed to young voters for a reason. Growing up in the shadow of the 2008 global recession, by far the biggest issue for young Italians is finding a job that suits their qualifications, or just finding one at all. Italy's 32 percent youth unemployment rate is nearly twice the European Union average. What's more, a major post-recession spike in the number of short-term or part-time work contracts with correspondingly lower pay—labor statistics show that 537,000 of these jobs were added last year alone—means even those who find positions feel no security. As a result, many young Italians hope to move abroad in search of better job opportunities elsewhere.
"It's a very difficult future for us, especially young people, because there aren't job opportunities," 18-year-old Anna Geron in Castelfranco told me. She explained that her 32-year-old brother had no luck finding a job since finishing college. "I am afraid of not finding the right job, so I think I will go abroad because there are more opportunities," she said. Geron is supporting the center-left Democratic Party, but said she's in the minority among her peers, many of whom support the Lega.
Almost all the young people I spoke with felt that the traditional parties spoke mostly to older voters, and failed to offer concrete plans to help young Italians find employment. There is electoral strategy at work here: Voters aged 18 to 24 make up just 7 percent of the total population of Italy; those aged 25 to 34 make up just 11 percent of the population, Ipsos pollster Mattia Forni told me. "Maybe … for this reason, youth issues are completely, or nearly, missing in the political campaign," he said.
By contrast, the Five-Star Movement's platform speaks directly to them. The party has pledged to introduce a universal basic income for all Italians, cut down on short-term work contracts, and invest an additional 2 billion euros in the labor market. What's more, the party's lead candidate is the 31-year-old Luigi di Maio, who in 2013 became the youngest-ever vice president of Italy's lower house of parliament, the chamber of deputies.
Luca Puricelli, a 33-year-old physicist in Ispra, works as a researcher. But it's a temporary position, which means he doesn't know whether he'll be able to keep it come this summer. In his view, the problems young people face are directly connected to the self-interested old guard of Italian politics and what he believes is rampant political corruption—which is why he's supporting the Five-Star Movement (even if the party has had its own troubles with corruption issues, most notably with Rome Mayor Virginia Raggi). Politics "should be intended like a civil service, but they just think about their benefits … they don't really think about the problems of other people," he told me.
These arguments are very much at the core of how Five-Star Movement politicians see themselves and their central message. Over pasta and wine in Padua, Giulia Sarti, a 31-year-old member of the party elected to parliament in 2013, said the desire to see politicians who focus on their issues and govern in their image that is bringing young people into the fold. "How can you be thinking of what young people want when you've been sitting in the same seat [in parliament] for years?" she asked of parties like the Democratic Party and Forza Italia. "In Italy right now, left and right are blurred, so there's a huge confusion … the way we see it, Italy's problem is that we've lost credibility because our politicians don't really represent us." (It's worth noting that about a week after this conversation, Sarti came under fire for failing to transfer money from her salary that was supposed to go to a party fund; she has since repaid the cash, to the tune of €23,000, and blamed the trouble on her ex-boyfriend.)
If young people are drawn to the Five-Star Movement because of its anti-establishment messages and ability to organize online, the Lega has a different advantage with young people in that it has perhaps the most active youth organization of any party. Luca Toccalini, a 27-year-old leader in the youth wing of the Lega and a candidate for parliament near Milan, credited the Giovani Padani for helping bring in more young voters this year. Even more than that, he said the party's new leader, 44-year-old Matteo Salvini, has appealed to this demographic with his strong anti-immigration rhetoric. "Thanks to Matteo Salvini, a lot of youth wants to join the Lega," he told me. "We believe that it is important to bring young people into politics … our project is to restore the hope of these people."
So what can the traditional parties do to win back young voters? Claudio Bergamin, the head of Forza Italia in Castelfranco (which here governs the city in a coalition with the Lega), said it is certainly difficult to attract vocal young supporters to his party in the face of the "culture of anti-something" of the Five-Star Movement and the Lega. "They have seen that there were failures in the left, there were failures in the right, so [they say], 'I don't care about them, I want to vote Five-Star because they are completely new,'" he explained over espresso. Though it's difficult to be "new" with the 81-year-old Berlusconi as party figurehead, Bergamin said some young people look up to Berlusconi as a kind of national nonno (or grandpa).
And Paolo Calvano, the leader of the Democratic Party in the Italian region of Emilia Romagna, said the traditional parties need to talk more about the future to regain young voters' trust. "They want big changes for their future," he said. "To get their votes and trust, political parties need to be able to build a credible and consistent perspective for their future."