Trump Keeps Picking on the U.K. on Twitter
If it's not about terrorism, it's about the National Health Service.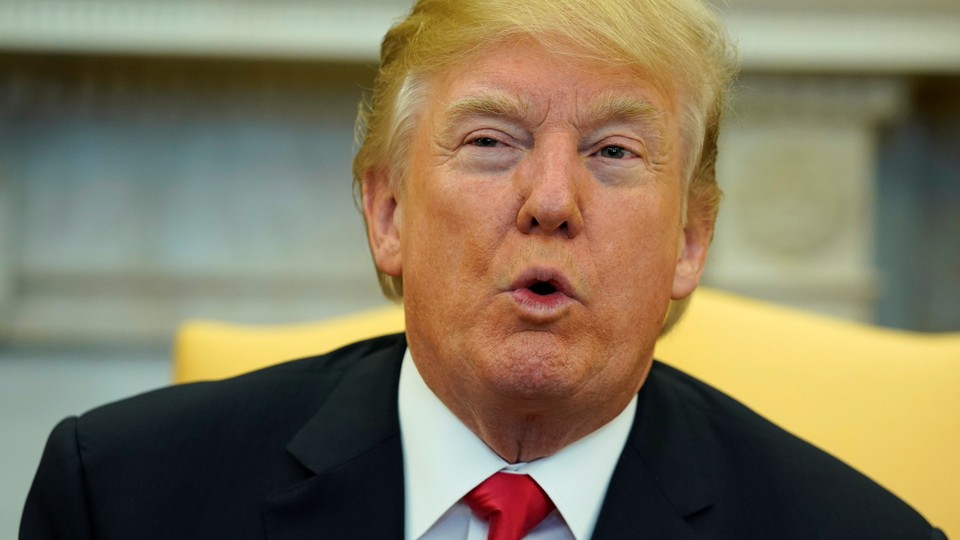 American presidents typically make at least a rhetorical show of not interfering in the internal affairs of most other countries—particularly allies. When Barack Obama weighed in on his preferred outcome in the U.K.'s Brexit referendum, for example, some took it as unseemly meddling. Donald Trump, though, has freely and repeatedly scolded the U.K. in public, first on counterterrorism, now on health care, and in both cases on Twitter.
Trump on Monday called out the U.K.'s treasured universal health-care system, the National Health Service, to criticize his political rivals back home. "The Democrats are pushing for Universal HealthCare while thousands of people are marching in the UK because their U system is going broke and not working," he said in apparent reference to weekend protests in London. During those protests, thousands of Britons called on the government to allocate more funding for the health service.
Trump's decision to single out the NHS (as opposed to the universal health-care systems in other countries, like France and Canada, that also have them) was perhaps not coincidental. As Buzzfeed reported, the tweet coincided with a Monday morning segment of Fox & Friends, in which former U.K. Independence Party (UKIP) leader and Trump ally Nigel Farage warned that if the U.S. were to introduce free universal health care, "then any attempt in the future to reform it or take those benefits back becomes politically impossible." (The odds of the U.S. doing this anytime soon are not high; even Obama's health care overhaul stopped well short of introducing free universal health care, and Republicans have been trying to repeal that law almost since it passed.)
Notwithstanding protests calling for more money, the NHS has been described as being "the closest thing the English people have to a religion"—according to one survey more than 90 percent of Britons believe it's the government's responsibility to provide health care. Trump's attack on the NHS thus won't do much for his favorability in the country, where confidence in the American president stands at just 22 percent. British lawmakers across the political spectrum jumped to the NHS's defense. Jeremy Hunt, the British health secretary, declared that he was "proud" of the country's universal health care system. "I may disagree with claims made on that march, but not ONE of them wants to live in a system where 28m people have no cover," he said, in apparent reference to the number of Americans without health insurance. Hunt's tweet spoke for the British government, according to U.K. Prime Minister Theresa May, who added that she too "is proud of having an NHS that is free at the point of delivery." Labour party leader Jeremy Corbyn also weighed in, noting: "People were marching because we love our NHS and hate what the Tories are doing to it. Healthcare is a human right."
Trump has criticized the U.K. on Twitter before. Within hours of an attack on the London Tube last September, Trump claimed the "sick and demented" perpetrators were known to U.K. authorities before using the attack to make a case for his own travel ban—commentary that U.K. Prime Minister Theresa May criticized as being "unhelpful." The president publicly sparred with British lawmakers again two months later when, in response to criticism over his retweeting of several videos belonging to the far-right nationalist group Britain First, Trump told May, "don't focus on me, focus on the destructive Radical Islamic Terrorism that is taking place within the United Kingdom. We are doing just fine!"
Even so, the president said in a recent interview with British TV presenter Piers Morgan that he and May "actually have a very good relationship, although a lot of people think we don't."(Morgan, usually a Trump defender, also criticized the president's NHS comments.) One reason people think that: The president unexpectedly announced that he was scrapping his long-anticipated visit to the U.K. last month, citing his displeasure with the new location of the U.S. embassy. And while he has since announced that the visit is back on for sometime in October, there's no telling what future conflict—on or off Twitter—could derail it again.