The State Department Just Lost Its Most Experienced Leader
Tom Shannon's departure leaves just one career ambassador at the beleaguered agency.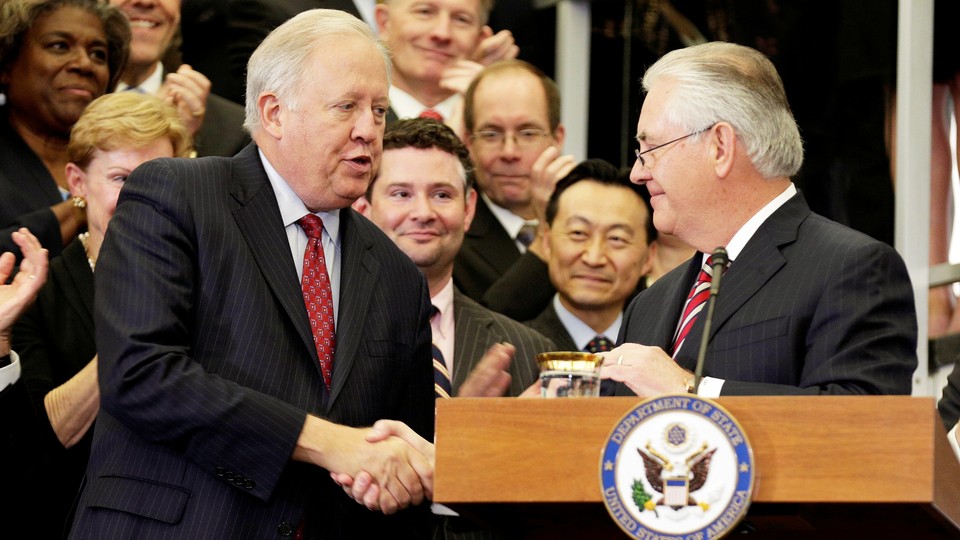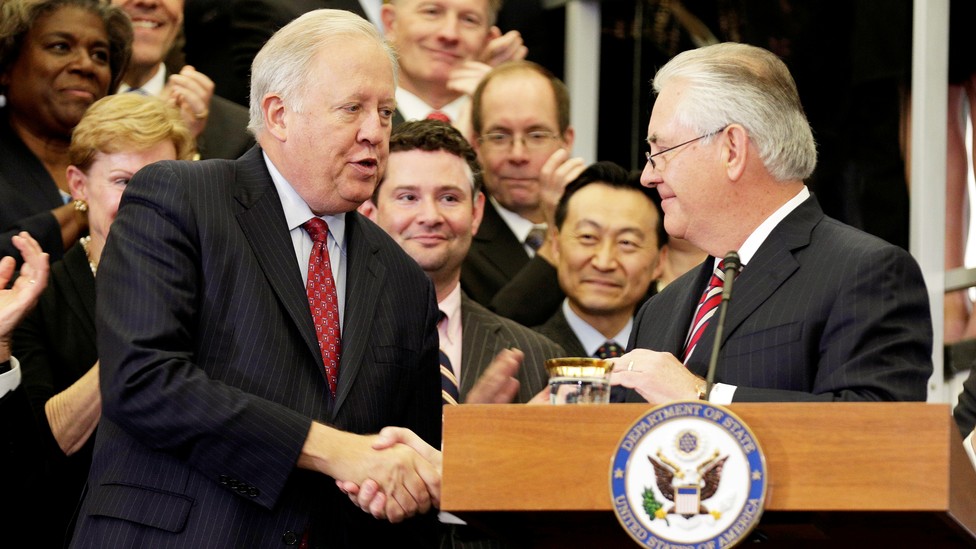 Tom Shannon is an increasingly rare kind of public servant in Washington—a career diplomat who served administrations of both parties, starting with the Reagan administration, and one of only two people currently at the State Department to have achieved the title of "career ambassador." (There were five when Obama left office.) "I have had the honor of serving under six presidents and ten secretaries of state," he wrote in a memo to staff when he announced his retirement on Thursday. All of them, he wrote, were "extraordinary public servants and great Americans." And, he went on, "[a]s with each of you, my service has been defined by ... the commitment we make to protect and defend our Constitution, our institutions, and our values. Underlying this commitment is our deep respect for the will of the American people and a determination to advance the interests and well-being of our nation by ensuring the success of our elected governments."
With that, he announced his intention to step down as the third-highest-ranking official at the U.S. State Department.
"My decision is personal, and driven by a desire to attend to my family, take stock of my life, and set a new direction for my remaining years," he wrote. "The Secretary [of State, Rex Tillerson] has asked me to stay on until my successor is named, and to ensure a smooth transition to the new Under Secretary for Political Affairs. I have agreed to do so."
Shannon was the most senior official at the department who stayed in his post when the Trump administration took over from the Obama administration in January 2017. In an interview with CNN and the Associated Press, Shannon said Tillerson had tried to persuade him to change his mind, but the death of Shannon's mother last November convinced him it was the right time to go. Shannon, who is 60, has been a foreign-service officer for more than 34 years. He is five years shy of the mandatory retirement age for diplomats.
Shannon's retirement is another blow to a department that many who work there feel has been sidelined under Trump. Many senior diplomats have found themselves isolated or ignored by the White House. Some have resigned, and others have been pushed out, leading to reports of an "exodus" of senior staff. Those who remain have complained about the poor morale. A proposed 30 percent budget cut, hiring freezes, and the secretary's slow reorganization of the department have further stoked consternation and fear. Meanwhile there are global crises to manage and fewer diplomats to manage them.
Take senior diplomats: With Shannon's announced resignation, the one remaining career ambassador will be Stephen Mull, who is on sabbatical. Of the six undersecretary positions at the department, four remain unfilled by permanent appointments. Shannon in his interview to CNN and the AP pointed out that 60 percent of the department's workforce has been there for 10 years or less. This says young people still want to work at the department, but it also speaks to the loss of institutional memory at the organization.
Shannon's extensive experience in Latin America, including the ambassadorship to Venezuela in the 1990s during the Hugo Chavez era, made him one of the leading U.S. experts on policy toward that country. Before Tillerson's confirmation as secretary of state, Shannon served in the department's top job for 12 days. When he was asked to stay, he became a bridge during the transition to the Trump administration. That sort of experience is virtually irreplaceable. As Tillerson himself acknowledged to CNN and the AP: "Thirty-five years of experience is not something you replace overnight."
"There is now just one career ambassador left working in the State Department," Senator Bob Menendez, a Democratic member of the Senate Foreign Relations Committee, said on Twitter. "One. Let that sink in. I fear poor management at State that has led to the loss of staff, and failure of the Trump Admin. to nominate enough people to fill vacant positions is risking international security."
The American Foreign Service Association, which represents foreign-service employees, wrote last year  that the State Department's leadership ranks were being "depleted at dizzying speed." Indeed, the nominations process for positions at the the department that require U.S. Senate confirmation has been painfully slow. Several important positions, including ambassadorships to South Korea, Saudi Arabia, and Egypt, are still vacant more than a year into the Trump administration, even as those regions, East Asia and the Middle East, are going through challenging times.
Tillerson, who has publicly advocated for those positions to be filled and has repeatedly praised his staff, has challenged his critics. He has noted that the number of senior foreign-service officials at the State Department is almost the same as the figure in 2016. But repeated high-profile departures, such as Shannon's, are unlikely to help his case.