The American Dream on Thin Ice
A decision by the International Olympic Committee has all but guaranteed a loss for Team USA in hockey. But don't count them out just yet.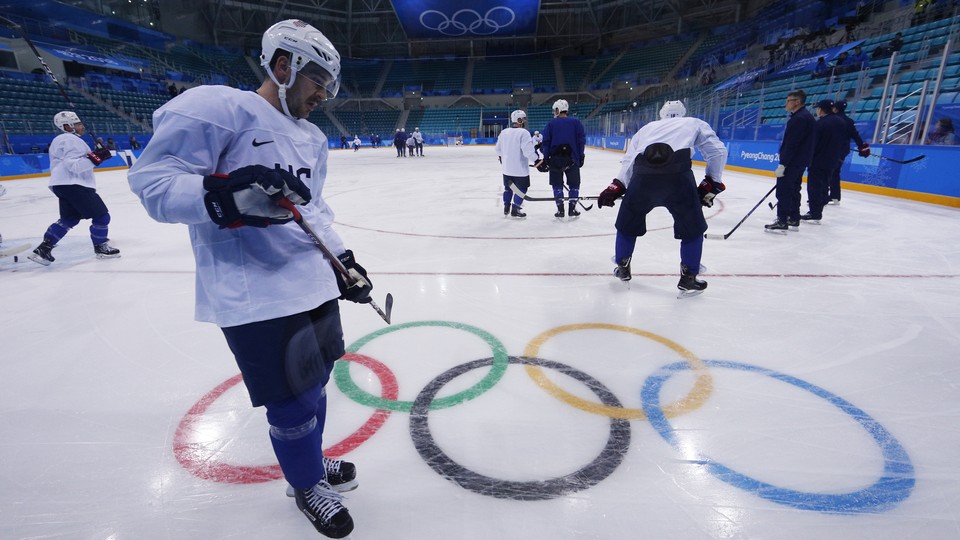 It's an undeniable fact that the United States' standing as an international power has taken a serious hit over the past year. And this emerging, still unfamiliar reality is about to be put on full display. As America falls a few notches in the eyes of its peers, Russia and other nations stand to gain in tremendous ways.
This dire-sounding analysis centers on—what else?—the Olympic men's ice hockey tournament, which commences Wednesday as the United States faces Slovenia and Russia tussles with Slovakia in the first two matches of the opening round. As two-time Olympic champions, the Americans have a history of capping off historic runs at just the right time. But their status as a quadrennial medal contender all but evaporated in the wake of a controversial decision last spring.
Since 1998, players under contract in the National Hockey League (NHL) have been allowed to compete in the Olympics, as the league takes what amounts to a voluntary two-week work stoppage in the middle of its regular season. In return, the International Olympic Committee (IOC) usually foots the bill for the insurance, travel, and other ancillary expenses it requires to get all those NHL players from North America to the Olympics and back again. That eight-digit price tag, though, finally became too much for the IOC. Last spring, the organization informed the NHL, a major professional sports entity that accrues some $4 billion in annual revenue, that it would no longer pay the players' way.
Couple this with the NHL's reluctance to continue pausing its schedule every few years, and you could easily see that this 20-year experiment in international competition was about to expire. The NHL Players' Association vocally opposed the league's decision, and diehard hockey fans, especially those with an acute sensitivity to perceptions around their sport's popularity, will be crushed that they won't get to see Canadian Sidney Crosby suit up for a chance at his third-straight gold medal, or Auston Matthews, the California-born phenom who regularly snipes in goals for the Toronto Maple Leafs, don Team USA's blue jerseys (with cheese grater sleeves). These games will be especially bittersweet for Russia's Alex Ovechkin, the best pure goal scorer of his generation, who will neither get a chance to redeem a poor showing four years back in Sochi on his home soil nor lead his country to its first goal medal since the Unified Team won in 1992.
But the NHL's decision also likely crushed the Americans' chances for a trip to the medal stand. Hockey-mad countries like Russia and Canada, and Scandinavian powers like Sweden and Finland, aren't hurting for talent—the sport is all but embedded in their citizens' DNA. Not so for the United States, whose ragtag roster is replete with past-their-prime NHL veterans, flameouts who never panned out, and young-ish never-beens yet to make their mark. Team captain Brian Gionta was a star at Boston College, where he once scored five goals in one period, before playing 15 seasons in the NHL. Defenseman Matt Gilroy led Boston University to the 2009 National Championship and won the Hobey Baker Award—like a Heisman, but for collegiate hockey. There's talent and experience on the roster, just not as much as in years' past. That the top goalie has never made an NHL roster and had to be summoned from his squad in Russia said much about the team's depth and overall chances for gold. Consider this: Some countries assemble their nationals squads and spend months coordinating practices and preaching potential on-ice tactics. By the time the Americans face off against Slovenia, they will have practiced together as teammates for a grand total of about six hours. Not great.
As America slips, the Russians—or rather, the "Olympic Athletes from Russia" as they are technically called due to IOC punishments in response to allegations of widespread doping—rise. They are the odds-on favorites to win gold; anything less would be another in a string of deflating disappointments. But short of hacking into their opponents' GPS devices to send them away from the Gangneung Hockey Center come game time, the Russians should have little problem methodically inching their way to gold.
If these parallels to the current state of geopolitical affairs hold, then we know how this will play out. The Russians will use any means at their disposal to best all comers, exploiting their edge in talent and determination over their lesser competition. The Americans will approach each contest with confidence in their historical pedigree, but execute as if they're two steps behind and then wonder where it all went wrong. The truest test may come this Saturday when the United States and Russia face off on the ice. There's every chance Team USA will need at least a tie to advance to the next round, so any remaining vestige of American hockey exceptionalism will need to be on full display if its medal hopes are to survive.
The rare speck of hope for the United States is that Olympic hockey can, at its best, be a vastly superior product to the NHL version. With a wider, longer rink, along with small but important differences in the rules, international hockey is a joy to behold, a fast-paced exercise in precision passing, and teamwork. You also need a little luck, of course. In a vacuum, that could bode well for the Americans, especially if they can ride some stellar goaltending to an appearance in the medal round.
Pyeongchang is set to host the most competitive—and, the Americans hope, unpredictable—slate of games in a generation. The United States, if nothing else, knows what it takes to facilitate a miracle on ice when that's what's needed.