'No Words' Left to Describe Syria's Carnage
As regional powers confront each other on the battlefield, Syrians keep dying.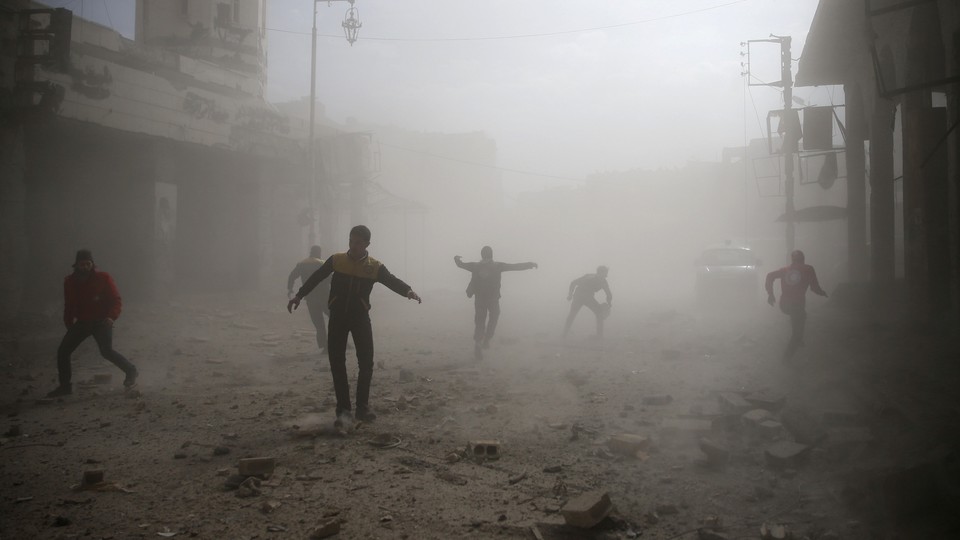 Recent events in Syria have prompted screaming headlines about chemical-weapons attacks, a looming U.S.-Russia confrontation, and the risks of an even bigger, regional war. But the underlying reality of the war—lives being lost, day after day—is so constant nearly seven years in as to effectively cease being "news." One powerful reflection of this, in contrast to the many thousands of words spent analyzing Syria's complex battlefield, was a kind of moment of silence, in statement form.  UNICEF, the UN children's organization, distributed a mostly blank page following reports that dozens had been killed in a bombardment of a Damascus suburb, noting that it was running out of words to describe the daily terror endured by ordinary Syrians:
Accurate estimates of the death toll from these latest attacks are hard to come by, but many accounts suggest that as many as 100 civilians, including children, have been killed in the past 48 hours in the region of eastern Ghouta, in suburbs outside the country's capital. The Assad regime's forces have carried out a near-incessant bombardment of the region over the past 48 hours.
NBC News described it this way: "Death has a soundtrack in Eastern Ghouta: The growing rumble of a jet ripping through the sky, punctuated by a low but loud thud. Then come screams and sirens." A woman who who was with her two children in one of the towns hit told Al Jazeera: "Warplanes have not stopped soaring over the city. When the shelling temporarily stops, they start firing missiles at us."
As the war approaches its seven-year mark, one might try to look for signs of the end approaching. After all, ISIS has been defeated in the country; and Russia, Turkey, and Iran agreed last year to create so-called de-escalation zones, where the fighting is supposed to stop. Still, Syrian President Bashar al-Assad is continuing to use chemical weapons; Israel has gotten involved; Turkey is angry at the U.S. over Washington's support for Kurdish fighters Turkey sees as terrorists; and Assad has intervened on behalf of the Kurds fighting the Turks. Amid claims and counterclaims, allegations and counter-allegations, it is easy to forget that what all this amounts to is human beings dying. Up to 500,000 people have been killed, according to the Syrian Observatory for Human Rights, a London-based monitoring group. The UN has registered 5.5 million Syrian refugees, who are no closer to returning home now than they were when they left after the fighting that began in March 2011.
Eastern Ghouta is in one of four de-escalation zones set up last year as a way to reduce the violence in Syria. But that won't be evident to the people who live there. In violation of internationally agreed upon rules of war, forces loyal to Assad have besieged the area, which is home to about 400,000 civilians, and intensified their attacks in 2018. Residents have little access to medical care; some of them have taken shelter underground. Video from the area shows devastation. The SOHR says the number of fatalities in this attack is the highest in  eastern Ghouta in any 36 hours of bombing since 2015. Islamist-affiliated rebels responded by firing shells on some Damascus neighborhoods; at least eight people were reported killed.
Earlier this month, the Trump administration accused the Assad regime of using chemical weapons in the area. (It's the same region that Assad attacked in 2013 using sarin gas, violating President Obama's infamous "red line" on the use of chemical weapons in the conflict.) It's a region that has stubbornly remained in the hands of the rebels fighting Assad. Now that the war against ISIS is over, Assad, who looks like he will remain in power for the foreseeable future, can turn his full attention to bringing the rest of the country under his control. SOHR called the shelling "crazy," adding it seemed a prelude to a coming ground offensive on the region.
The devastation in Eastern Ghouta has drawn comparisons to Assad's shelling of Aleppo in 2016. That months-long campaign killed more than 700 people. "Bottom line: If we have learned something from Aleppo, [it's] time to actually avoid all this," Staffan de Mistura, the UN envoy for Syria, said.  Save the Children, in a statement, said Tuesday that in "some parts of Eastern Ghouta the destruction is now even greater than at the height of the Aleppo crisis in 2016, yet with only a tiny fraction of the global attention and outrage."
In the coming days and weeks, there will be attention and outrage focused on Eastern Ghouta, as well as on Assad and his enablers in Moscow and Tehran. And still no one will be able to say anything that can make the killing stop.