The Swiss Have Liberal Gun Laws, Too
But they also have fewer gun-related deaths than the U.S.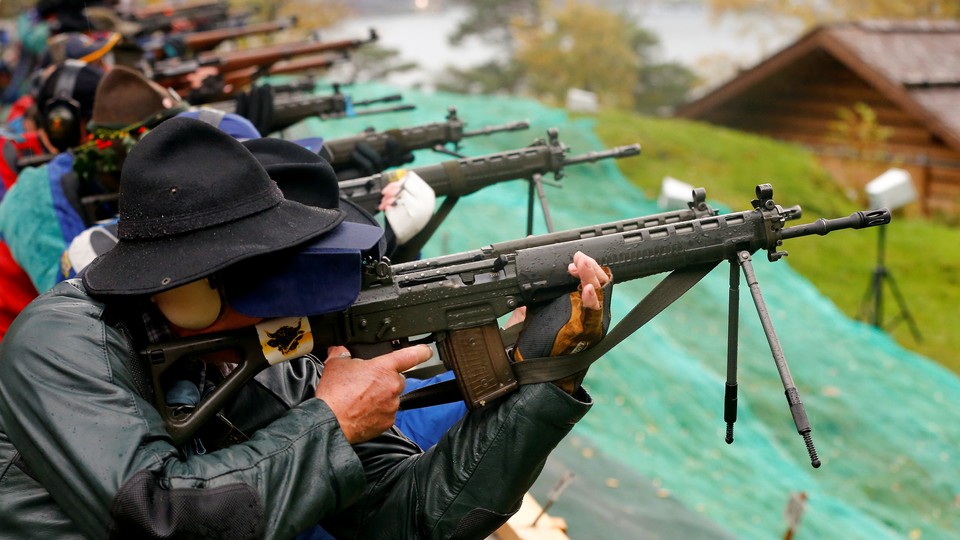 In February 2011, Swiss citizens voted in a referendum that called for a national gun registry and for firearms owned by members of the military to be stored in public arsenals.
"It is a question of trust between the state and the citizen. The citizen is not just a citizen, he is also a soldier," Hermann Suter, who at the time was vice president of the Swiss gun-rights group Pro Tell, told the BBC then. "The gun at home is the best way to avoid dictatorships—only dictators take arms away from the citizens."
Apparently many of his fellow Swiss agreed. The referendum was easily defeated. Gun ownership in the country has deep historic roots and it is tied to mandatory military service for Swiss men between the ages of 18 and 34. Traditionally, soldiers were allowed to keep their weapons at home in order to defend against conquering armies. These fears came close to being realized during the Franco-Prussian War on 1871; as well as World War I, when the Swiss border was threatened; and World War II, when the country feared a Nazi invasion.
But guns are popular beyond the military, as well. Children as young as 12 are taught how to shoot as well as the rules of gun safety, and are encouraged to participate in highly popular target-shooting competitions. The country's cultural attachment to firearms resembles America's in some ways, though it has no constitutional right to bear arms—it has the third-highest rate of private gun ownership in the world, behind the United States and Yemen. Yet Switzerland has a low rate of gun crime, and hasn't seen a mass shooting since 2001, when a gunman opened fire in the legislative body in the Canton of Zug, killing 14 people, as well as himself.
So it's possible to have widespread gun ownership without so frequently seeing the kinds of incidents that the U.S. saw on Wednesday, when a gunman killed 17 people at a high school in Florida. But how?
For one thing, Switzerland's rate of gun ownership is still substantially lower than America's—in Switzerland the rate is roughly one gun per four people, whereas in the U.S. it's more than one per person, according to GunPolicy.org. The Swiss Defense Ministry estimates that there are 2 million privately owned weapons in the country of 8.3 million people. There are estimated to be 300 million guns in the U.S., but 130 million of them are owned by about 3 percent of the adult population.
Another way the two countries differ is in their rates of gun-related deaths. Swiss gun-related death rates are the highest in Europe. The figure for the U.S. is three times higher than that for Switzerland. Much of that is attributable in both countries to suicide. Mass shootings in Switzerland are relatively rare, though, with two in the past 20 years. By one estimate, there have been 30 mass shootings in the U.S. in 2018 alone, including Wednesday's in Florida—though the number of fatalities in these mass shootings is only a small proportion of the overall gun-related homicides in the U.S.
The Washington Post offers some reasons why mass shootings are more common in the U.S. than in Switzerland:
Swiss authorities have a list of about 2,000 individuals they suspect of being willing to commit shootings. All of them are frequently approached by authorities, along with psychologists, and are forced to hand over their weapons immediately or are barred from purchasing new ones.

Some sociologists say that Switzerland's military service comes close to an extended background check, too, and that the country's education system teaches children early on to search for compromises instead of risking open conflicts. Hence, while almost every home in Switzerland may have a weapon, access is still indirectly regulated and the use of weapons usually follows strict societal norms.
Then there's the question of what Swiss guns are meant to defend against. The Swiss trust their government more than citizens of other rich countries trust theirs. So the tradition of gun ownership arose more from the historic need to protect Switzerland from invaders than from the hypothetical need to overthrow a tyrannical government. And as Time pointed out in 2012, "the culture of responsibility and safety … is anchored in society and passed from generation to generation."
The fundamental difference between Switzerland and the U.S. when it comes to buying guns is not the ease of purchase—it's easy in both countries—but the regulations that are associated with gun ownership in Switzerland. Most firearms, with the exception of fully automatic weapons, are legal. But background checks are mandated, which is not always the case in the U.S. Heavy machine guns and military weapons such as grenade launchers are banned in Switzerland; under some circumstances they can be purchased in the U.S. Public-carrying permits are issued rarely. Guns can be transported, but must remain unloaded at all times when they're not in use.
Hunting weapons must be registered with the local Canton. Pistols, rifles, and semiautomatic weapons require a license. The paperwork is relatively easy to obtain—and Cantons can make exceptions for individuals. (Citizens of Albania, Algeria, Sri Lanka, Kosovo, Macedonia, Bosnia and Herzegovina, Serbia, and Turkey who live in the country as permanent residents are forbidden from buying guns because of their nations' history of civil war.)
Switzerland's relatively liberal rules may soon face a challenge from outside the country's borders, however. The country is a member of the Schengen area, the group of 26 European countries that allows for the free movement of people. Some other members of the Schengen area are also members of the European Union (Switzerland is not). Last year the EU tightened the restrictions on gun ownership and Switzerland, as a member of the Schengen, must bring its laws in line with the new regulations by August of this year. Swiss gun-rights advocates are already planning a legal challenge because, among other things, it revisits the idea of a gun registry.
"When conflicts arise, Switzerland must put its sovereignty first," Christoph Blocher, the vice president of the SVP, the country's biggest party, told Reuters. "In an emergency, Switzerland should be ready to exit Schengen."