Russia's Air Industry Is a Victim of Its Own Success
As more people choose to fly, the country's airliners are having a tougher time finding qualified personnel.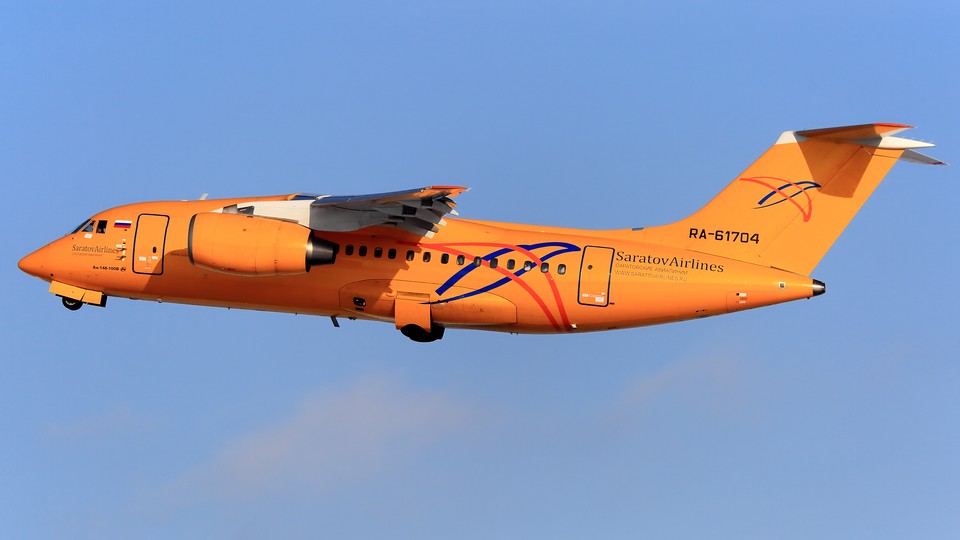 Four minutes after taking off from Moscow on Sunday afternoon, a Saratov Airlines Antonov An-148 headed for Orsk plummeted 6,000 feet into the ground, killing all 71 one people on board. In the aftermath, the images that appeared on television were all too familiar. Jagged metal scattered in a snowy field. Trees ripped apart, debris hanging from their branches. Police lines and disconsolate relatives. Roses placed beneath the departures screen at Moscow's Domodedovo airport.
On Monday, Russia's investigative committee said that the plane had not broken up or caught fire before it dropped from the sky, and that an "explosion occurred after the plane fell." The crash site was relatively compact. All this suggested that the latest tragedy was not due to terrorism, unlike the two planes brought down by suicide bombers in 2004, or the 2015 Sharm El Sheikh disaster. Instead, the investigative committee said it suspected the "airline's activities, the technical condition of the aircraft, the level of the pilots' professional preparedness, [and] whether they underwent the necessary training." If a poorly trained crew was the cause, it wouldn't be the first time.
Plane crashes are a recurring nightmare for Russia, which earned the dubious distinction from the Aviation Safety Network of being the deadliest place to fly in 2011. That was the year that a Yakovlev Yak-42 carrying the Lokomotiv Yaroslavl hockey team botched its takeoff and slammed into a river bank, killing all 45 people on board except a flight engineer. Also in that year, an An-148 caught fire and broke up during a test flight after a gauge failed and the pilots pushed it past its maximum speed. Even after then-president Dmitry Medvedev called for a drastic reduction in the number of airlines and more testing of pilots, the tragedies continued. In 2012, 33 people died after a UTAir ATR-72 crashed in Tyumen. In 2016, a defense ministry passenger airliner heading for Russia's airbase in Syria plunged into the Black Sea, killing 92 people including most of the Red Army choir. And so on.
Why, according to the most recently available data, is flying in Russia four times deadlier than the world average? In large part, the air industry here is a victim of its own success: As the number of passengers has skyrocketed in recent years, airlines in Russia have struggled to find enough qualified personnel. The result, experts have said, is more under-trained, inexperienced and overconfident pilots.
The huge increase in flights in Russia has stretched pilots thin. Between 2009 and 2015, the number of air passengers in Russia doubled to more than 90 million. Last year, the passenger traffic increased by 19 percent. The industry's growth led to a deficit of personnel, a problem that was exacerbated after the ruble collapsed in 2014 and hundreds of experienced Russian pilots began chasing better salaries abroad, especially in high-growth Asian markets.
While pilots in Russia are limited to 90 hours of flight time a month, less than in many other countries, air-worker unions have argued that amid booming ticket sales, airlines sometimes have squeezed too much out of them. An investigation of the 2012 Tyumen crash, for instance, found that the pilots had not had enough holidays and rest time.
More importantly, pilots have on the whole become less skilled, according to Roman Gusarov, editor of the industry site AviaRu.net. "If before air companies chose their pilots very carefully and took only the best, later they were forced to take anyone with a diploma, regardless of their real training, so pilot qualification decreased," Gusarov said. A pilot who is hard to replace and therefore unlikely to be fired may cut corners and take unnecessary risks, he added.
"In Russia, there was always a very strong group of pilots, which you can't say about today's youth," Yury Sytnik, a legendary pilot and airline executive, told Komsomolskaya Pravda radio in 2015. He said in Russia as well as other countries, training institutes were "trying to make not a pilot but rather an operator of a fast-moving machine".
A lack of training can be deadly, as in the 2011 Yaroslavl crash: The pilots, who had forged documents to fly an aircraft that they hadn't been trained for, accidentally applied the brakes during takeoff. The 2012 Tyumen crash investigation also blamed "deficiencies in the initial and recurrent training of crew members" for their failure to recognize the danger of wing ice.
It was a 2013 crash of a Boeing 737 in Kazan, however, that encapsulated the main problems of the Russian air industry. The pilot in that crash lacked the know-how to recover after he nearly stalled the plane, but the Interstate Aviation Committee final report also blamed Tatarstan Airlines for labor violations and inadequate safety protocols and the Russian aviation authorities for failing to flag the crew members' poor level of training.
I asked Gusarov, who flies regularly, what the secret was to avoid dying in a plane crash in Russia. His answer: only fly airlines with good financial results. (Several Russian carriers have gone bankrupt in recent years.) "Then I'm confident that this airline has the money for everything, that they hire the best pilots … and that the planes are maintained in best centers," he said.
Since my own first flight in a rickety propeller-driven plane in Russia in 2008, I've often opted for the overnight train rather than the dodgy local airline. I'll probably stick with that.