There's Still Time to Act Against Russian Interference
Obama didn't move quickly enough. Trump doesn't have to make the same mistake.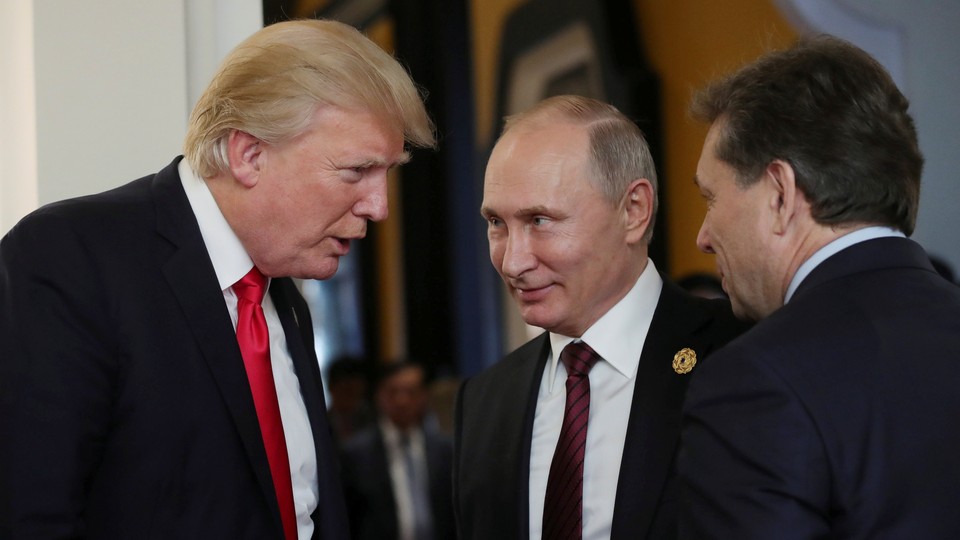 This past Friday, Special Counsel Robert Mueller presented an indictment against 13 Russians and three Russian companies for illegally interfering with the U.S. political process, including during the 2016 presidential elections. The indictment gave a vivid look into an extensive political disinformation campaign, but did not address the Russian hacking of the Democratic National Committee. Nor did it go into any possible ties between the operation and Donald Trump's presidential campaign or organization. This weekend, President Trump responded to the indictment with tweets claiming vindication and criticizing the FBI for supporting the investigation.
The indictment revealed two big things: The U.S. government has the ability to unearth the details of a sophisticated Russian interference operation, and can use criminal prosecution to combat it. In fact, the United States has many tools at its disposal to protect the nation, including law enforcement, sanctions, and regulatory actions to block flows of dirty money. It also possesses an entire menu of digital options to target Russian disinformation campaigns—tools like requiring the labeling of bots and foreign political or issue ads on social media, and supporting private groups working to expose Russian disinformation. It's just a matter of using them. What's missing is sustained and consistent top-level leadership.
According to the Mueller indictment, Russia's conspiracy began in 2014, the same year its forces invaded Ukraine. At first, those of us in the Obama administration, where I helped design the Ukraine-related sanctions in coordination with America's European allies, didn't grasp the extent of the Russian campaign inside the United States. Instead, we sought to counter Russia's far more visible aggression in Ukraine through sanctions and strengthening the U.S. and allied military presence on NATO's eastern flank.
By late summer of 2016, the hack of the Democratic National Committee and additional reporting made clear that we had a real problem on our hands. But for some time, the Obama administration seemed to believe that strong action against Russian interference would, on its own, have been seen as politicization of the election process. It wasn't until December 2016, after the election, that we got serious. The administration did manage to sanction Yevgeniy Prigozhin, allegedly the chief funder of the St. Petersburg troll farm at the heart of the Mueller indictment, in connection with his Ukraine-related activity. (Prigozhin also reportedly funds Russian mercenaries in Syria; he's a busy bad guy.) Some of us in the administration knew we should do more—that we should have imposed sanctions on the Russian cyber sector as a whole, which would have given us the authority to go after a wide range of bad actors. But we were out of time.
Trump's policy towards combatting Russian aggression has been, at best, a ragged one. On the plus side, he has maintained (and may increase) Obama's military deployments to NATO's eastern front, and has offered to sell advanced anti-tank weapons to Ukraine and Georgia. His administration has enforced the existing Russia sanctions, including those related to Ukraine- and the Magnitsky Act. It has even gone after Prigozhin's companies.
But for no good reason, Trump almost rescinded the Ukraine-related Russia sanctions in his first days in office. For that near-miss disaster, Congress slapped the administration with an omnibus Russia sanctions bill. The bill is a mixed bag, but the Trump administration has been slow to move on even its best ideas. Those include cyber-related sanctions, and a mandatory report on the Putin power structure. That report, dubbed the "Kremlin report," turned out to be nothing more than a cut-and-paste job assembled using a publicly available Kremlin organizational chart and a Forbes list of billionaires. The Trump administration also hasn't rallied much of a response to Russia's 2016 campaign-related and ongoing disinformation operations, in significant part because the president denies the operation even exists. He has called it a hoax.
But the Russian assault on America's democracy and other Western democracies is real. At least parts of Trump's administration recognize the problem. On Saturday at the Munich Security Conference, H.R. McMaster, his national security adviser, said that the evidence of Russia's election interference "is now really incontrovertible." Mueller's indictment indicates that Washington has the collective knowledge to fight back. The classified, high-quality version of the Kremlin report, which the Trump administration acknowledged the existence of after it took widespread criticism over the weak, unclassified version, also suggested that the White House has the means to take effective action if it chose to.
Under proper presidential leadership, what would a policy to fight back look like? It could include taking criminal action against Russian bad actors, including those interfering in American elections, and bringing sanctions against bad cyber hackers and actors and their patrons and funders—or even against the entire Russian cyber sector. Using information from the Kremlin report, sanctions could go after Putin and his inner circle. A campaign to expose dark Russian money coming into the United States—similar to America's post-9/11 efforts against terrorist finance—could also make a big difference. Another vital piece of these efforts: bringing together government actors, social media companies, and civil society groups, to identify Russian disinformation and constrict the space in which it operates.
The room for the Trump administration's pros to maneuver on Russian election interference has been limited. But the Mueller indictment may open doors for more action, since all these steps can be taken without prejudice to the issue of "collusion." Here's hoping that the era of denial and deflection ends.