The Truth About Poland's Role in the Holocaust
A new law endangers an honest reckoning with a complex past.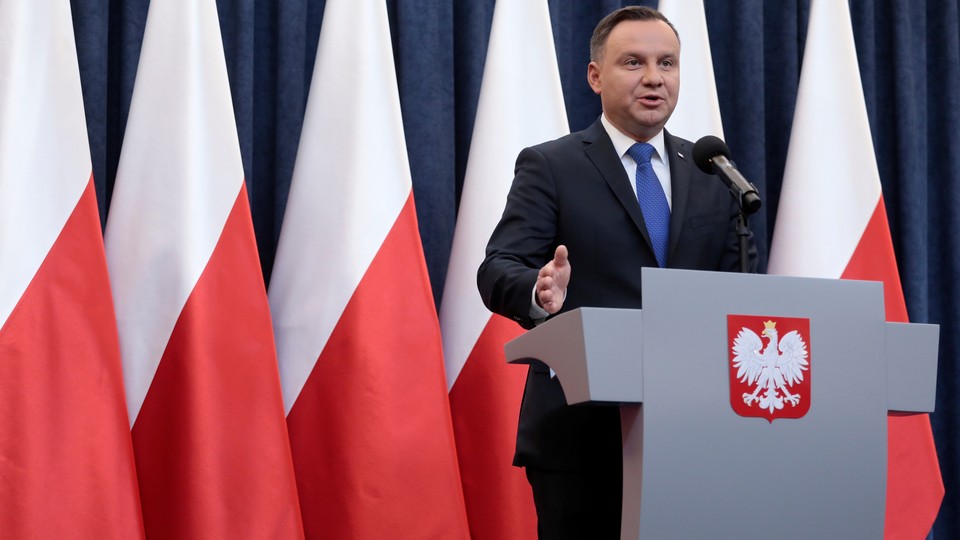 The best history provokes cognitive dissonance. And any version of past events that purports definitively to clarify good vs. evil should be viewed as suspect. A case in point is the public outcry over new legislation in Poland that would criminalize perceived attacks on Polish actions during World War II. The law, which was recently ratified by the parliament in Warsaw and which President Andrzej Duda announced Tuesday he will sign, threatens up to three years imprisonment to anyone who "publicly and untruthfully assigns responsibility or co-responsibility to the Polish Nation or the Polish State for Nazi crimes." The impetus behind the legislation comes from a number of public references to concentration camps or killing centers built by Nazi Germany on occupied Polish territory as "Polish camps."
This misrepresentation appears to attribute responsibility to the Polish government or its people for these sites of imprisonment, torture, and murder. In 2012, President Barack Obama made reference to a "Polish death camp" when posthumously awarding the Presidential Medal of Freedom to the Polish resistance figure Jan Karski. While Obama quickly apologized, his statement touched a nerve in the debate about Poland and Poles' place in the universe of Nazi victims.
Make no mistake: Terms such as "Polish death camps" are historically inaccurate and distort our understanding of how and why Nazi Germany came to build killing centers in that country. A clear-eyed look at the facts demonstrates that the record of Christian Poles, amid the German occupation and the crimes of the Holocaust perpetrated in their country, is not uniformly one of complicity or innocence. Poland was the victim of German aggression, suffering one of the most brutal occupation regimes among countries in the Nazi orbit. Despite severe penalties, more Christian Poles have been recognized as Righteous Among the Nations—those who risked their lives to aid Jews—than citizens of any other country in Europe. But many others supported and enabled Germany in its campaign to exterminate the Jews.
Prior to World War II, anti-Semitism was an increasingly visible factor in Polish society, and government authorities took formal measures to exclude Jews from key sectors of public life. The modern country of Poland was a new one established in the aftermath of the First World War, and during the 1920s and 30s it was still struggling to define its ideological footing and identity. A nationalism deeply rooted in Catholicism was central to that struggle.
On the eve of the Holocaust, Polish Jews made up some 10 percent of the young country's population and approximately one-third of the residents of the capital city, Warsaw. Disturbed by what they saw as outsized Jewish influence, some Polish politicians even pressed for the mass emigration of Poland's Jewish population. It was against this fractious backdrop that the country found itself in a devastating war. Following the German and Soviet invasion of Poland in September 1939, the country was divided between those two occupiers. Then in June 1941, after the German attack on the USSR, all of Poland came under German domination.
The Nazis viewed Poles as racially inferior and deliberately targeted Poland's leadership for destruction, killing tens of thousands of Catholic priests, intellectuals, teachers, and political leaders. The Nazi goal was to decapitate Polish society, thereby reducing the chance of meaningful resistance by eliminating the groups most likely to lead it. At least 1.5 million Poles were deported to Germany as slave laborers in support of the war effort, and hundreds of thousands of others were incarcerated in concentration camps. In total, over 2 million non-Jewish Polish civilians and soldiers died during the course of the war.
As German authorities implemented killing on an industrial scale, they drew upon Polish police forces and railroad personnel for logistical support, notably to guard ghettos where hundreds of thousands of Jewish men, women, and children were held before deportation to killing centers. The so-called Blue Police was a force some 20,000 strong. These collaborators enforced German anti-Jewish policies such as restrictions on the use of public transportation and curfews, as well as the devastating and bloody liquidation of ghettos in occupied Poland from 1942-1943. Paradoxically, many Polish policemen who actively assisted the Germans in hunting Jews were also part of the underground resistance against the occupation in other arenas. Individual Poles also often helped in the identification, denunciation, and exposure of Jews in hiding, sometimes motivated by greed and the opportunities presented by blackmail and the plunder of Jewish-owned property.
In November 1940, an individual who signed his note Ewald Reiman blackmailed a family he believed was Jewish. "Ladies and Gentlemen," he wrote in a letter, "On the basis of accurate investigation, we have determined the truth about your Semitic origins. In view of the above, we request that you deliver to the bearer of this note the sum of 2,000 zlotys (two thousand zlotys) in a sealed envelope. … In return, we will destroy the incriminating evidence that is in our possession. Otherwise, we will immediately hand over the evidence to the German authorities." Such blackmailers made life miserable for Jews who had false identification documents enabling them to hide in plain sight and evade German orders to move into ghettos. "[The plague of extortion] developed into a public evil endangering every Jew on the Aryan side," wrote the Warsaw Jewish historian Emanuel Ringelblum in 1944. "The extortionists stripped their victims of their every last possession and forced them to flee for their lives."
Cases of anti-Semitic action were not limited to abetting the German occupation authorities. There are well-documented incidents, particularly in the small towns of eastern Poland, where locals—acutely aware of the Nazis' presence and emboldened by their anti-Semitic policies—carried out violent riots and murdered their Jewish neighbors. Perhaps the most infamous of these episodes was a massacre in the town of Jedwabne in summer 1941 when several hundred Jews were burned alive by their neighbors. More difficult to unpack is the tangled history of the southeastern village of Gniewczyna Łańcucka. In May 1942, non-Jewish residents of the town held hostage some two to three dozen local Jews. Over the course of several days, they tortured and raped their hostages before finally murdering them. Yet recent interviews with locals reveal that other Christian Poles in Gniewczyna Łańcucka tried to shield Jews. These and countless other episodes muddy the waters between victim and oppressor in the chaotic environment of wartime Poland.
In contrast, the Polish Government in Exile based in London sponsored resistance to the German occupation, including some to help Jews in their native land. Jan Karski, who acted as an emissary between the Polish underground and the government in exile, was one of the first to deliver eyewitness accounts of the Holocaust to Allied leaders like President Franklin Roosevelt in the hope of spurring rescue. On the ground in occupied Poland, the Zegota group (the clandestine Council to Aid Jews) saved several thousand people by supplying false papers and organizing hiding places or escape routes. And courageous individuals such as Gertruda Babilińska risked their lives to save Jews with whom they had personal connections. Babilińska was the nanny for a Polish Jewish family. After the death of the parents, she cared for the family's young son by posing as his mother. Despite false papers giving him an assumed Christian identity, the child's circumcision put both "mother" and child at risk of discovery and death at all times. Through Babilińska's ingenuity and audacity, both survived the war and eventually moved to Israel, in accordance with the wishes of the child's murdered parents.
As inspiring as they are, though, these cases of rescue and resistance represent only a tiny fraction of the Polish population. By the end of the war, 3 million Polish Jews—90 percent of the prewar population—had been murdered by the Germans and their collaborators of various nationalities, one of the highest percentages in Europe.
So what do we make of these contrasts in collaboration and courage? Perhaps most revealing is the case of a young Jewish boy named Aaron Elster. Elster was born in 1933 in the Polish town of Sokołów Podlaski. His parents owned a butcher shop. Their meat was not kosher, and most of their customers were Christians; Aaron credits these relationships for his eventual survival. His parents and younger sister were both murdered.
In 1941, Aaron and another sister went into hiding with a Christian family on a nearby farm, where they remained for the duration of the war. Almost as soon as the family had taken in the two Elster children, they regretted their decision and treated them with contempt, anger, and neglect. As Elster later reflected:
I was grateful for them, but I was afraid of them because they were constantly demeaning me, and threatening me, and telling me what a terrible thing I did to come there to cause them that kind of problem … That's what she constantly said to us, my sister and I. 'If the Germans catch you, you're gonna say who helped you and they're gonna kill us.' So it was a dichotomy of things: She wanted to help but she wanted get rid of us, she couldn't get rid of us, you know.
How do we make sense of a morally ambiguous figure like this Polish farmer's wife? On one hand, for years she emotionally abused two children entrusted to her care. On the other hand, she felt trapped by her own decision and was ultimately responsible for saving their lives. In some ways, the story of the Elster children and their rescuer embodies the complexity of Poland during the Holocaust. These were human beings caught in a hell initiated by and overseen by Nazi Germany. Fed by a fuel of relatable emotions—fear, greed, compassion, opportunism, learned hatreds like anti-Semitism—they exhibited the full range of human behaviors, ones which transcend national boundaries.
We cannot understand the complex forces that led to the horrors of the Holocaust without the freedom to explore and discuss humanity's dark descent into genocide. In response to the new Polish law, the Israeli Parliament is now considering a bill that would criminalize minimization of Polish collaboration in the Holocaust. This legislative retaliation signals an alarming trend. Yes, the documentation of the past has always been subject to interpretation and ideological bias. But the writing of history should never be circumscribed by politicians. A Polish tribunal will now consider the constitutionality of a law that endangers an honest reckoning with a complex past. As the last eyewitnesses to World War II leave us, its decision will set a critical precedent—for the future of Poland and of Europe itself.