The Unsinkable Benjamin Netanyahu?
Israeli police say the country's prime minister should be charged with bribery and fraud. He insists he's innocent—and promises to stay in power.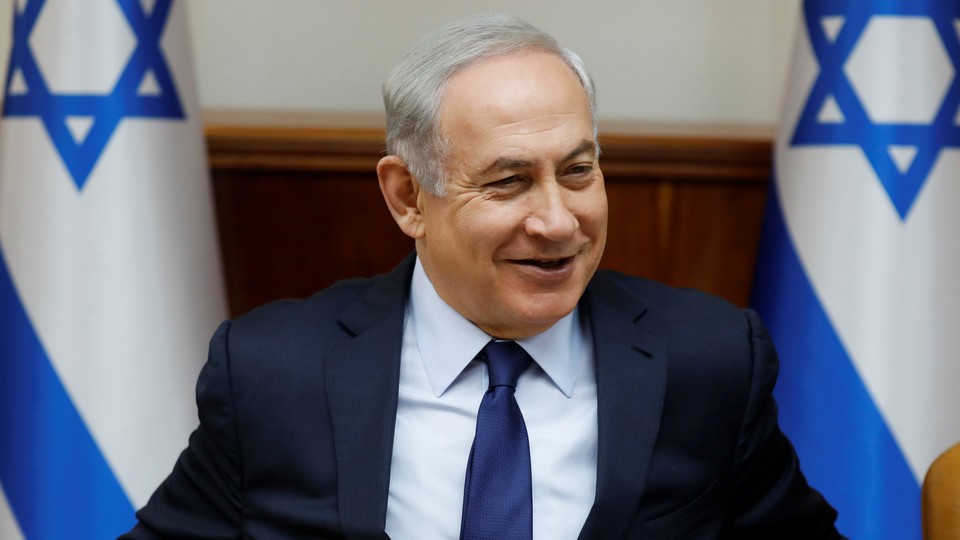 Israeli police recommended Tuesday that Prime Minister Benjamin Netanyahu be indicted on charges of bribery, fraud, and breach of trust. The announcement signals the culmination of a year-long investigation into the longtime Israeli leader and sparks questions about his ability to remain in power.
Netanyahu is insisting he will remain in office. "Over these years, there have been no less than 15 investigations against me with the goal of bringing me down," he said in televised remarks. "They all began with explosive headlines, live broadcasts from the studios, and some of them even with noisy police recommendations [to indict], just like today. All those efforts, without exception ended with nothing."
"I know the truth; these will also end without anything," he said.
Netanyahu has consistently denied wrongdoing, but the allegations—and the charges—are the most serious ever faced by the four-time prime minister of Israel, who has dominated the country's politics for the past more than two decades. A final decision on whether to file charges against Netanyahu lies with Israel's attorney general—and that process could take months.
The details of cases 1000 and 2000—as they are known—have been around for more than year. The first scandal centers on champagne and cigars Netanyahu allegedly received from a political benefactor. The second involves conversations he had with the publisher of Yediot Aharonot, the Israeli newspaper. Israeli reports say Netanyahu agreed to help weaken a rival newspaper—Israel Hayom, owned by Sheldon Adelson—in exchange for favorable coverage from Yediot Aharonot. Netanyahu has denied wrongdoing in both cases.
Netanyahu is not the first Israeli leader to face legal troubles. Over the past two decades, each one of Israel's prime ministers—Ehud Olmert, Ariel Sharon, and Ehud Barak—has been investigated for corruption, though neither Sharon nor Barak was charged. (Olmert was tried, convicted, and sentenced to prison. He served 16 months.) Nor is this the first time Netanyahu has been tarnished by scandal—though the accusations previously did little to affect his popularity.
He was investigated in 1997—his first term as prime minister—for fraud and breach of trust. No charges emerged in that case. Neither did they emerge two years later when he was investigated again for fraud. While the various cases may suggest a high level of corruption in Israel, the country is hardly alone: Many modern states created after World War II have similar problems. Israel, in fact, has perhaps the strongest civic institutions.
Still, as Gregg Carlstrom wrote in The Atlantic in 2017, Netanyahu and his wife "have long occupied pride of place in this crowded field of wealth-seekers."
In 1994, a Jerusalem paper wrote about the family's penchant for dining and dashing. Their appetites grew after Netanyahu became prime minister for a second time in 2009: a $2,500 contract for gourmet ice cream at their official residence, and a $127,000 bed installed on a government plane so they could nap on the five-hour flight to London. Netanyahu's wife, Sara, has been investigated for stealing patio furniture, and his son, Yair, for accepting free Mariah Carey tickets. None of this seemed to put a dent in the Netanyahu family's political fortunes. But it all made for good headlines.

Nor are the corruption-related investigations restricted to the prime minister. Defense Minister Avigdor Lieberman was put on trial for breach of trust and fraud—before being acquitted. Members of the Knesset, Israel's parliament, have been investigated for corruption as well.
But Israel isn't perceived as corrupt—certainly not in comparison to its Arab neighbors, with the exception of the United Arab Emirates, according to Transparency International's most recent Corruption Perceptions Index. Israel ranks 28th of 177 countries (UAE is 24th), and its ranking has mostly held in recent years. Indeed, while political corruption has become a high-profile Israeli problem, the country's other institutions—especially its judiciary—are seen as effective and not corrupt.
The possibility of political corruption doesn't appear to have much impact on whom Israelis support, anyway. Netanyahu is a four-time prime minister, a record he shares with David Ben-Gurion, the country's founder and first leader.
Shmuel Rosner, a political editor at The Jewish Journal, wrote in The New York Times that it's not that Israelis don't care about corruption, it's that they don't believe politicians should be harassed because, in his words, "everybody knows that politicians often tend to be, well, not the most honorable people. Still, we need them, and we need to let them do their jobs."
That's a view that's common in many of the countries that gained independence in the 1940s—as Israel did—as European powers shed their colonies following the devastation wrought in World War II. Corruption continues to be a significant issue in many of these countries. With a few exceptions, governance is poor. In Israel, however, national institutions continue to function the way they were designed. What Israel, a country that was founded on principles of economic egalitarianism, increasingly does have in common with many of these nations is growing income inequality—inequality in the country is the highest among OECD nations, and it has been rising steadily since the 1980s.
As Paul Krugman wrote in the Times: "[T]he political economy of the promised land is now characterized by harshness at the bottom and at least soft corruption at the top. And many Israelis see Mr. Netanyahu as part of the problem."
Krugman wrote that nearly three years ago. Netanyahu's legal woes suggest it's even truer now.