Could an Adjective Solve a 27-Year International Dispute?
Greece and Macedonia move to settle a longstanding argument over a name.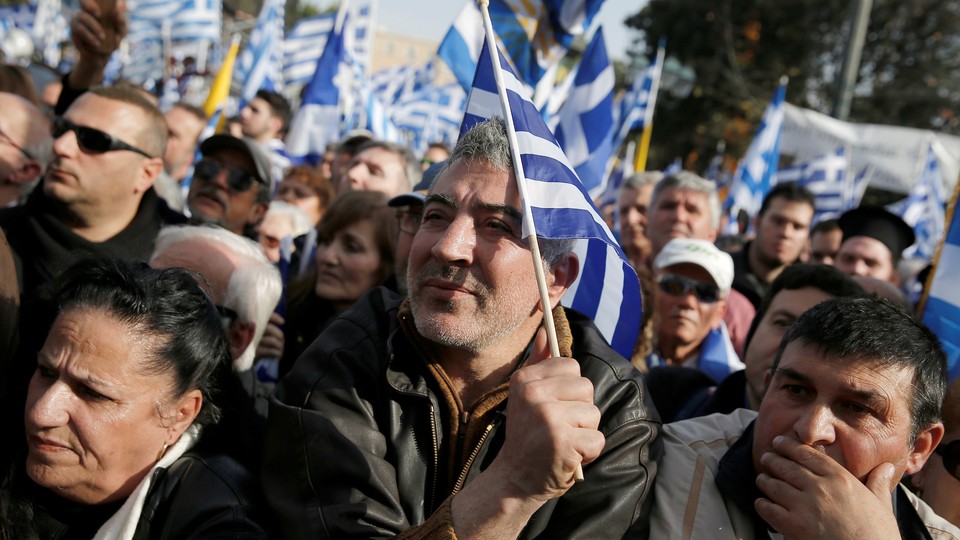 A 27-year-old dispute could be resolved with an adjective and a simple name-change of an airport. Or at least that's what Greek and Macedonian leaders appear to be saying.
Nearly three decades of contention over the seemingly simple word "Macedonia"—and who gets to claim it—may be nearing an end, due largely to leadership changes on each side. Matthew Nimetz, the United Nations envoy who has been trying to help resolve the dispute since the '90s, now says a solution isn't just possible, but imminent. "I am very, very optimistic," he said last week from the Macedonian capital of Skopje following meetings with officials from both countries. "There is a window of opportunity and I think we should go forward quickly and move to solution in the next couple of months."
Leaders on both sides see it similarly. "We as prime ministers have political vision, courage, and a responsibility to work to overcome longstanding bilateral disputes," Zoran Zaev, the Macedonian prime minister, said alongside his Greek counterpart Alexis Tsipras during a meeting on the sidelines of the World Economic Forum in Davos last month. The two countries agreed to resume negotiations after a three-year pause, in which time both countries contended with their own domestic issues—in Macedonia, a months-long political standoff culminated in the country's first change of leadership in more than a decade; in Greece, lawmakers adopted new austerity measures to appease the country's international lenders and ease its debt burden.
The dispute dates back to the disintegration of the former Yugoslavia in 1991, and the creation of the Republic of Macedonia (formally known within international organizations as the Former Yugoslav Republic of Macedonia, or FYROM). Athens immediately objected to the name choice, arguing it suggested the former Yugoslav republic had territorial claims to the Greek province of the same name, which it borders to the south. Athens also argues that FYROM's chosen name, which derives from the ancient Greek kingdom of Macedon, has no historical merit. "The core of what was ancient Macedonia lies within contemporary Greek borders, comprises the northern portion of the Greek state, and is called Macedonia," the Greek foreign ministry says of the dispute, which it characterizes as a "theft of ... historical and cultural heritage."
The fight over history, and who gets to claim it, plays a big part in this dispute. Greeks and Macedonians have sparred over who gets to lay claim to national heroes like Alexander the Great—a debate that intensified when the Macedonian government erected in a 72-foot statue of a "Warrior on a Horse" at the center of Macedonian square in Skopje, the country's capital. The statue is widely understood to depict Alexander the Great, though it is not named for him. "This is our way of saying [up yours] to them," Antonio Milososki, Macedonia's former minister of foreign affairs, told the Guardian in 2010, adding: "We all live in a geographic area where we share a common past but our attitude towards history is inclusive. The Greeks' is exclusive."
It's not just about statues. Macedonia's main airport and a major highway are also named for Alexander the Great. And while the question of word choice may seem minor to outsiders, its consequences are not: It's been enough for Greece to continually block Macedonia from joining the European Union and NATO.
While more hardline Greek nationalists—like the estimated 140,000 people who protested on the streets of Athens Sunday chanting phrases such as "Macedonia is Greek" and "hands off Macedonia"—oppose the word "Macedonia" appearing anywhere in FYROM's official name, Athens' stance is more measured, calling instead for the small republic to attach to its name an adjective that differentiates itself from the neighboring Greek province, such as the Republic of "New Macedonia," "Upper Macedonia," "Northern Macedonia," or "Vardar Macedonia," in reference to the major river that runs through the country. The "Republic of Macedonia (Skopje)" has also been floated as an option.
But there's only so much modifiers can do. "It's not just about the name of the country—it's about the adjective and it's about the conditions when the name of the country is used," James Ker-Lindsay, a professor of politics and policy at St Mary's University, Twickenham, told me, noting that while both sides may be able to settle on a new title for the country, there could still be contention on how it's applied. Athens, for example, could argue that "Macedonian" should not be applied to things pertaining to FYROM, but that a form of its new name, such as "New Macedonian," should serve as its official descriptor instead. Similarly, Skopje could insist that the more than 100 countries that already recognize the country as the Republic of Macedonia (of which the U.S., the U.K., and Russia are included), should be allowed to continue doing so.
"From a legal point of view … you can't have two names for a country," Ker-Lindsay said. "Of course, you can have a standard official name and a colloquial name. Funnily enough, Greece is a really perfect example of that, because Greece is not the official name of the country. It's the Hellenic Republic. But everyone calls it Greece."
While the nitty-gritty details of what a future deal could look like is still unclear, the timing is ideal. Macedonia's new government, which formed in June after the collapse of former Macedonian Prime Minister Nikola Gruevski's government in 2016, is seriously pursuing EU and NATO accession—an ambitious goal that could make Skopje more receptive to compromise. In Athens, the domestic situation is similarly promising. Greece is the third largest investor in Macedonia, and its ruling Syriza party has already voiced its willingness to "create conditions for the widest possible consensus to put behind us a problem which has weighed on the country, and the wider region, for the past twenty-five years." Which is not to say there is no political opposition. The Independent Greeks (ANEL), Syriza's right-wing nationalist coalition partner, is less inclined to compromise. "If they want to join NATO, it is them who will have to step back, not us," Dimitris Kammenos, a ANEL lawmaker, said last week, adding: "We have nothing to discuss about 'Macedonia.'"
The EU and NATO could also play a role, Ker-Lindsey said, noting that both international bodies seek to avoid instability in the Western Balkans. "There's a lot of concern about growing autocratic regime, rolling back on rule of law and democracy," he said. "There's a real sense that if they can get past the Macedonian name issue and get Macedonia into NATO very quickly, then obviously the EU path would be open."
Macedonia's accession to either institution would take a while even if it started to move forward, but the current prospects for resolving the naming issue are looking more promising than ever. In a goodwill concession, Zaev, the Macedonian prime minister, announced that Macedonia would be willing to remove reference to Alexander the Great from the name of its airport and highway—the latter of which would be renamed "Friendship."