Ghana's Skeleton Hero
Akwasi Frimpong's improbable journey to Olympic sledding—from a country without ice.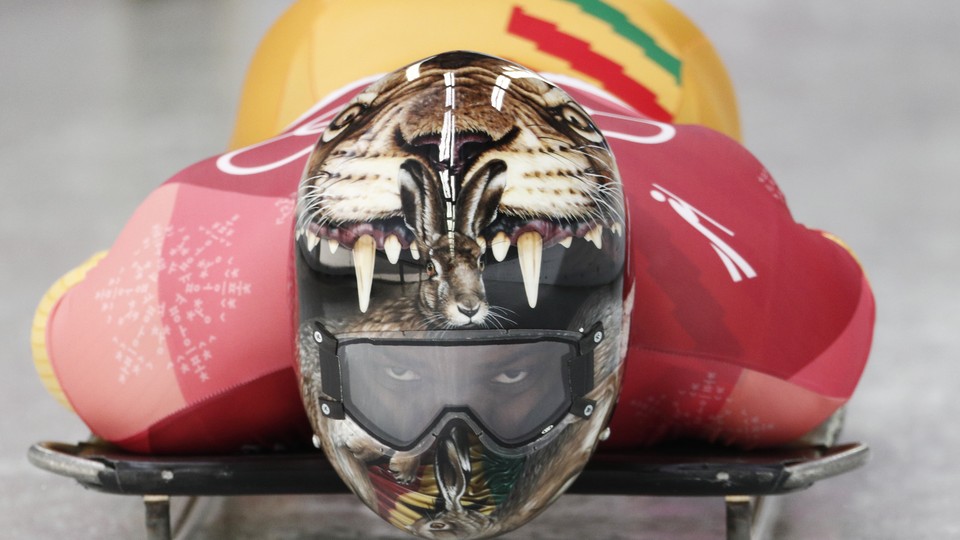 ACcra, GHANA—Robert Annak was working the overnight shift at a power plant in Takoradi, a city in western Ghana, last Friday, when he took a break to watch the opening ceremony of the Winter Olympics his phone. He didn't have to wait long to find the person he was looking for: After the Greek athletes marched into the Pyeongchang Olympic Arena, Akwasi Frimpong was next to enter, proudly waving the flag of Ghana high above his head.
"It was so good to see him hoisting the Ghana flag in the cold weather," said Annak, a friend of Frimpong's who is helping recruit more Ghanaian athletes to compete in winter sports. "We feel proud to have an athlete representing our country."
Frimpong is the only athlete representing Ghana in Pyeongchang, and only the second Ghanaian to ever participate in the Winter Olympics. On February 15, the 32-year-old  sprinted beside a small, brakeless sled, then flattened himself onto it and plunged headfirst down a frozen track of ice, becoming the first ever West African to compete in the sport of skeleton at the Olympic level.
He placed 30th in both runs, as South Korea's Yun Sung Bin, won gold and became the first-ever Asian to medal in the Olympic sliding event.
But Frimpong's Olympic debut is about more than winning a medal—it's about what it took for him to get there and what he hopes will come next. After his first run, Annak told me Ghana saw Akwasi's Olympic appearance as a chance "to come in and say, here we do not have ice, but we can do it. And we did it."
Frimpong grew up in a one-room house in Kumasi, Ghana, but moved to the Netherlands when he was eight. For 13 years, he stayed there without proper documentation, living in fear of deportation. As a teenager, he excelled at sprinting, and even earned the title of Dutch junior 200-meter champion. But he avoided competing internationally because it meant potentially being denied entry back into the Netherlands—the country he came to call home.
Then a neighbor told Frimpong about the Johan Cruyff Institute, a Dutch school founded by its namesake, a legendary Dutch soccer player. The school allows students to focus on academics and athletics all at once. With her help, he was admitted in 2004.
But his challenges remained enormous: When he broke his leg at age 18 he struggled to find a doctor who would treat him without ID. And even when Cruyff himself wanted to award Frimpong as the International Student of the Year, Frimpong couldn't travel to Barcelona for the ceremony. So Cruyff visited him in Amsterdam himself.
At 21, Frimpong finally received good news: His papers were at last in order and he would soon be legal in the Netherlands, which opened up a world of possibilities for him to compete internationally. At 22, he got his Dutch passport and was awarded a scholarship from Utah Valley University, where he began studying and competing on the track and field team in 2008.
At the time, Frimpong was still focused on the racetrack—and specifically the 200-meter sprint. His eyes were set on the 2012 Olympics in London. Then an injury derailed those plans, throwing into limbo the possibility of him ever competing at the Olympic level. But Nicola Minichiello, a Dutch coach, saw his potential as a sprinter and asked him to consider switching to bobsled.
Athletes growing up in hot climates far from snow-covered mountains may indeed have a disadvantage in certain events, like skiing or snowboarding. The U.S. snowboarder Chloe Kim, for example, first hit the slopes at age 4. This week, she won gold at age 17.
But bobsledders and skeleton athletes, no matter where they're from, often start as track athletes. And West Africa has a long history of producing some of the world's best sprinters. Ghana, for one, hosts a sprinting competition called "Ghana's Fastest Human" each year. This year, Nigeria's first-ever Olympic bobsled team is made up of four women who ran together on the University of Houston track team. (Cool Runnings, the film loosely based on the true story of Jamaica's 1988 Olympic bobsled team, portrays the athletes as former sprinters. Although Jamaica, too, has produced some of the world's fastest runners, members of the 1988 team were recruited from its national army.)
When it came time to qualify for the 2014 Olympics in Sochi, Frimpong just barely missed the cut for the Dutch bobsled team. So Minichiello urged him to think about skeleton instead. The sport is essentially bobsled's cousin, but athletes compete alone instead of with a team. It requires immense strength and speed for the initial moments when the athlete runs along the side of their sled before hopping on and sliding up to 90 miles per hour down the track, their chins resting just above the ice. A slow start can derail the entire competition.
After Minichiello's suggestion, it just so happened there was a skeleton trial run coming up in Park City—Frimpong tried it and got hooked.
"I just loved the feeling," he said in an interview with the Olympics. "It was like going through a canyon on a motorcycle with no speed limit. It was like dancing with the ice."
Around the same time, Frimpong reached out to Annak, a sprinter he had met at the World University Games in China, with a proposal. Having failed to make the Dutch bobsled team, he wanted to try representing Ghana instead, this time in skeleton. But that came with other complications: Competing for Ghana meant he would have to register an official bobsled and skeleton federation with the government, a formality that allows athletes to request funding for international sports competitions. And he wanted Annak's help forming the federation. "I had never heard of bobsled," Annak said. "He just called me and said 'Hey, this is what I want to do.'"
But Frimpong managed to convince him. So, using money Frimpong earned in part by selling vacuum cleaners door-to-door in the United States, he and Annak founded Bobsled and Skeleton Federation-Ghana (BSF), and Frimpong returned home for the first time in 23 years.
More African countries are represented at this year's Winter Olympics than ever before, but athletes from the continent continue to battle stereotypes that they are not naturally strong in winter sports. In Accra, Frimpong met with the Ghana Olympics Committee to explain his intention to represent the country in Pyeongchang. Ghana is best known for its soccer players and boxers, but Frimpong was insistent that with the right training, Ghanaians could excel at winter sports too.
While in Ghana, he held workshops for local athletes to practice their bobsled techniques, but using a wooden board with wheels instead of a proper sled on ice. At one point, he even hosted a demonstration inside an Accra shopping mall, gathering passersby to see what the sport was all about. "He brought the enthusiasm and that spirit into Ghanaians that we can also do it even without the ice," Paul Kodjoe Atchoe, first vice president at the Ghana Olympics Committee, told me.
For the next Winter Olympics, BSF-Ghana hopes to take a full bobsled team, as well as a number of individual skeleton riders. And there won't be trouble finding athletes who are interested. After traveling to different parts of the country on recruitment trips this past year, Annak and his colleagues have some 200 hopefuls; 40 percent of them are women.
The largest hurdles for these potential Olympians will not be a lack of ice, but a lack of government interest in winter sports and few opportunities for funding. "The skeleton thing is not something which is known in Africa, but we will see what the future will be like," Atchoe said.
Atchoe acknowledged that the government is not exactly a reliable sponsor when it comes to sports. Ghana has too many economic woes, he said, to really prioritize athletics. And even when the government does pull through, it's most often for sports that are already popular here. "Ghana is a football nation," he said, recalling how when a new stadium was recently constructed in Accra, it came at the cost of destroying the track that was once built around it. Atchoe is president of the Ghana Volleyball Federation, and said his own athletes still lack an indoor facility. The athletes practice on cement instead.
"It's tough sometimes when you don't have enough support for them to train and go and play," he said. "They fall off."
So far, BSF-Ghana is trying to rally more donations to get the support they need to travel, eventually train on ice, and participate in international competitions. They are currently relying almost entirely on donations from Frimpong. In South Korea, Frimpong is sponsored by Cocoa from Ghana, a Dutch-Ghanaian initiative that raises awareness about the Ghanaian chocolate industry.
The morning after Frimpong's entrance to the stadium in Pyeongchang, a delegation from BSF-Ghana met with the Ghana Olympics Committee to ask about funding. The gist of GOC's answer? There's never enough money to go around, and it's the government who should be prioritizing paying for the athletes. Atchoe suggested in our interview that maybe one or two more athletes could attend the 2022 games, compared to BSF-Ghana's hopes to bring at least eight.
But Frimpong will have a chance to go straight to the top and ask Ghanaian President Nana Akufo-Addo about that himself, when he meets with him in Ghana on his way home to the United States later this month. One guess as to what he'll want to tell him? That Ghanaians have a real shot at dominating at both skeleton and bobsledding—even if they grew up with sun instead of snow.
"The ice shouldn't be a factor. It's about the zeal to be in the sport," Annak said. "It's about speed, not weather." And many in Ghana hope that Frimpong's historic Olympic appearance leads to a much larger showing for the country in four years in Beijing.
"I hope this is not just going to be a one time thing though, that we can continue with this journey," Frimpong told Reuters in Pyeongchang. "That is certainly my plan."