Fear and Loathing in the Bundestag
Germany's far-right AfD party is still learning to govern. But it has already changed how Berlin does business.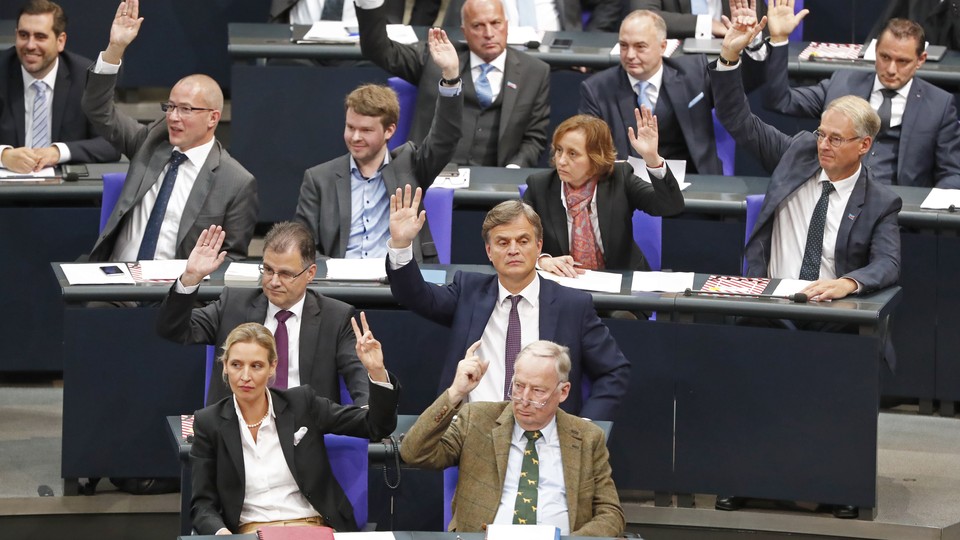 BERLIN—On first glance, the legislators occupying the 92 royal blue chairs lining the far-right side of the plenary floor in Germany's parliament appeared no different from their 617 colleagues. Dressed in sharp suits and ties, they flipped through briefing papers on their desks, gave prepared speeches at the appropriate times, and asked polite questions of their colleagues. But then it came time to do the business of the Bundestag, the lower house of the German parliament. Promptly, nine of the 92 introduced legislation to strengthen border security and increase deportations for those denied asylum. Another one from their ranks tweeted an anti-Muslim message that resulted in his temporary suspension from Twitter. Yet another suggested his party would use its parliamentary power to "hunt" Chancellor Angela Merkel.
The 92 are, in fact, not like the others. They are members of the populist far-right Alternative for Germany (AfD) party. And their mere presence in this chamber, let alone their actions, are already changing how politics works in Germany.
Since the AfD's historic arrival into the Bundestag last fall, its members have maintained their relentless focus on immigration and refugees. They have sought to provoke their fellow members of parliament, even once taking what they described as "revenge" by invoking a procedural rule to shut down debate after one of them was rejected in a bid for a committee position. Recently, one AfD lawmaker took to Twitter to call a German tennis star's son a "little half-Negro," while another claimed police are pandering to "barbaric, gang-raping Muslim hordes of men" in Cologne.
Perhaps it's still too early to judge the AfD—its legislative contributions have been minimal so far. But anyone who was hoping to see a more pragmatic, less ideological AfD will be disappointed. "In the first days I think everyone was curious how the AfD would handle themselves," Hartmut Ebbing, a Bundestag member from the liberal Free Democrats (FDP), told me. "Then there were a few speeches that were so typically AfD—on refugees, on Europe—where the AfD had really set itself up outside of the normal democratic spectrum." Ebbing was referring to moments like a January visit from the French parliament president, when the AfD refused to applaud his speech because of its objections to a French-German friendship treaty.
Despite this fact, members of Germany's five traditional parties have struggled to formulate a coherent strategy to respond to the AfD. Many view it as a Nazi-adjacent party with dangerous views on immigration, Islam, and refugees, and want to do everything in their power to limit its influence or push back against its rhetoric. Yet they also feel they must acknowledge the millions of Germans who voted for the AfD last September. Trying to muzzle it, they fear, will only allow fuel its narrative of persecution. "We're still in the process of making up our minds: How should we deal with them?" said Peter Beyer, a member of Merkel's Christian Democrats (CDU). "This is a harsh change, but we have to accept this."
The AfD dilemma took on even greater importance after Merkel's CDU, its Bavarian sister party the Christian Social Union (CSU), and their center-left counterpart, the Social Democrats (SPD), began formal talks on January 26 toward building a government in the coming weeks. Should they agree to form a "grand coalition," the AfD, as the third-largest party in the Bundestag, would officially take on the role of chief opposition. Per tradition, this means it will have the first chance to respond to the government's position during parliamentary debates, giving it extra airtime and visibility. It also gets the chairmanship of the powerful budget committee and a handful of other parliamentary committees. In other words, the AfD's power to disrupt will only grow.
Members of Germany's major traditional parties began discussing how to handle their would-be parliamentary colleagues long before election day last year. They even contemplated rule changes to inoculate themselves against the AfD's penchant for provocation. In one notable instance from last June, they changed a rule that allowed the Bundestag's oldest member to kick off each new session with a speech; instead, it would be the body's longest-serving member. This was seen as a way to prevent the privilege from falling to Wilhelm von Gottberg, a Holocaust denier and member of the AfD, which was expected to do well in the coming elections. Though the rule change passed before the AfD entered parliament, the party still cried foul, charging that the older parties were "completely groundlessly trying to hinder possible candidates of a democratic party with cheap tricks."
As a result, the prevailing opinion among the longer-serving political parties is that special rules for the AfD won't work—and, in fact, could only make it easier for it to cast itself as the victim. Instead, they aim to push back when AfD members say something they believe to be false or controversial, or put forth candidates for leadership positions in parliament they regard as unacceptable.
Last October, for instance, the AfD nominated Albrecht Glaser, a man who has argued that Islam is incompatible with religious freedom, as its Bundestag vice president. In response, the other parties voted him down repeatedly, and the AfD has yet to fill the position. And just last Wednesday, AfD members were elected to lead the Bundestag's budget, legal affairs, and tourism committees, after winning the required votes from members of each respective committee. The traditional parties did not interfere.
"If they don't get their vice president through, if they don't get their committee leader through, then the AfD's story just gets stronger: 'All the other parties are against us,'" Stefan Liebich, a member of the Left party, told me. "That's the dilemma we find ourselves in now."
Even if the AfD's own actions prove to be its own undoing, its mere presence at the Bundestag seems to have people on edge. Members and staffers I spoke with said they're less inclined to smile at or greet unfamiliar faces in its hallways, for fear they've come across someone from the AfD. There's even a fierce ongoing debate over whether to allow AfD members to join the parliament's official soccer team. (Ultimately, the team's leaders opted to consider them on a case-by-case basis; the rejected AfD players have announced plans to form their own team.)
When I met Ebbing, the FDP member, in a cafe in the Reichstag building for members and staffers, he looked around for any AfD members or staffers who might overhear us. After scanning the room, he selected a table a safe distance from the others ("Maybe in the corner," he said) before we began talking. Ebbing's FDP sits right next to the AfD in the chamber, an arrangement he said clearly makes both sides uncomfortable. "It's like there's a wall standing there between us," he said. "We didn't want to sit next to them, and I have the feeling that the AfD doesn't want to communicate with the other parties at all."
Before the AfD's arrival, Liebich told me he and many of his colleagues would begin their speeches in parliament by acknowledging their "dear colleagues"; nowadays, they tend to stick with the much more formal "ladies and gentlemen." It was also once customary to announce that a member had just completed their first address to the Bundestag. But in an effort to mitigate disruptive reactions (like booing) from AfD members, that announcement now occurs before the speech, effectively leaving no room for applause or congratulations. "Even when I sharply criticize the CSU, they're not my enemies—they're people who have a different political position than me, but they're my colleagues," he said. The AfD members, he said, don't feel like colleagues.
But all is not entirely lost for Germany's other parties. Last fall, the Otto Brenner Foundation, a policy-focused organization based in Germany, released a report examining the AfD's performance in three of the 14 state parliaments in which the party holds seats (Germany has 16 states, in all). It found that although the party had indeed cultivated a provocative stance to advance its pet issues, its members' lack of legislative experience or expertise on other subjects kept them from effecting legislation.
Thomas Krüger, the SPD's parliamentary leader in Mecklenburg-Vorpommern, a state in eastern Germany where the AfD serves as the chief opposition to a CDU-SPD grand coalition (just as it does in Berlin), told me that the AfD's signature obsessions have prevented it from contributing much beyond inflammatory, anti-immigrant rhetoric. Once, during a debate about data protection, he said, an AfD member read verbatim from a printed-out web page rather than preparing a speech. "It was embarrassing," he said.
Back in Berlin, Ebbing and some of the others I spoke to expressed optimism that as committee work begins, things could normalize, since the AfD members will have to do substantive work and interact with the other parties. Still, they're acutely aware of the significance of the AfD's presence—and view it as their responsibility to keep them from eroding German democracy.
"Sometimes when you're sitting there and you listen to them with the half-truths and their behavior, looking up at the glass dome in the Reichstag building, you're really thinking about the Weimar Republic and the democratically elected members [of the Nazi Party] that sat in this very same building," Beyer said. "We have a little bit more responsibility, the older parties who have been here before … to not allow the same outcome."