The Ethics of Donald Trump Jr.'s India Adventure
The president's son is selling luxury condos and making a foreign-policy speech.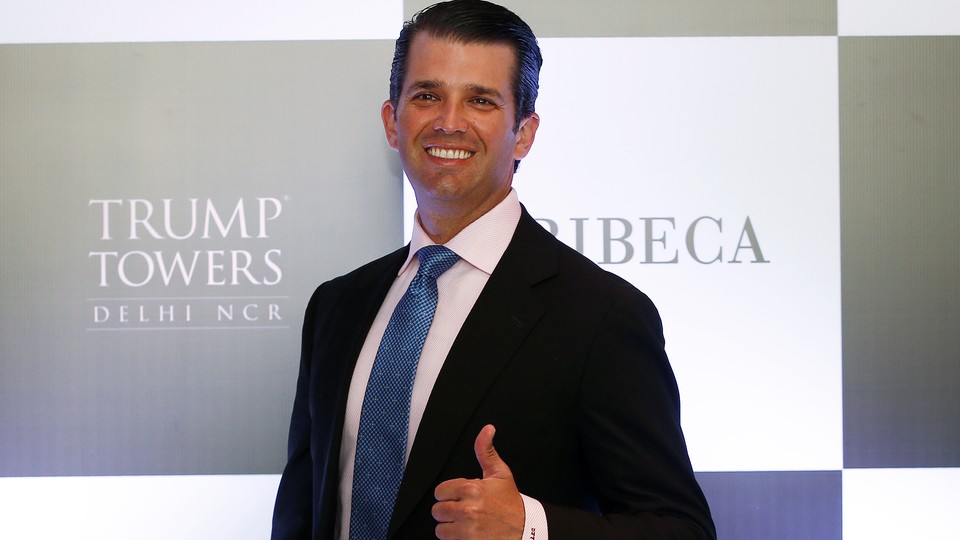 Who does Donald Trump Jr. speak for?
Does the president's son speak for the Trump Organization as he promotes luxury apartments in India? Does he speak for himself when he dines with investors in the projects? Does he speak for the Trump administration as he makes a foreign-policy speech in Mumbai on Friday?
"When these sons go around all over the world talking about, one, Trump business deals and, two, … apparently giving speeches on some United States government foreign policy, they are strongly suggesting a linkage between the two," Richard Painter, President George W. Bush's chief ethics lawyer who is a professor of law at the University of Minnesota, told me. "Somebody, somewhere is going to cross the line into suggesting a quid pro quo."
He added: "It might not be the Trump boys. It might be somebody working for them. It might be somebody over in India or in some other country who believes that's the way to curry favor with the United States government, to get something in return from the United States government, to do a deal that's favorable to the Trump Organization."
The Trump Organization had business dealings in India long before Donald Trump became president of the United States. The Trump brand's luster is strong there, especially among those Indians who have become wealthy since the country opened up its economy in the 1990s. India might be relatively poor by Western standards, but the economic boom of recent decades has created a large number of millionaires and billionaires, and the country is the largest market for the Trump Organization outside the United States.
"A few years ago, I said it would become our largest [market] because I really believed in the market. ... I think it will continue to be the same when I am able to get back in the market and focus on the business side, on new deals again in the future, once my father is out of office," said Trump Jr. on CNBC-TV18, the Indian affiliate of CNBC, on Tuesday. He has traveled to the country several times.
There are numerous Trump projects in India. There are buildings with the Trump name in Pune, a city of about 3 million people near Mumbai. Other projects are underway in Kolkota; Gurgaon, a suburb of New Delhi; and Mumbai. Prices for the luxury apartments range from $780,000 to $1.6 million. Properties are routinely sold for those amounts in India's largest cities.
What all these projects have in common is that they are licensing agreements—not Trump construction projects. The Trump Organization's Indian business partners use the Trump name in exchange for licensing fees. The Trump units reportedly sell at a 30 percent premium over the market rate.
"It's all about status symbols," Pankaj Bansal, the director of the real-estate firm M3M India, told CNN last month. "People want to be able to say: 'Come, let's go have a drink at the Trump Tower.' That's what we're trying to tap into."
To entice potential buyers to do that, full-page ads in Indian newspapers featured a photograph of Trump Jr. with an invitation to "join Mr. Donald Trump Jr. for a conversation and dinner" on Friday if they put down the equivalent of about $40,000 to reserve a unit at one of the Trump projects. The president's son reportedly hopes to sell $1 billion in luxury apartment units.
"If at dinner, he's going to talk about United States government policy, that suggests a linkage between United States government official action and people buying condominiums [who] have an opportunity to influence United States government," Painter said.
Trump Jr. was asked about this during his trip. He told CNBC-TV18 that the criticism the Trump Organization was profiting from the presidency was "nonsense." "It's sort of a shame," he said. "Because we put on all these impositions on ourselves and essentially got no credit for actually doing that. ... for doing the right thing." Trump resigned leadership of the Trump Organization upon becoming president, and among other steps, the company announced that it won't enter any new deals overseas while he is in office. Additionally, it said, domestic projects will be undertaken only after internal ethics approval. But Painter pointed out that the president himself "has a serious financial conflict of interest with his official duties."
"He owns it. The president owns it," Painter said of the Trump Organization. Trump continues to own his company, which is run by his two sons Donald Trump Jr. and Eric Trump. "So the sons are basically negotiating on behalf of the president. ... They're basically working for him, going around trying to cut deals where Trump is going to make a lot of money." Trump Jr. holds no official role in his father's administration, but played an important part in Trump's election campaign and is among his father's most vocal defenders online and on television.
As to Trump Jr.'s upcoming speech in Mumbai titled "Reshaping Indo-Pacific Ties: A New Era of Cooperation," Heather Nauert, the U.S. State Department spokeswoman said Tuesday: "We certainly are aware that Mr. Trump is in the region, that he's there as a private citizen, not … in any [official] capacity." She added: "I'm not familiar with what is going to be in the content of his speech, or how it was put together." That might be the case, but the event is also drawing Indian business leaders and politicians, including Prime Minister Narendra Modi.
"We know that people around the world are under the impression that the United States government, can be easily bought by currying favor with the Trump administration," Painter said. "And somebody could easily cross that line—even if the Trump boys don't do it."