Brexit Won, But Remainers Keep Campaigning
A new party starts up, and a bus goes on tour bearing the political slogan: "Is it worth it?"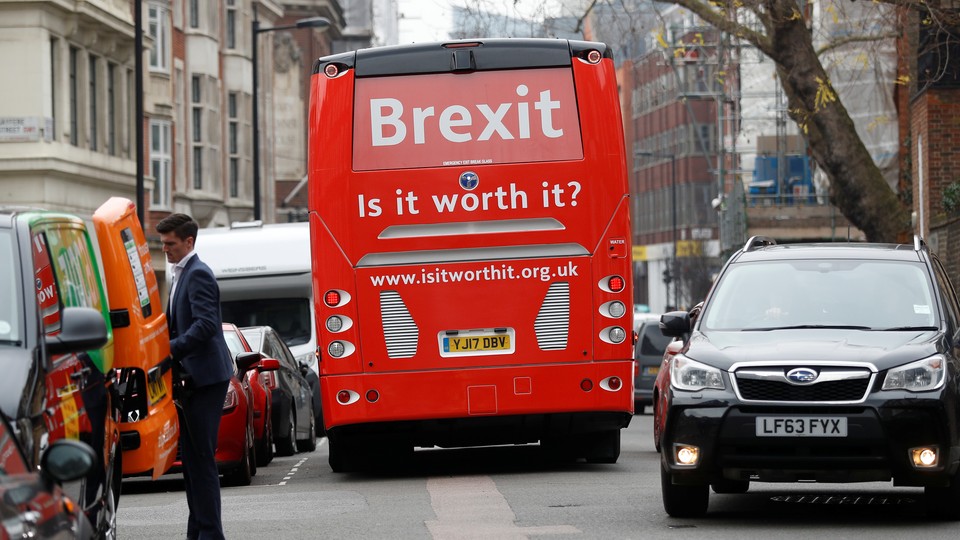 The iconic red bus emblazoned with political messaging is making a comeback in Britain. Unlike the kind made popular by the Leave campaign during the 2016 Brexit referendum, however, this new bus will carry a different message:
"Is it worth it?"
For those who support the U.K. staying in the European Union (or at least prefer an exit that leaves the country's current trade and immigration ties largely intact), it's a question still worth asking. Last week, the "Is It Worth It?" bus campaign began an eight-day journey from London to more than two dozen cities across the U.K., where it aims to publicize the British government's leaked estimate that leaving the EU will cost approximately 2,000 million pounds per week—markedly more than the 350 million pounds per week Brexit proponents said the country would save by leaving the bloc. Though some British lawmakers voiced support for the initiative, the tour dubs itself a grassroots effort and claims it gets no financial help from any political party or government.
"Brexit in the form that it was sold to the British people is not being delivered, nor can it be delivered," the Labour party lawmaker Chuka Umunna said at the launch of the bus tour Wednesday in Westminster. "We have to have an open mind about what happens at the end of this process and the British people should be given a vote on the final Brexit deal."
Calls for a second Brexit referendum have grown louder in recent weeks. Last month, the prominent Brexiteer Nigel Farage argued that the country should have a second vote on EU membership to prove that support for Brexit is growing. A poll published weeks later by the Guardian revealed that 47 percent of Britons also support having a another vote (though, as I reported at the time, those expressing interest in another referendum could be interpreting what that means differently, depending on which Brexit outcome they favor). Then this month, the billionaire philanthropist George Soros made a high-profile half-million pound donation to pro-Remain group Best for Britain, which advocates lobbying British lawmakers to vote against whatever deal U.K. Prime Minister Theresa May and Brussels negotiate. The ultimate aim is to force a second referendum.
The momentum continued last week with the start of the bus tour, as well as the separate launch of a "Listen to Britain" campaign by Renew, a new political party that also aims to stop the U.K. from exiting the EU. The party takes its inspiration from French President Emmanuel Macron's En Marche movement, which last year fielded hundreds of political newcomers as candidates in the country's parliamentary elections. The Renew party similarly aims to build a political consensus in parliament to oppose Brexit, both by appealing to likeminded lawmakers and fielding candidates of their own.
"We want to deliver social change, we want to drive prosperity for everybody and create opportunity, but we can only do so from a position of strength within the European Union," Sandra Khadhouri, one of Renew's three principal leaders, told me. She noted that while the party hopes to appeal to Britons on both sides of the Brexit debate, its ultimate goal is clear. "We don't want a soft Brexit, we don't want any other kind of Brexit. … We think it's bad for Britain in every sector and for everybody, and it will hurt even the people who voted for it."
The British government's leaked Brexit assessment predicts the country could experience as much as an 8-percent drop in GDP nationwide if it leaves the EU's single market and customs union without a trade deal, in a scenario known as a "hard Brexit." For regions of the U.K. like the North East and the Midlands, which backed Brexit by overwhelming margins, the impact could be twice as bad. But this hasn't necessarily changed people's minds on Brexit. If anything, it's the opposite. "The polling strongly suggests that it's still quite close between people who think it's a good idea and a bad idea," Anand Menon, the director of U.K. in a Changing Europe, told me, noting that while the number of Britons for and against Brexit remain very close, "few people swap sides in that debate."
So what makes groups like Renew think they could make a difference? Khadhouri says that without any viable opposition to Brexit in parliament, voters are seeking new leaders to speak up. "A lot of people don't know who to vote for anymore," she said. "Conservatives have led us to this mess and are completely and hopelessly divided. The Labour party are on the fence, hedging their bets … What kind of choices are those? Not good choices, and that's what people are telling us."
But a party may be only as good as its electoral prospects, and there is no guarantee that the U.K. will have another general election before it is scheduled to leave the EU on March 29, 2019. And unlike in France, where Macron's nascent movement faced two deeply unpopular establishment parties, there is no indication the U.K.'s main parties are losing support. In fact, its two largest political parties—Conservative and Labour—earned the support of more than 80 percent of voters in the last general election combined. Add to that the challenges of starting a new political party from scratch, and the odds against success are even greater. "Structural constraints in the way the political system is designed and the way people vote would make it very difficult for them to enter parliament in the next election," Georgina Wright, a researcher with the European Programme at Chatham House, told me. "They would need to convince voters they're about more than just keeping the U.K. in the EU or advocating a soft Brexit."
Efforts to restart the debate over whether Brexit should happen at all are similarly quixotic. Both U.K. Prime Minister Theresa May and Labour party leader Jeremy Corbyn have ruled out supporting a second referendum on EU membership. Both leaders are this week outlining each party's respective vision for the country after it leaves the EU, and as Corbyn showed in doing so on Monday, the most pressing question isn't if there will be Brexit, but what kind. It's on this debate that Wright said movements like Renew could stand the have the greatest impact.
"I don't think it would be wise to try and reverse Brexit as this would severely damage levels of trust in our political system, particularly among Leave voters," she said, noting that while Remain advocates may not be able to sway the government abandon Brexit, they can remind voters that Brexit doesn't necessarily mean hard Brexit. "This might help build a Brexit policy that is a genuine compromise between Remain and Leave, all the while respecting the democratic outcome of the vote."