Why Billy Graham Was Determined to Globalize Evangelicalism
Recognizing that Americans are not the future of his religion, the late preacher embraced "the black world, the white world, the yellow world, the rich world, the poor world."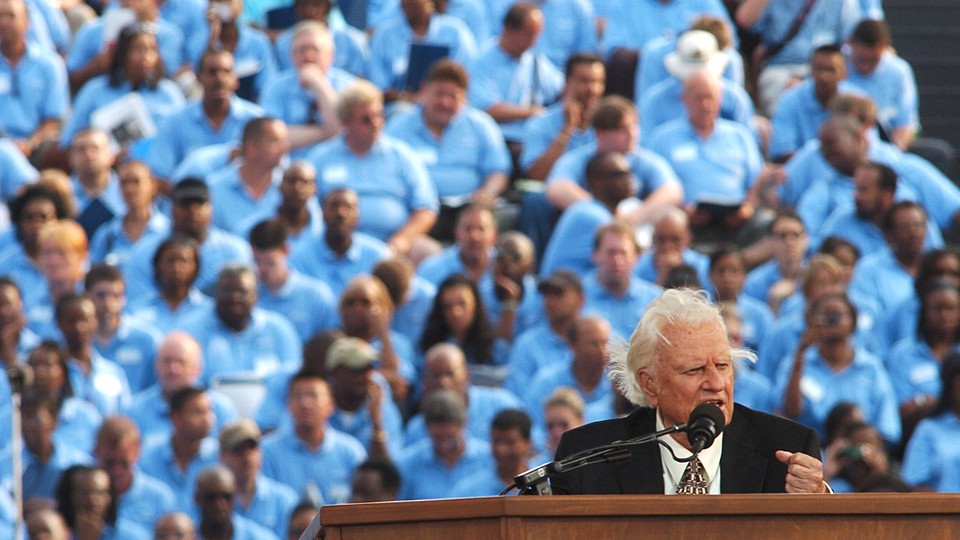 Billy Graham, who died Wednesday at the age of 99, may have been "America's Pastor," but he was also a man of the world. From the early days of his ministry, when he visited U.S. military forces in Korea, to his quiet message of healing at Washington Cathedral in the aftermath of September 11, Graham was a frequent commentator on—and participant in—global politics. He used his status as the most important American religious figure of the 20th century to help lead American evangelicals into a more robust engagement with the rest of the world. He was also an institution builder who was deeply invested in Christianity as a global faith.
There were other people who taught more missionaries, and some who reached more people on television; there were even those whose preaching events rivaled Graham's in size. But no one else did as much to turn evangelicalism into an international movement that could stand alongside—and ultimately challenge—both the Vatican and the liberal World Council of Churches for the mantle of global Christian leadership.
In Graham's early days, he was known as both a straightforward anti-communist and a crusader for souls. "Either Communism must die, or Christianity must die," he famously said, "because it is actually a battle between Christ and the anti-Christ." When the Billy Graham Evangelistic Association organized the World Congress on Evangelism in 1966, they chose to hold it in the divided city of Berlin, which Graham called a "symbol of freedom and democracy." For Graham and his people, the Cold War and the expansion of American-style evangelicalism were two sides of the same coin. This was a vision that held sway among American evangelicals for the next two decades, although it would also soon be challenged by the very globalization of the church that Graham sought to champion.
Eight years later, Graham's organization helmed an even larger and more important Congress in Lausanne, Switzerland. That event brought together 4,700 evangelicals from around the world. The very choice of Lausanne, located just 30 miles from the World Council of Churches headquarters in Geneva, was symbolic muscle-flexing for the global evangelical movement. Graham had made the point plain: "There is a vacuum developing in the world church. Radical theology has had its heyday." Evangelicals believed it was their moment.
Graham also understood, and celebrated, the fact that the future of the evangelical movement lay with leaders in the Global South. By now, Graham and others recognized that Americans, however wealthy and however large their numbers, were not the future of the global evangelical movement. He saw that demographics were moving all of Christianity, but particularly evangelical and charismatic Protestantism, toward its future as a "third-world" religion.
But Lausanne was also the site for the debate that would all but fracture the evangelical movement. One faction, led by Graham, saw evangelism as their single most urgent priority. The other, led largely by a contingent of social-justice minded Latin Americans, believed that evangelicals must make a commitment to "social concern" for the poor and oppressed. Their list of evangelicalism's failings was long and political: We have frequently denied the rights of the underprivileged, they said; we have distorted the gospel and offered simplistic answers to complex problems; we have been partisan in condemning totalitarianism but ignoring racism. The group saw themselves as offering a fundamental challenge to the American-style evangelism embodied by Billy Graham. Graham never came around to this view, but he did come to recognize that the future of the evangelical movement lay in the Global South.
It was ironic, perhaps, that the "social concern" contingent was making its argument just at the moment when Graham's own involvement in worldly concerns was about to reach its lowest point. The Lausanne Congress was held in July 1974; three weeks after it ended, Graham's close ally, Richard Nixon, would resign the presidency. Addressing the gathering, Graham quietly admitted his own seduction by power, telling the audience that excessive identification with his own nation had been one of the "dangers" of his ministry.
Graham was proud of his reputation as a moderate supporter of civil rights abroad, despite his apparent ambivalence toward it at home early in his ministry. In 1973 Graham had made his first trip to South Africa, having long refused to visit unless he was allowed to preach to integrated audiences. White South African evangelist Michael Cassidy, a well-known opponent of apartheid, was his host. Graham attracted huge crowds: 40,000 in Durban, more than 60,000 in Johannesburg. He appeared on a simple stage in front of the throngs of people, preaching in his signature style—straightforward, vibrant, and repetitive. He highlighted God's love for all people, "the black world, the white world, the yellow world, the rich world, the poor world." He went on to make the point that Jesus was not a white man, but was probably brown, "not unlike some of the Indian people here today." In the South African context, Graham was signaling a political position. But he did not, and would not, directly condemn apartheid, despite some hard questioning by reporters.
In fact, this kind of vacillation was something of a habit with Graham. He was known to take a stand—in favor of the Vietnam War, in opposition to apartheid—only to retreat to a more equivocal position. When confounded, he not infrequently resorted to the Second Coming of Jesus as the only viable alternative to social problems. This led John Bennett, the liberal president of Union Theological Seminary, to complain: "When people claim to be above politics, it is axiomatic that they in effect support the status quo. This is true when they do nothing, but it is far more true when they advertise their close relations with the powerful." In the heyday of his ministry, some felt no one did that more than Graham.
Graham did not only anger critics on his left, however; he also was subject to ire from the right. In 1982, Graham accepted an invitation to preach in the Soviet Union. Despite his long and consistent anti-communism, Graham accepted terms that prevented him from making political statements while in the USSR. He did agree to visit the Siberian Seven, a group of Soviet Pentecostals who had been holed up in the U.S. embassy for four years, demanding the right to emigrate. The Pentecostals and their supporters wanted Graham to take a strong position in favor of their demands, and were furious when he insisted that his visit with them was only pastoral. Graham faced a barrage of criticism back home for ignoring the larger plight of Soviet Christians. Newsweek described the visit with the rather sarcastic summary: "Billy Renders to Caesar."
Graham's most consistent international political position was his support of Israel, which he first visited in 1960. He continued to herald the country and its prophetic importance for the rest of his life. But Graham never made the kind of pronouncements about Muslims that were common among Israel's many U.S. evangelical supporters. He offered a generous and broadly ecumenical message in the wake of the September 11 attacks, very different from the aggressive stance taken by some American evangelical leaders at that time—not least Graham's son, Franklin, who declared Islam "an evil and wicked religion." Graham had stopped calling his preaching events "crusades" in the 1990s, out of sensitivity to how the term was perceived in the Muslim world. And, when, during the Iraq War, he was asked if he saw Christianity as in a world-wide conflict with Islam, Graham said he thought the real conflict was with "hunger, and starvation, and poverty."
Mostly, Graham in his later life shied away from the commentary on international politics, even as his son embraced the role of Trump supporter, anti-Muslim provocateur, and heir apparent to the religious right. Graham did oppose same-sex marriage in 2012, and the Billy Graham Evangelistic Association still adopts a clearly anti-LGBT stance on its website. Beyond that, Graham left 21st-century politics largely to his son. After all, he had already indelibly molded the 20th century, both at home and abroad.