Benjamin Netanyahu's Dangerous Obsession With the Media
How the prime minister's secret dealings with Arnon Mozes could spell his doom.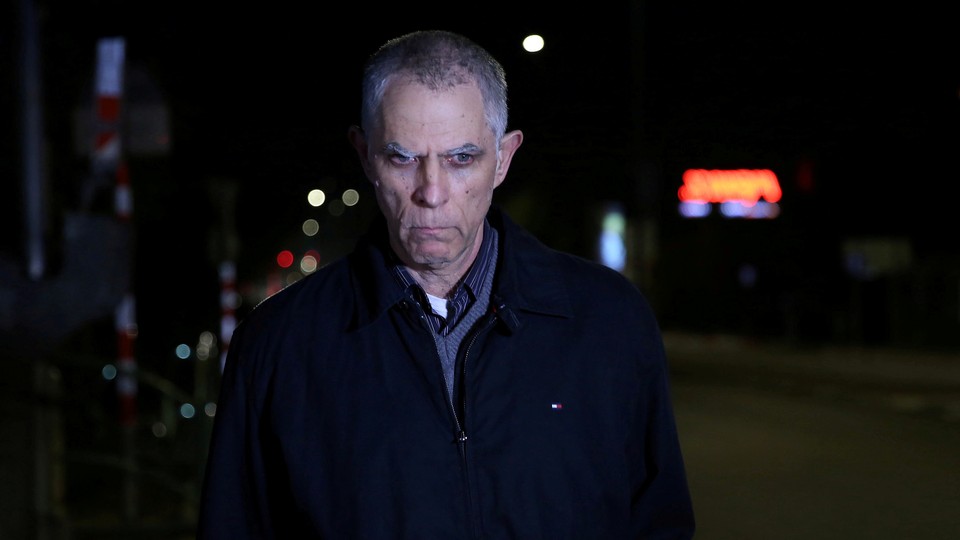 Over the course of his career, Benjamin Netanyahu, the prime minister of Israel, has faced many formidable rivals. There's been Yasser Arafat, the late former leader of the Palestinians, Ayatollah Ali Khamenei, the supreme leader of Iran, and Hassan Nasrallah, the secretary general of Hezbollah. But Netanyahu never accused any of them of leading a "Bolshevik campaign" to derail his agenda and kick him out of office. The only man to receive such praise from Netanyahu is Arnon "Noni" Mozes, the owner and publisher of Yediot Aharonot, which means "latest news" in Hebrew. Since the 1990s, Mozes's popular tabloid, which his family founded in 1939, has been a constant nuisance for the prime minister, regularly featuring negative coverage about the Netanyahus. (Behind closed doors, Netanyahu has reportedly referred to Mozes as "Voldemort.")
This is why many Israelis were shocked to learn early last year that Netanyahu and Mozes were under investigation for allegedly concocting a secret bribe deal. Last week, the police concluded their investigation, recommending that Israel's attorney general indict both Mozes and Netanyahu for bribery. This investigation is one of three different cases involving Netanyahu, all of which include suspicions for bribery, and eyebrow-raising relationships between the prime minister and powerful media tycoons. The police also recommended indicting him in a separate corruption investigation involving Arnon Milchan, an Israeli billionaire and Hollywood producer who allegedly gave Netanyahu and his family expensive gifts worth more than $200,000 over the last decade. Netanyahu claimed that Milchan gave the gifts not as part of some secret quid-pro-quo, but, rather, because they are friends.
That defense won't be available to Netanyahu with the Mozes case. Their rivalry has become the stuff of legends in Israel. Now, they may be closer than ever to achieving that goal—ironically, at each other's expense.
For much of his 30-plus years as the owner and chief editor of Yediot Aharonot, Mozes has been criticized for leveraging the paper's immense popularity to curry favor with politicians from across the spectrum. In its heyday, Yediot's circulation reached more than 50 percent of newspaper readers in Israel. Former editors and writers at Yediot have described a "favorites list" kept by the paper's senior management, which reportedly includes the names of politicians, business moguls, and other powerful people who helped advance the Mozes family's interests. In return, they have received positive coverage, according to former Yediot workers. The paper's management has consistently denied these allegations.
True or not, one thing is clear: If there is such a list, Netanyahu certainly isn't mentioned in it. Yediot has broken some of the most damaging stories of his career. That includes a report on a tape recording in which his wife, Sara, was heard saying: "Bibi is too great for this country. Let this country burn, we will move to live abroad." Rottem Danon, the editor of Israel's top weekend news broadcast and an expert on Netanyahu's complicated history with the Israeli media, told me it wasn't always this way. Danon said that when Netanyahu served as Israel's ambassador to the United Nations in the 1980s, Yediot covered him favorably, praising his command of English and writing about the "admiration" he received from America's Jewish community.
But things changed in the 1990s, when Netanyahu became the leader of the opposition in the Knesset, and went up against then-prime minister Yitzhak Rabin. When Rabin was murdered by a right-wing extremist in 1995, large parts of the Israeli media, including Yediot, blamed Netanyahu for encouraging wild incitement against Rabin before the murder. After Rabin's death, Netanyahu ran for prime minister against Shimon Peres. Despite Yediot's pro-Peres coverage, Netanyahu eked out a narrow win. For the next two and a half years, he stumbled from one public relations disaster to another before being forced to call an early election. Through it all, he believed that Mozes's paper was ignoring his achievements and turning minor incidents into scandals.
Netanyahu's frustration boiled over in 1999, after he suffered a humiliating election defeat. "Netanyahu thought that his loss wasn't a result of policy, credibility or character flaws," Alon Pinkas, a former senior Israeli diplomat (who occasionally writes political commentary for Yediot), told me. "He attributed the loss to a comprehensive campaign that Yediot supposedly waged against him. It became an obsession for him."
Following another election loss seven years later, Netanyahu reportedly told some of his close associates that, in order for his right-wing supporters to reclaim power, they needed media outlets of their own. That dream finally became reality in 2007, when Sheldon Adelson, the Las Vegas-based American billionaire and ardent Netanyahu supporter, established a daily tabloid called Israel Hayom, or "Israel Today" in Hebrew. Adelson has reportedly invested tens of millions of dollars in the newspaper; unlike Mozes's tabloid, which is sold in stores or distributed to paying subscribes, Adelson's paper is free.
At the time of Israel Hayom's debut, Ehud Olmert, a member of the centrist Kadima Party, was Israel's prime minister, and Netanyahu was once again the leader of the opposition. Olmert was considered one of Yediot's ultimate favorites. The paper drew criticism for supposedly trying to shield him from the corruption investigations that would ultimately lead to his downfall. Adelson's paper tried to position itself as spearheading "the fight against corruption," constantly praising the police and attorney general for their investigations into the bribe accusations against Olmert.
In 2009, following Olmert's indictment and resignation, Netanyahu was once again elected prime minister. Israel Hayom offered him its unwavering support, even acquiring the portmanteau "Bibiton"—a combination of Netanyahu's nickname and the Hebrew word for newspaper. (Some of Netanyahu's own coalition partners have publicly compared it to Pravda, the famous mouthpiece of the communist party in Russia.)
Yediot, meanwhile, resumed its negative coverage of the old-new prime minister with vigor. In 2010, it lost its status as an officially designated monopoly in the Israeli newspaper market, after Israel Hayom surpassed its circulation. Yediot remained influential, but its decades-old slogan—"The Newspaper of the Country"—no longer rang true.
But when Israelis elected a new parliament in 2012, Netanyahu received a painful reminder of Yediot's enduring power. In the elections, his Likud party underperformed, winning 31 seats instead of the projected 40-plus. Meanwhile, two parties that received positive coverage from Yediot beat the pollsters' expectations and won a combined 31 seats of their own. Netanyahu had no choice but to bring them into his coalition.
In subsequent off-the-record briefings with Israeli journalists, Netanyahu regularly ranted about Mozes's influence, describing him "in almost satanic terms," in the words of one reporter who attended one of the briefings. Another recurring feature in those briefings was Netanyahu's frustration with what he saw as Israel Hayom's limited influence. "If only the Bibiton had even half the influence as the anti-Bibiton," one reporter quoted him saying.
Yet despite Netanyahu's paranoid obsessions, Yediot was no longer what it once was. Israel Hayom's success, along with the broader challenges faced by media organizations in the digital news era, were inflicting serious damage on the Mozes family's most important asset.
This was the state of affairs for Israeli media in late 2014, when a group of lawmakers in the Knesset proposed a bill, nicknamed "The Israel Hayom Law," that would impose limitations on the distribution of free newspapers with wide circulation. Many in Israel, even left-wing members of the Knesset, criticized the bill as a transparent attempt to hurt Israel Hayom's popularity in service of Yediot. Mozes was personally involved in promoting the legislation, and the police suspect that he even took part in writing it. In public, Netanyahu railed against the bill, describing it as an anti-democratic attempt to shut down a newspaper through legislation. That didn't stop many members of his own coalition from voting for it. In November 2014, the bill passed a preliminary vote by a wide margin.
But according to the police, while Netanyahu was publicly attacking the law, behind the scenes he dealt with it differently. He and Mozes arranged to meet in secret to end the hostilities between them. It has been reported that they held at least two lengthy meetings in Netanyahu's office, where they discussed how to deal with  journalists that the prime minister deemed too critical of him, and brainstormed ways of promoting Mozes's business interests. "Steering the media is a craft," Mozes told Netanyahu in one of the meetings. "I'm speaking to you as one master craftsman to another," Netanyahu replied.
The deal they were trying to concoct would be tough to implement. According to reports, rather than fighting the Israel Hayom bill, Netanyahu would quietly allow it to become law. Mozes, in return, would make Netanyahu a Yediot favorite. "It will be an earthquake, we need to think how to do it wisely," Mozes told the prime minister. Netanyahu told him to take it slow: "Take down the hostility towards me from 9.5 to 7.5." Mozes replied, "I get it. We need to make sure you stay prime minister."
While the meetings were promising, the deal eventually fell apart. According to one report, Netanyahu told Mozes that he would only be able to deliver on his end of the deal after the election; Mozes responded by ending the negotiation. Then, rather than giving Netanyahu favorable coverage in the run-up to the 2015 election, he doubled down on the attacks against Netanyahu. "They lost their journalistic compass," Gadi Baltiansky, who served as the spokesperson for former prime minister Ehud Barak, told me. "It was embarrassing."
Netanyahu began calling out Mozes by name, attacking him in a Facebook post for trying to "bring down" his government and "take back his control over the media market." Over the next several weeks, when a story critical of Netanyahu appeared in a news outlet, his spokespeople would allege that it was part of a conspiracy by Mozes—even if it was published by a Yediot competitor.
On election night, Netanyahu arrived at a conference center in Tel Aviv. Exit polls suggested a clear victory for his Likud party. In his victory speech, the crowd began chanting "Noni has been screwed! Noni has been screwed!" Netanyahu burst out laughing.
In December 2015, nine months after Netanyahu's victory, the police arrested Ari Harow, one of his closest aides, and a suspect in a separate corruption investigation unrelated to the prime minister. As the officers reviewed potential evidence from Harow's apartment, they discovered recordings of the Netanyahu-Mozes negotiation. No one in Israel except for Netanyahu, Mozes, Harow, and perhaps a handful of others, knew these secret negotiations took place. The recordings amounted to what investigators often call "golden evidence": a politician and a business tycoon speaking freely about an alleged bribe. The politician offers favorable legislation, and the tycoon offers an extremely valuable commodity—favorable coverage ahead of a critical election. In the recordings, Netanyahu also promised Mozes that he would ask Adelson to scale back some of Israel Hayom's operations, thus reducing its threat to Yediot. This part of the recording raised disturbing questions not just about Netanyahu's discussions with Mozes, but also about his relationship with Israel Hayom.
Why Netanyahu and Harow recorded the negotiations with Mozes remains a mystery. When the investigators first asked Netanyahu about the recording, he claimed that he only wanted to record Mozes offering him a bribe, and never actually meant to follow through on any of his promises to the publisher. But the investigators were unconvinced: They pointed out that if Netanyahu's only intention was to secretly record Mozes and then use the recording against him, the prime minister could have simply delivered it to the police after their last meeting. Mozes would have likely gone to jail for trying to bribe Netanyahu, while Netanyahu would have been publicly hailed for exposing his corruption. But Netanyahu never did that. This convinced the police that Netanyahu, at least for a while, was seriously planning to fulfill his side of the alleged bribe deal.
To make things worse, the police also found evidence allegedly showing that Netanyahu and Mozes fully intended to carry out the bribe deal. Netanyahu, the police claimed, asked lawmakers in his party to find ways to allow the passage of an amended version of the Israel Hayom law, despite his public opposition to it. (Netanyahu denied this allegation.) The police also claimed that he asked Adelson to carry out some of Mozes's requests, such as limiting Israel Hayom's circulation on weekends. Netanyahu has also denied this.
Since under Israeli law a "conspiracy to conduct a bribe deal" is a felony, the investigators recommended that both Netanyahu and Mozes should be indicted, despite the fact that their alleged bribe deal eventually collapsed. Netanyahu and Mozes, who for the first time in decades find themselves on the same side of a public dispute, both claim that the police recommendation is based on an exaggerated and false interpretation of their conversations.
While the attorney general is looking into the Mozes matter, the police are already investigating a separate case in which Netanyahu could very soon become a suspect. It involves steps that he allegedly took to favor the owner of Bezeq, Israel's largest telecommunications company, in return for censoring negative coverage of Netanyahu on Walla, a popular news website owned by the company. On Sunday, two of Netanyahu's closest confidantes were arrested in connection to this scandal, and one of them, the former director general of Israel's Ministry of Communications, has already agreed to become a state witness against the prime minister. Israel's Channel 10 reported on Wednesday that Netanyahu will be summoned for questioning as early as next week.
The Netanyahu-Mozes affair has become a source of embarrassment for some of Netanyahu's supporters, who had attacked Yediot for years, only to discover that he was dealing with its publisher behind closed doors. At the same time, the episode has appeared to affirm many of the criticisms against Yediot, providing strong evidence that Mozes used his paper's influence to promote his business interests.
"Netanyahu is the son of a historian and has a profound sense of history," Danon said. "He is well aware of the fact that news coverage constitutes the first draft of history. Perhaps that's why he's so obsessed with how the media covers him—he understands that today's headlines will shape the next decade's biographies."
How those biographies detail the current drama remains to be seen. But based on the events of the last few weeks, a happy ending may elude Netanyahu.