Secretive Fraternities Are Feeding Anti-Semitism in Austria
The youth organizations can be an incubator for the far right.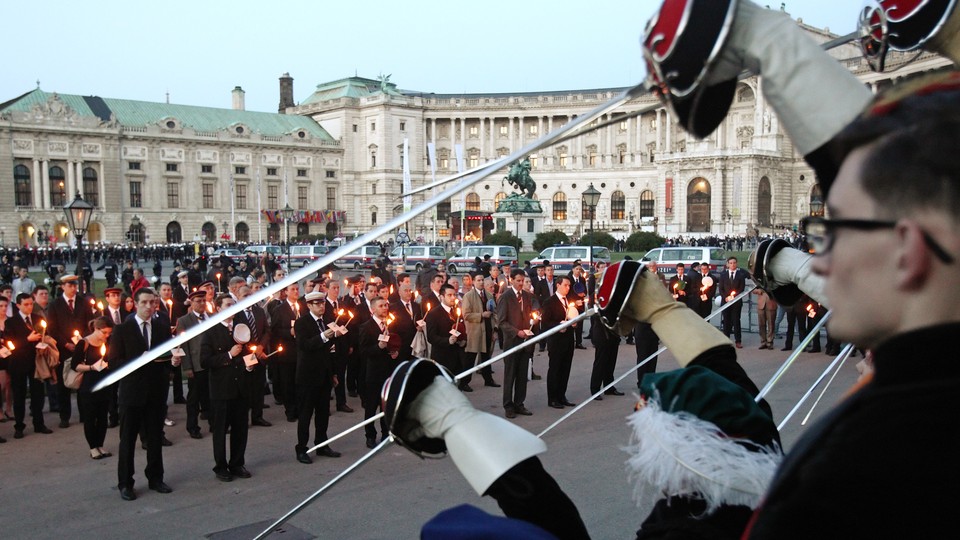 VIENNA—Like many Austrian fraternities, Germania zu Wiener Neustadt sometimes uses a songbook at its get-togethers. It looks ordinary enough, with its red cover, gold crest, and curling script. The cover is studded with metal nails called "Biernagel" that keep the book slightly elevated so it doesn't get wet when lying in beer.
Unlike most other songbooks, however, it contains lyrics about killing Jews. "Step on the gas," one line reads. "We'll manage the seventh million."
When the Vienna-based newspaper Falter (for which I am a frequent contributor) wrote about the book in January, it promptly derailed the political career of one of the fraternity's most notable members: Udo Landbauer, who was running as a candidate for Austria's right-wing Freedom Party (FPÖ) in state elections on January 28. One day before the vote, the Austrian president suggested he step down. On February 1, Landbauer resigned from all political positions. He had been a city councillor in Wiener Neustadt and the head of the FPÖ's district office in that city.
Landbauer, 31, who was also the deputy chairman of the fraternity for a couple of years, claimed he hadn't known about such lines: "Not being a gifted singer, I didn't go through all the pages," he said in a television interview. The songbook outraged the nation anyway. The prime minister of Lower Austria, Johanna Mikl-Leitner of the conservative People's Party (ÖVP), said she wouldn't work with Landbauer. Bad international press followed, causing embarrassment the FPÖ could ill afford. In the six weeks since it had become the junior partner in a coalition government with the ÖVP at the federal level, it had struggled to appear respectable. The party had gotten negative press just two weeks earlier, when its minister of the interior proposed "concentrating refugees into camps." The Jewish community of Vienna, where the majority of the country's 12,000 to 15,000 Jews live, has been boycotting the FPÖ; it refused to participate in the government's official Holocaust memorial ceremony last month.
Heinz-Christian Strache, Austria's vice chancellor and head of the FPÖ, announced that he would install a committee of historians to examine the party's ties to anti-Semitic groups. The party revealed last week that former FPÖ parliamentarian Wilhelm Brauneder will head the commission. Brauneder, who during his tenure as the dean of Vienna University's law faculty in the late 1980s permitted an event organized by a German right-wing extremist, gets to choose the members of the commission, which is set to issue its first report this October. Whether or not the historians will also study the fraternities' history depends on whether the fraternities, which are private organizations, voluntarily grant them access to their archives.
Then, this week, the FPÖ suffered another blow. Falter published a new story, this one reporting that the Viennese fraternity Bruna Sudetia also used a songbook containing the same anti-Semitic song. Its head, Herwig Götschober, works on social media for the cabinet of Norbert Hofer, the FPÖ's minister of infrastructure, and is a district councillor for the FPÖ in Vienna. Götschober reacted by saying that he rejects these lyrics, and added that he had never seen this songbook before. The fraternity is now under investigation, as the circulation of Nazi content is prohibited by Austrian constitutional law; Götschober went on leave from his post.
On its homepage, Götschober's fraternity has a section about its history: World War II is only mentioned when the bombing of its Vienna headquarters in 1944 is described. This silence about the Nazi era has been typical of Austria for much of the 20th century, when the nation saw itself as the first victim of Hitler's expansionist politics. In 1986, the Nazi past of former UN general secretary and presidential candidate Kurt Waldheim resulted in international pressure. Consequently, then-chancellor Franz Vranitzky acknowledged Austria's complicity in the war and Nazi crimes in 1993. It took until 2012 for the government to recognize May 8, the anniversary of the capitulation of the Wehrmacht in 1945, as the Day of Liberation. German-nationalistic fraternities still commemorate the dead soldiers on that date. Arguably, scandals like those involving anti-Semitic songbooks keep bubbling up because Austria has yet to grapple with its WWII past as thoroughly as has, say, Germany.
The far right in Austria has a long and vocal history of anti-Semitism, but recently it has been trying to shed that image, instead prioritizing anti-Muslim rhetoric. As part of this shift, members of the far right at times claim they want to protect Jews against Muslims. But their relationship with the fraternity system proves they haven't shed their anti-Semitism either.
The chances are extremely slim that a reassessment of the sort Strache announced would eliminate anti-Semitism in the FPÖ. In order for the party to rid itself of anti-Semitism, it needs to cut its ties to the fraternities—a structural problem that is nearly impossible to tackle.
Austria has many high school and university student associations. What makes these fraternities ("Burschenschaften") unique is that they're infused with German nationalism. They originated in German university towns in the first half of the 19th century and stood for a united German nation. During the Nazi era, the fraternities were merged with the Nazi students' associations. They reemerged after the war. Today, not all members of these fraternities are far-right extremists, anti-Semites, or neo-Nazis; some are right-wing conservatives who adhere to old traditions, like a mask-free fencing ritual that often leaves members with scarred faces.
Members swear to secrecy about what happens during their gatherings—which is why the songbooks shocked many. It also means that people don't know how much other Nazi material is being circulated. In his most recent book, the journalist Hans-Henning Scharsach lists several fraternities that still include former Nazis, such as Rome's Gestapo chief Herbert Kappler, among their honorary members. Another group organized a carnival party in 2008, photos of which appear to show guests dressed up as Ku Klux Klan members and Orthodox Jews.
In total, there are no more than 5,000 members of such fraternities nationwide, yet these members are important because they're overrepresented in the ranks of the FPÖ. Strache himself is a member of the fraternity Vandalia. (He is also known to have had frequent contact with neo-Nazi groups in his youth, which he described as a "youthful folly" but never said was a mistake.) Among the party's MPs alone, roughly one-third are members of various fraternities. The fraternities are an important source of highly educated and loyal personnel.
Which makes Strache's announcement somewhat hard to believe: "Fraternities have nothing to do with the FPÖ," he said the day after the Germania zu Wiener Neustadt songbook was made public.
"That was a real slap in the face for the fraternities," said Nina Horaczek, a journalist with Falter who broke both stories, adding that Strache's attempt to distance himself from them isn't a good long-term strategy for him. After all, his brothers backed him when he became the head of the party in 2005. "If fraternities need to leave the party, Strache would be the first to go."
Although the fraternities are by no means the only source of anti-Semitism in the FPÖ, they are considered a gateway into the party. Severing these ties isn't just difficult, it's undesirable for the party—which means that the FPÖ will continue to at least indirectly foster a safe space for anti-Semitic thought.
"As long as Strache doesn't say, I was a neo-Nazi in my youth and I apologize for it, any sort of historical examination is worth very little," said Doron Rabinovici, an author and historian of Austrian Jewry.
Martin Engelberg, a Jewish MP for the conservative ÖVP, is more optimistic. In a TV debate on the Austrian channel Puls4, he said, "This process won't happen in just one day," referring to the plans of his coalition partner, the FPÖ. At a recent MP swearing-in ceremony, the FPÖ's MPs didn't show up wearing cornflower pins—the symbol Nazi party members used in Austria before 1938—as they had in previous years. Instead, they wore edelweiss flowers, a rather neutral symbol of Austria. Strache had also given a speech at the fraternities' annual ball a few days earlier, saying that they had to stand against racism and anti-Semitism. "Those are [positive] signs," Engelberg said.
The FPÖ has also been trying to present itself in recent years not as anti-Semitic, but as decidedly supportive of Jews—a stance that seems politically opportunist. One way they attempt this is by showing support for the Jewish state: Strache and other party officials have been visiting Israel and meeting with far-right members of the ruling Likud party (official Israeli policy, however, is to boycott the FPÖ). In December, Strache said it would be his wish to move the Austrian embassy from Tel Aviv to Jerusalem. He has also said Israel has the right to build West Bank settlements.
Several scholars, a few of whom were featured in a recent Haaretz article, have made the case that some European far-right parties have adopted similar stances:
Cas Mudde, a political science professor at the University of Georgia … highlighted the stance of many radical rightists on the Jews. Jews, says Mudde, are seen to embody a modernity to be defended. Europe's large Roma minority, on the other hand, are seen as barbarians living on the fringes of modernity, while Muslims are seen as barbarians living inside modernity—the enemy already inside the gates, according to the far right.

As a result, the philo-Semitic turn of many far-right parties, in the words of sociologist Rogers Brubaker, comes directly from these parties' preoccupations with Islam. Writing earlier this year, Brubaker argues that the far right has come to redefine Jews as fellow Europeans and exemplary victims of the threat from Islam.
Another far-right European party that has tried this strategy is France's National Front. Founded in 1972 by Jean-Marie Le Pen, who made statements offensive to both Jews and Muslims, the party was taken over in 2011 by his daughter Marine Le Pen. She expelled her father from the party and gave it a facelift, publicly embracing Jews while continuing to speak negatively about Muslims. In 2014, she told French Jews, "Not only is the National Front not your enemy, but it is without a doubt the best shield to protect you. It stands at your side for the defense of our freedoms of thought and of religion against the only real enemy, Islamist fundamentalism."
As the historian Ethan B. Katz has written, "The extreme right in France has repeatedly invoked Muslims and Jews in the same breath, at once highlighting both groups as different from the rest of the population and seeking to rally them against one another."
These kinds of tactics may have influenced the FPÖ. "It's possible that Marine Le Pen played a role in the FPÖ's move away from anti-Semitism," said Danny Leder, an Austrian journalist who has been based in France for decades and has covered the right-wing parties of the two countries extensively. "On a European level, the FPÖ was always the National Front's junior partner."
Leder emphasized that "the threat [against Jews] is real." In recent years, France has experienced several deadly Islamist terrorist attacks directed at Jews. The Austrian watchdog NGO Forum gegen Antisemitismus reports a steady increase in anti-Semitic incidents over the past few years, and in its 2015 report the increase in Islamist anti-Semitism was significant.
Both the National Front and the FPÖ have used these incidents to foment further hatred. There's plenty of evidence to suggest anti-Muslim sentiment has become more widespread. Le Pen, in 2010, compared Muslim prayers in the streets to the Nazi occupation. And in Austria, "Daham statt Islam" ("Home instead of Islam") was Strache's campaign slogan in 2006. Last November, Landbauer called Johanna Mikl-Leitner, his rival in the state elections, "Moslem-Mama Mikl," and claimed that she was "pushing Islamization in kindergartens" because a syllabus for kindergartens required that children be introduced to holidays from various religions.
Oskar Deutsch, the president of Vienna's Jewish community, does see Islamist anti-Semitism as a significant threat, but he doesn't believe the far-right is a true ally in combatting it. "Muslims, Roma and Sinti, and Jews—as minorities, we're all sitting on the same branch," he said. "If you're sawing off one of our seats, we're all falling." But some Jewish leaders, like Engelberg in Austria, or the French Jews who voted for Le Pen, have seemed willing to give far-right parties a chance, perhaps encouraged by public displays of philo-Semitism.
Meanwhile, anti-Muslim sentiment helps to keep the far-right base happy. This base, however, has not abandoned its anti-Semitic strain, and party leaders still at times project anti-Semitic signals. Strache's 2010 visit to the Yad Vashem Holocaust memorial, where he wore his fraternity hat when head-covering was required, perhaps illustrates this best.
Still, the FPÖ keeps framing scandals such as the songbooks as isolated cases, in its attempt to convince people that Jews are no longer the enemy of the party. Fraternities are clearly enmeshed with the FPÖ, which means that—despite all public claims to the contrary—the party will likely keep its ties to anti-Semitism intact.