An Irreplaceable Champion for Pakistan's Dispossessed Is Gone
Asma Jahangir died at a time when her country needed her most.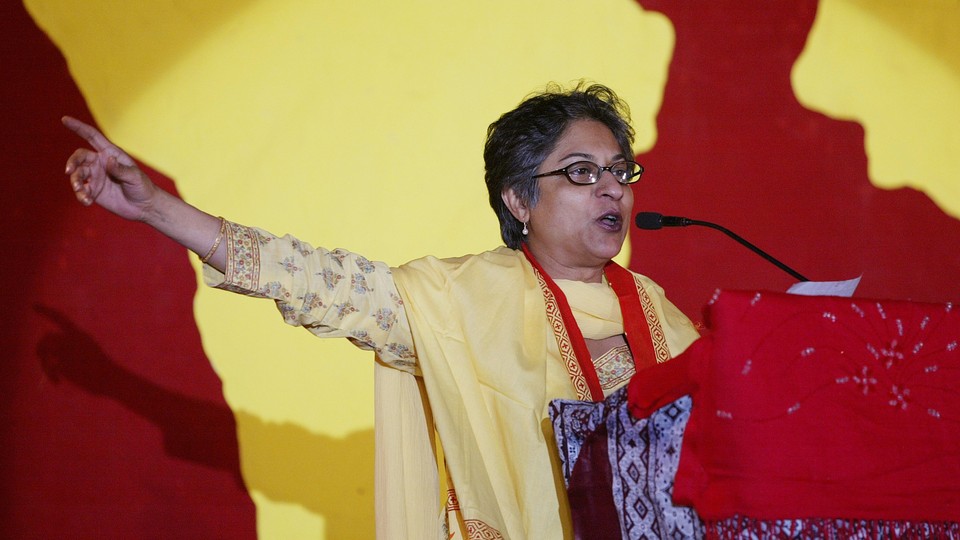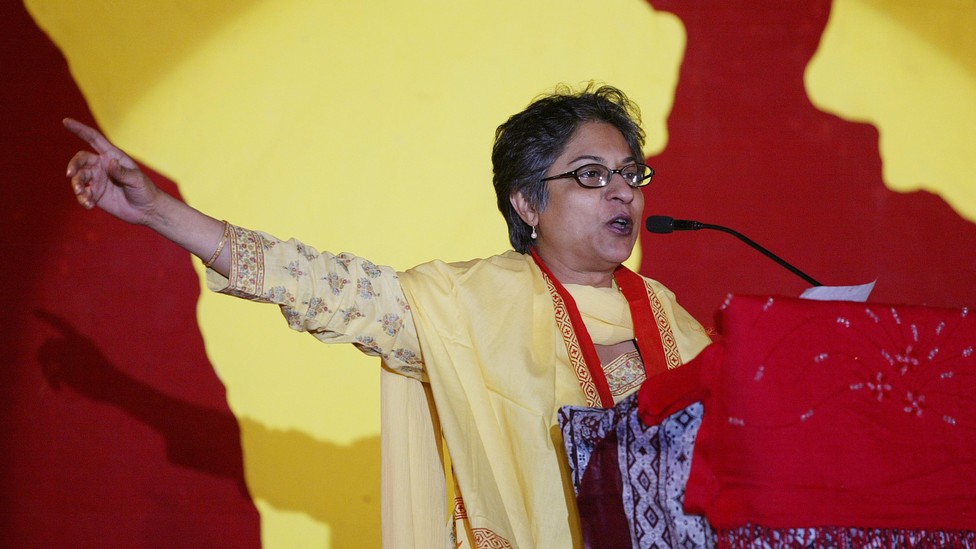 I first met Asma Jahangir, the champion of human rights in Pakistan who died Sunday, at the Supreme Court in Islamabad. It was September 2007, and General Pervez Musharraf's eight-year rule was tottering. For several months, a popular movement led by lawyers had harried him on the streets, and now, Musharraf feared, the judges were poised to disqualify him from office.
As a journalist, I was there to observe the hundreds of lawyers clamoring for Musharraf's worst fears to be realized. Soon, they were outnumbered. The ranks of the baton-wielding police swelled as reinforcements arrived, including a contingent dressed in plain clothes with rocks in their pockets. The police began beating the lawyers on their heads, in some cases breaking the protesters' spectacles, and causing blood to pour onto the black blazers that symbolize the legal profession in Pakistan. Soon, rocks began to fly, scattering the ranks of the demonstrators. Then came the tear-gas, letting off a cloudy trail as the canisters arced in the direction of the protesters and journalists, forcing everyone to retreat inside the Supreme Court building.
Jahangir was unfazed. She shepherded the lawyers, activists and journalists inside and then led them to the kitchen, where they could wash their faces, sip water, and reflect on the events convulsing their country. A military ruler was resorting to repressive methods in order to cleave to power. The rule of law had deteriorated to the point where the police were laying siege to the seat of justice. Confronted with such force, what hope was there for a peaceful resistance whose only weapon was the constitution? Still, Jahangir remained confident. She had lived through such moments before.
Jahangir was 18 years old when she first made her name in the Supreme Court. Her father, Malik Ghulam Jilani, a noted left-wing politician, had been placed under "preventive detention" during the military rule of General Yahya Khan in the late 1960s and early 1970s. Jahangir would later joke that she came to know court as an occasion to dress up and see her father. In a landmark petition, Jahangir challenged the legitimacy not just of her father's detention but of Khan's rule as well. To everyone's astonishment, the court later decreed that Khan was an "usurper."
Later, during General Muhammad Zia-ul-Haq's 11-year rule, which ended in 1988, Jahangir was one of the leaders of the Women's Action Forum. The group protested in the streets against laws that discriminated against women. Its members were beaten viciously by the police. She was first arrested in 1983, and then again during the Musharraf years—twice: the first time in 2005, at a Lahore marathon for women's rights; then in November 2007, during Musharraf's last year in power, when she was placed under house arrest.
Soon after Jahangir qualified as a lawyer, in 1978, she established Pakistan's first all-female legal firm, along with her sister, Hina Jilani, and two other friends. Over the years, the clients they represented included women trying to divorce violent husbands, women trying to marry against the wishes of their parents, bonded laborers seeking freedom from their oppressive "owners," religious minorities facing death sentences under the blasphemy laws, and relatives of the forcibly disappeared. In 1987, Jahangir co-founded the independent Human Rights Commission of Pakistan, which she chaired for several years.
Even at the best of times, it was hazardous work. In the mid-1990s, Jahangir defended Salamat Masih, a Christian teenager sentenced to death for blasphemy for allegedly scribbling an insult on a mosque's wall. Pakistan's blasphemy laws have often ensnared members of religious minorities. An accusation can be made on the basis of little or no evidence. The accused have been deemed guilty by riled up mobs even before the trial has begun. Everyone involved fears for their lives. At one hearing, Jahangir was not even allowed to speak. She was denounced by an angry mob as "anti-Islamic." But in a surprise result, Masih was ultimately acquitted on appeal. That result didn't end the anger over the case, however. Following the verdict, an armed gang stormed into Jahangir's brother's house looking for her. In 1997, two years after the acquittal, the judge was killed.
Jahangir said she learned a lot from those she represented. She once asked a woman with five children who was seeking a divorce if she was ready to assume the life of a single mother. "Many women have been killed in their marriages," the woman replied. "Have you ever heard of anyone killed in their divorce?" A bonded labourer once explained to her what he was fighting for, by saying: "I'm not asking for food. That I can get in jail. I'm fighting for my dignity, which is priceless."
Jahangir became famous as a fearless Pakistani human rights defender. She won several human rights awards, spent three terms as a UN special rapporteur, and was awarded three honorary doctorates. Presidents and prime ministers decorated her with their highest civilian honors. But it was her quiet valor and discreet acts of kindness, away from the glare of publicity, that affected people the most.
In the hours since she has died, a well-known journalist recalled how she dragged him out of his office and up to the hills of Murree to accompany her as she investigated the killing of a young girl she read about in the newspaper. A lawyer told me that during Musharraf's state of emergency, he was a student protesting outside a detained judge's house in Lahore. The Punjab police charged up to them, and were about to attack, when Jahangir emerged out of nowhere. "What the hell do you think you're doing?" she said. "These are kids, not terrorists. Go on, get lost." Shocked, the police duly skulked away.
For many in Pakistan, Jahangir's outspokenness made her a divisive figure. Journalists and politicians close to the military ritually attacked her as "secular," "anti-Islamic," "pro-Western" and a "foreign agent." But when two of those journalists found themselves facing television bans in court, Jahangir was there to defend them. The journalists were reduced to silence. Jahangir always stood for a principle, even if it meant defending her most vituperative critics.
The tragedy is that Jahangir has died when perhaps Pakistan needs her the most. The crude acts of repression under the military rule of Musharraf have now assumed subtler, more pernicious forms. Human rights activists aren't thrashed in the streets, like they were during Musharraf's time. They are subject to intense surveillance online, and, if deemed necessary, "picked up."
Enforced disappearances have long been a stain on Pakistan's human rights record, with possibly thousands of people unaccounted for over the past two decades. Authorities refuse to acknowledge they are holding someone, or to say where they are held. But over recent months, these disappearances have become more frequent. The disappeared are no longer mainly those suspected of membership in an armed group. They include students, journalists, bloggers, peace activists and other mainstays of civil society. Sometimes they return home within days, having endured torture and other-ill treatment. Sometimes months go by with no news of their whereabouts. The media is wary of covering their cases, and there is a fear that anyone could be targeted. "Who will be next?" as one lawyer's placard read at a protest last year. "Will it be me, or will it be you?"
Jahangir's last public speech was at a protest rally in Islamabad. She was speaking to hundreds of ethnic Pashtuns who had gathered in the capital to protest against enforced disappearances, extrajudicial executions and other serious human rights violations visited upon their community. Now, Pakistanis wonder who will be there to speak up for them. "Her sheer presence gave people strength," a friend of Jahangir's told me last night. Will a new generation of activists assume the mantle that Jahangir left behind for them, or will Pakistanis be left weaker without her?