A Week Around the World With The Atlantic
A turning point in Syria, a crisis in South Africa, and a battle for political survival in Israel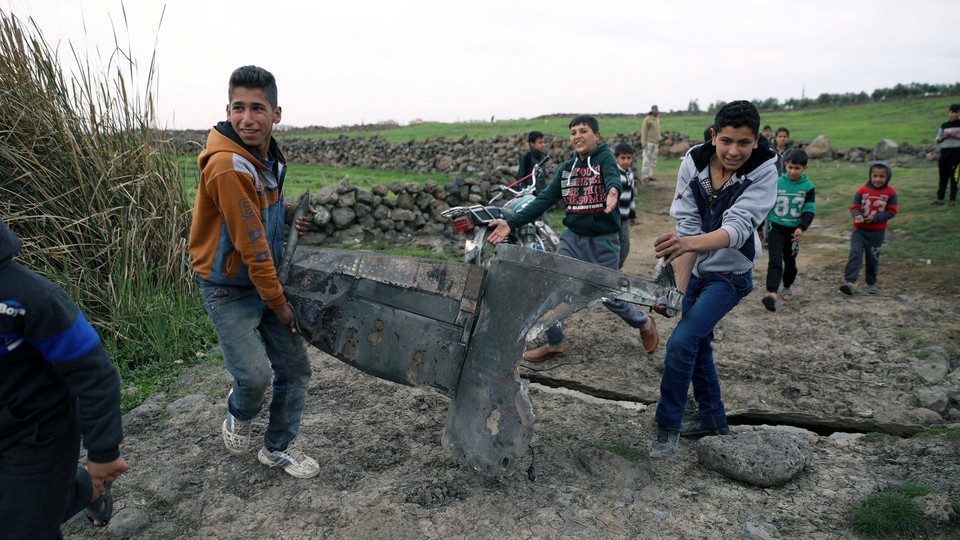 What We're Writing
A turning point in Syria: The number of actors fighting over the future of Syria—including the U.S., Russia, Iran, Israel, the Kurds, and Turkey—means the conflict has never been more international. The stakes are high as three more conflicts arise that have the potential to turn into something more dangerous. In fact, a recent flare-up in tensions between Iran and Israel in Syria has raised questions about what the rules of the game are for post-conflict Syria. If any actor can outline these rules, it's Russia—but Vladimir Putin seems not to be willing to do so. As he is fast learning, it's much easier to get into a Middle Eastern conflict than to get out of one.
A crisis in South Africa: South African President Jacob Zuma resigned this week after his own party, the African National Congress, threatened him with a no-confidence vote if he did not step down. Zuma has survived countless political scandals but, as Matt Peterson writes, he could not survive party politics. Apart from this political crisis, South Africa is also facing a major environmental crisis: The city of Cape Town has nearly run out of water. Plagued with a historic drought linked to climate change, the city has suffered from poor governance, which may have exacerbated the crisis.
A battle for political survival in Israel: This has been a tough week for Israeli Prime Minister Benjamin Netanyahu. Israeli police have recommended he be indicted in two separate cases. Natan Sachs argues two things will determine the prime minister's fate: the reaction of Netanyahu's coalition partners and the public's reaction in the next Israeli elections, due no later than 2019.
---
Snapshot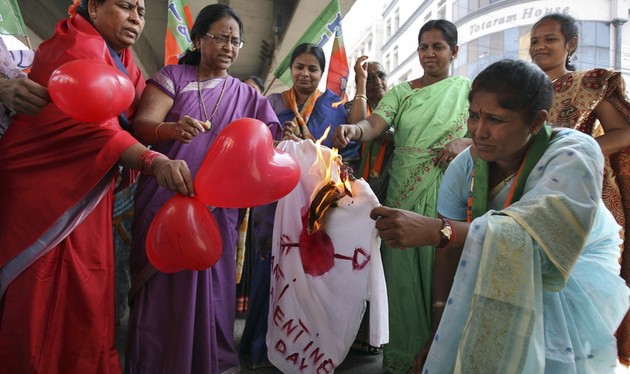 Why are some Hindu nationalists in India so opposed to Valentine's Day? Read about the resurgence of the religious right in the country and why they oppose the holiday here.
---
Quoted
"[T]he political economy of the promised land is now characterized by harshness at the bottom and at least soft corruption at the top," Paul Krugman wrote in The New York Times. Krishnadev Calamur writes about why that matters in the face of the corruption allegations plaguing Israeli Prime Minister Benjamin Netanyahu here.
"South Africans are resilient … we always stick together," a Cape Town resident told Atlantic staff writer Olga Khazan during her investigation into the city's impending water crisis. Read about it here.
---
Our Long Read of the Week
Peter Tinti reports from Agadez, Niger, the "gateway between sub-Saharan and North Africa," where, he argues, restrictions on illegal immigration imposed by the European Union have done very little good for the local population and are instead fostering resentment and making it easy for jihadist groups to recruit followers. Read about it here:
Adou Ama, a slender, 40-year-old man in Agadez, once earned several thousand dollars a month arranging the transport of West African migrants from Agadez to Libya. Now he spends his days loitering under a hangar nestled within the mud-brick labyrinth of the city center, drinking tea and smoking cigarettes with a dozen other former smugglers. He and the other ex-smugglers said that the Nigerien government and its European patrons had failed to bring the jobs and economic development they'd promised. "Our families—what are they going to eat?" Ama asked.

Northern Niger's economic crisis could destabilize a region that has already suffered through two civil wars over the past 30 years. While the European Union promotes development aid and security assistance as a recipe for stability in Niger, and individual countries like France, Italy, and the United States do the same, locals here insist that EU efforts to curb migration, combined with an increased foreign military presence, threatens to break an already fragile state. "We don't want a rebellion," Ama said. "But suffering creates one."
---
What We're Reading
A Literary Road Trip Into the Heart of Russia, by Karl Ove Knausgaard, is a striking journey into Russia as we rarely see it now: a land of stories. (Via The New York Times Magazine)
The Women Who Took On the Mafia, by Alex Perry, is the story of the undoing of the Calabrian mob. (Via New Yorker Magazine)
John Galliano Opens Up, by Elisa Lipsky-Karasz, is an in-depth profile of the creative genius who, until he was fired from Dior for anti-Semitic and pro-Nazi rhetoric, ruled Europe's fashion scene. (Via Wall Street Journal Magazine)