A Week Around the World With The Atlantic
The problem of Afghanistan, the fear of North Korea, and the State of the Union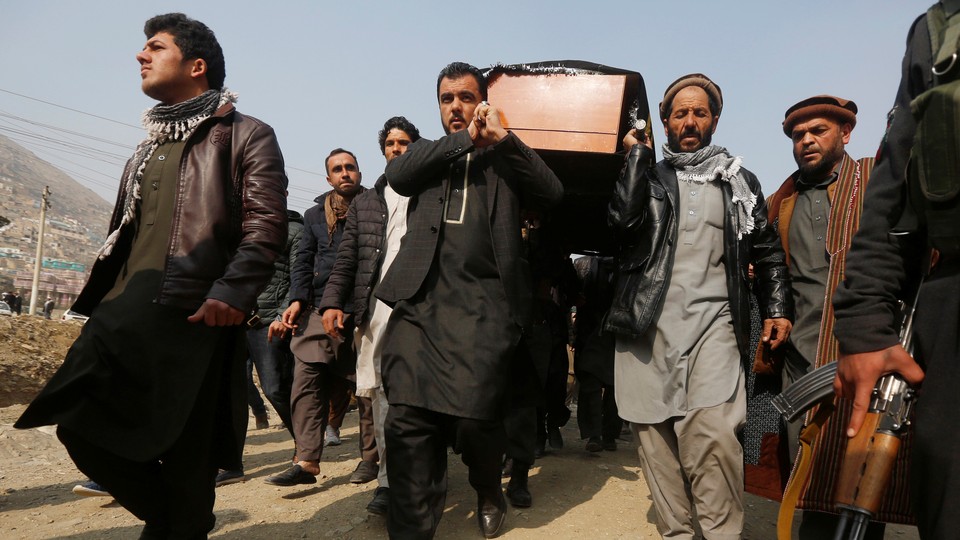 What We're Writing
The problem of Afghanistan: A devastating terrorist attack in Kabul killed 95 people last week. This has highlighted the problems endemic to America's longest war, which President Trump touched on in his State of the Union address. One of these problems is the fact that Afghanistan's neighbor (and America's sometimes-ally), Pakistan, has actively been undermining the U.S. military's attempts to end the war there.
The fear of North Korea: The debate over whether America should deal a "bloody-nose" strike to North Korea as a form of deterrence continues within the administration. National Security Adviser H.R. McMaster has been calling for such a move, based on the premise that North Korea is an offensive actor and will eventually strike the U.S. James Jeffrey argued that McMaster was correct in his thinking, while Mira Rapp-Hooper argued such a move would be a strategic and humanitarian disaster for the U.S. The presumptive nominee for U.S. Ambassador to South Korea, Victor Cha, is reportedly no longer under consideration for the post because he disagrees with the "bloody-nose" strike logic. And the military seems to be operating with the notion that the U.S. may go to war with North Korea at any time—Uri Friedman interviewed Senator Tammy Duckworth, who visited the Korean peninsula and said "the military has seen the writing on the wall." But is North Korea really as big a threat to America as the administration seems to believe?
The State of the Union: Trump gave his first official State of the Union address this week, where he outlined a vision of foreign policy that is contradictory to that of his administration's national-security strategy. Peter Beinart argued that the president's rhetoric on North Korea in his address means there's a possibility America will go to war on the Korean peninsula.
---
Snapshot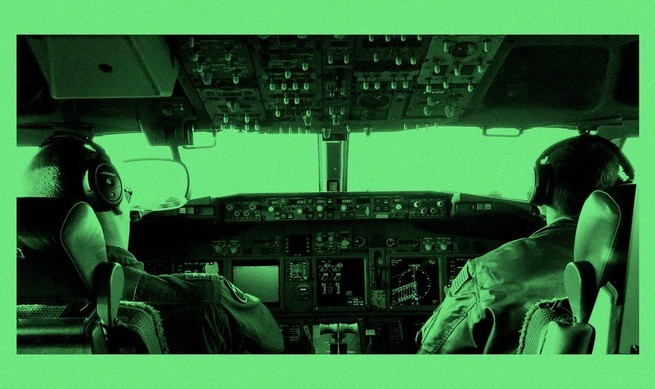 Colin Raunig, a former naval officer, looks back at the lasting psychological stress and paranoia of preparing for nuclear disaster as an officer in charge of America's nuclear-weapons triad. Read about his experience here.
---
Quoted
"...The choice is basically have this deal or have no deal," Anand Menon, the director of U.K. in a Changing Europe, told Yasmeen Serhan in regards to a possible new Brexit referendum here.
"This list means nothing, whether it exists or not." A Russian billionaire told an independent news site that the recently-released list of Russian businessmen targeted for possible new U.S. sanctions will not affect him. Read about why no one is taking the list seriously here.
---
Our Long Read of the Week
Emma Green, our staff writer currently based in Jerusalem, writes about the 40,000 African migrants who have been stuck in limbo in Israel for years. Thousands may soon be deported. Many have fled harsh conditions in war-torn countries like Eritrea or Sudan, but the Israeli government says most are economic migrants, and has been slow to process their asylum applications. Read about them, and what they symbolize for the Jewish state, here:
Israel isn't alone among Western nations struggling with large-scale migration—and the backlash against it. At the height of the European migrant crisis in 2015, more than a million people applied for asylum on the continent, and the issue empowered far-right political parties in places like Germany and France. While some countries have expanded their resettlement efforts, others, including Sweden and the United States, have stepped up deportations or restrictions.

Yet, Israel's situation is also distinctive. Its proportion of migrants is relatively small compared to Germany's, for example, which saw 722,400 asylum applications in 2016 alone—equivalent to nearly 1 percent of the German population. And unlike European countries, Israel shares a land border with Africa; many migrants attempting to reach Israel faced brutal encounters with traffickers and Egyptian security forces as they crossed the Sinai.

Now, as Israel prepares to send them back to Africa, the country is facing challenging questions about the meaning and purpose of the Jewish state, itself created as a harbor for Jews fleeing anti-Semitic persecution in Europe and the Middle East. The situation lays bare a central tension for Israel, which has both a particular obligation to protect Jews and, some Jews believe, a general responsibility to represent Jewish values to the world.
---
What We're Reading
What Britain's "Minister of Loneliness" Says About Brexit and the Legacy of Jo Cox, by Rebecca Mead, explains how a recent appointment can shed light on the forces that motivated Brexit and on the legacy of the British MP who was murdered in 2016. (Via New Yorker)
From the Homeland to the Holy Land, by Anush Babajanyan, profiles the small but devout Armenian Christian community in Jerusalem and what their dwindling numbers mean for the ancient Christian sites in the country. (Via Roads & Kingdom)
Hackers Have Already Targeted the Winter Olympics—And May Not Be Done, by Andy Greenberg, outlines attempts by foreign hackers to disrupt the Winter Olympics in South Korea. (Via WIRED)