Trump's Best Friend in Europe
The American president finds a productive rapport on a skeptical continent.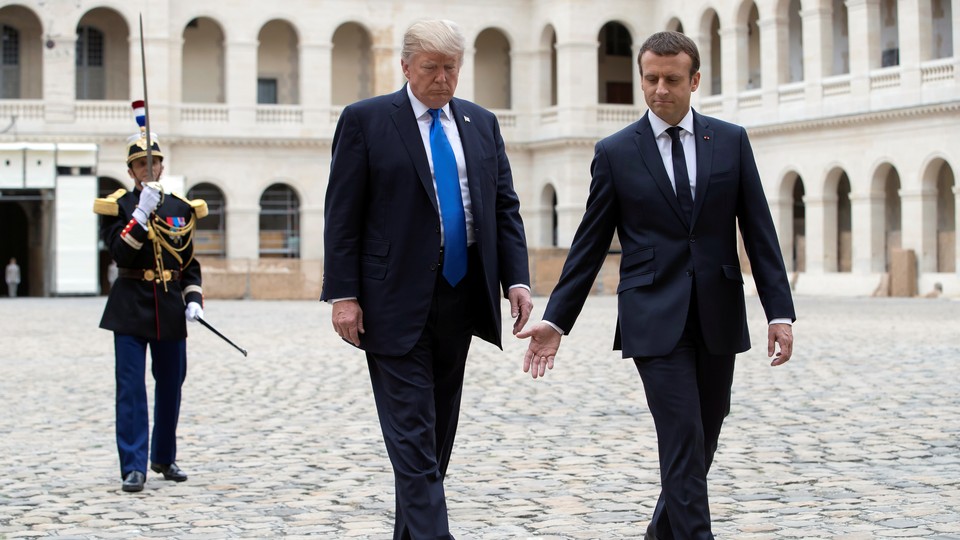 President Trump doesn't have many friends in Europe. In countries like Germany and Spain, his approval ratings stand at 7 and 11 percent, respectively. He fares no better in the U.K., where the "special relationship" between the U.S. and the U.K. has given way to the president publicly sparring with British lawmakers and even canceling a long-anticipated visit to London.
But if there's one friend Trump can count on in a skeptical continent, it's French President Emmanuel Macron, who this week was invited to the White House for the Trump administration's first formal state visit. The date is not yet set.
While Trump has hosted a number of world leaders at the White House for working visits during his first year—including German Chancellor Angela Merkel, Israeli Prime Minister Benjamin Netanyahu, and Japanese Prime Minister Shinzo Abe—none of those meetings came with the trimmings of a formal state visit. In addition to a red-carpet welcome (complete with a 21-gun salute), Macron can also expect an elaborate state dinner organized by the first lady and an invitation to address Congress.
Trump's decision to pick Macron for this honor is significant, both because of the timing (Trump is first president since Calvin Coolidge not to host a state visit during the first year of his presidency), and also because of what the visit represents. Despite their occasional awkward handshakes and differing political agendas, Macron and Trump have managed to foster a strong rapport during their respective first years in office—one that has been defined by a great deal of honesty. "Macron has been very open about how he disagrees with Trump on some areas—he's a man of principle and Trump seems to respect him for the fact that he basically says what he means and talks directly to his face," David Lees, a researcher on French politics at Warwick University told me. He noted it's a level of respect the American president "hasn't offered to the likes of [U.K. Prime Minister] Theresa May or [German Chancellor] Angela Merkel."
Whereas Trump's relationships with traditional U.S. allies like the U.K. and Germany have been described at times as "dysfunctional" and "humiliating," Macron's candid approach to Trump appears to have worked for both leaders. "I have a very direct relationship with President Trump, we have a very good relationship," Macron told the BBC's The Andrew Marr Show Sunday. While the French president admitted that he and his American counterpart "disagree on several topics," he noted that it hasn't stopped the two leaders from engaging with each other. "I call him very regularly, I'm always extremely direct and frank, as he is. Sometimes I manage to convince him, sometimes I fail."
Macron was vocal in his disappointment over the U.S. decision to pull out of the Paris climate agreement, and rebuked Trump's suggestion that the terms of the deal could be renegotiated to be more favorable to the U.S. "It's extremely aggressive to decide on its own just to leave, and no way to push the others to renegotiate because one decided to leave the floor," Macron said in December. "I'm sorry to say that. It doesn't fly." Macron has also been a sharp critic of the American president's international gaffes, condemning recent reports that he referred to Haiti, El Salvador, and places in Africa as "shithole countries." "It's not a word you can use," Macon told Marr.
On the other hand, though, Macron has also appealed to Trump's appreciation for grand spectacle, whether Trump is sword-dancing in Saudi Arabia or on a tour of China's Forbidden City. In July, Macron invited Trump to Paris for the country's annual Bastille Day celebrations—a visit which included a scenic dinner atop the Eiffel Tower and a military parade. "It was one of the greatest parades I've ever seen," Trump later said of the visit. "It was two hours on the button, and it was military might, and I think a tremendous thing for France and for the spirit of France. … We're going to have to try and top it."
As for policy substance, Macron's visit to Washington could give the two leaders the opportunity to discuss a topic of mutual interest: trade. Trump has already made clear his desire to negotiate a new trade deal with the EU—he originally approached Merkel about negotiating a new bilateral trade agreement with Berlin during her March visit to the White House; she explained that such an agreement could only be possible if it were made with the EU, of which Germany is a member. As one of Europe's de facto leaders, Macron could be an ideal arbiter for such a deal. "What it suggests to me is that this is a meeting in which [Macron] is going to say, 'If you want to do business in Europe, come and see me. You think you've got a good deal now, but what if you have an even better deal with us in Europe in comparison to what you could get from the U.K.?'" Lees said.
But if the visit achieves nothing in the realm of policy, it's at least a rare feel-good moment in his relationship with Europe—particularly at a time in which the president's international reputation has faltered. "I think there's a sense in the White House that there needs to be some work done to shore up traditional American alliances in Europe," Jacob Parakilas, the deputy head of the U.S. and Americas project at Chatham House, told me. "Hosting the French president for a state visit is a relatively easy way to do that. It doesn't require concessions, it doesn't require difficult negotiations. … It's an easy win."