The U.K. State Visit That Never Was
Donald Trump claims to have canceled a trip over the London embassy location. But speculation it would be canceled has swirled for months.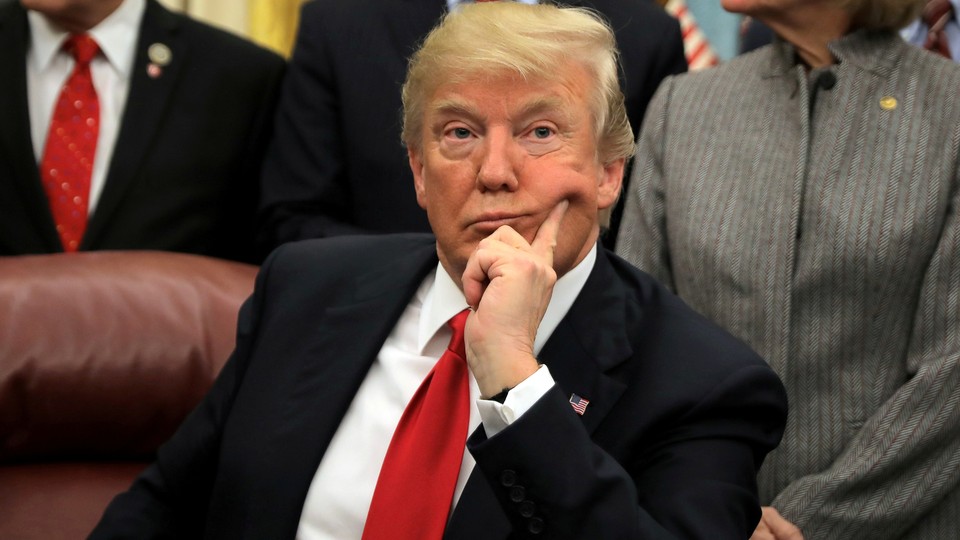 Long before Donald Trump was president of the United States, he was a real-estate mogul. So perhaps it's fitting that, as president, he decided Friday to effectively cancel his long-anticipated visit to the United Kingdom over his displeasure with the location of the new U.S. embassy in London.
While observers like London's Mayor Sadiq Khan—with whom the president incidentally has a long-running Twitter feud—have speculated that Trump's decision to forego the London visit had more to do with fears of protest than the new embassy, his public cancelation is also consistent with the strained status of the U.K.-U.S. "special relationship" under Trump.
The president was expected to make his first official visit to London in early 2018  for the opening of the new American embassy, which had been moved from its previous location in Grosvenor Square in London's Mayfair district to Nine Elms, just south of the River Thames. "I am not a big fan of the Obama administration having sold perhaps the best located and finest embassy in London for 'peanuts,' only to build a new one in an off location for 1.2 billion dollars," Trump tweeted of the move, which in fact was initiated under the Bush administration, for both cost and security reasons, in 2008. "Bad deal. Wanted me to cut ribbon—NO!"
The tweet put the U.S. ambassador in the remarkable position of publicly defending the location of the American embassy against the American president. In an op-ed for the Evening Standard, Woody Johnson, a Trump appointee and long-time friend of the president's, wrote: "I agree with President Trump that Grosvenor Square, in the heart of London, was a perfect location for our embassy." But he highlighted the security considerations behind the move and added that the new location "is one of the most advanced embassies we have ever built." He concluded with a paean to the special relationship: "President Trump has told me he views the U.K. as one of the closest friends and partners of the American people we serve. Our new embassy reflects not just America's special history with the U.K. but the special future ahead of us as we advance the prosperity and security of both our nations."
The topic of Trump's visit has been fraught ever since it was first proposed by British Prime Minister Theresa May soon after his inauguration last year. Many Britons expressed vocal disappointment with the invitation, vowing to stage protests. Lawmakers also voiced concerns, with several pledging not to grant the president the opportunity to address the House of Commons, as many world leaders—including Barack Obama, Bill Clinton, and Ronald Reagan—have done in the past. A petition, which stipulated the president "should not be invited to make an official State Visit because it would cause embarrassment to Her Majesty the Queen," gained more than 1.8 million signatures.
"It appears that President Trump got the message from the many Londoners who love and admire America and Americans but find his policies and actions the polar opposite of our city's values of inclusion, diversity and tolerance," Khan, the London mayor, said in a statement, adding that Trump's visit would "without doubt have been met by mass peaceful protest."
Indeed, the planned state visit for Trump, which would have involved a meeting with Queen Elizabeth II, had already been downgraded to a "working visit," reportedly over fears of widespread protest. But such fears certainly aren't unique to London, or even the U.K. Trump, like many world leaders, has faced protests from detractors on other visits around the world, including Germany, Paris, and Israel. And while these visits were often paired with considerable fanfare (who minds a few protesters when there's a military parade or a glowing orb?), they were never enough to keep the president away—especially in such a public way.
What makes the U.K. different for Trump isn't protests or real estate, but rather his tense relationship with a country long considered one of America's oldest and strongest allies. On more than one occasion, the president has used attacks in the U.K. to promote his travel ban. He has promoted a far-right ultranationalist British political group by retweeting their videos, drawing outrage from U.K. lawmakers across the political spectrum. He has not shied away from publicly sparring with British leaders, including the prime minister.
While such behavior may not be enough to sever a more than two-century-old relationship, it has proven enough to force both sides to address the question that it could. "This is a long-term special relationship that we have," May said of the U.K.-U.S. relationship following a terse exchange with Trump in November. "It is an enduring relationship that is there because it is in both our national interests for that relationship to be there. As Prime Minister, I am clear that that relationship with the United States should continue."
While a Trump visit to the U.K. appears to be ruled out for now, at least he'll be there in spirit. Shortly after the president's cancellation, the London-based Madame Tussaud's wax museum offered their own replica of the president to take his place.