The Art of the Presidential Non-Apology
Donald Trump deflects a request to show remorse for retweeting a far-right group.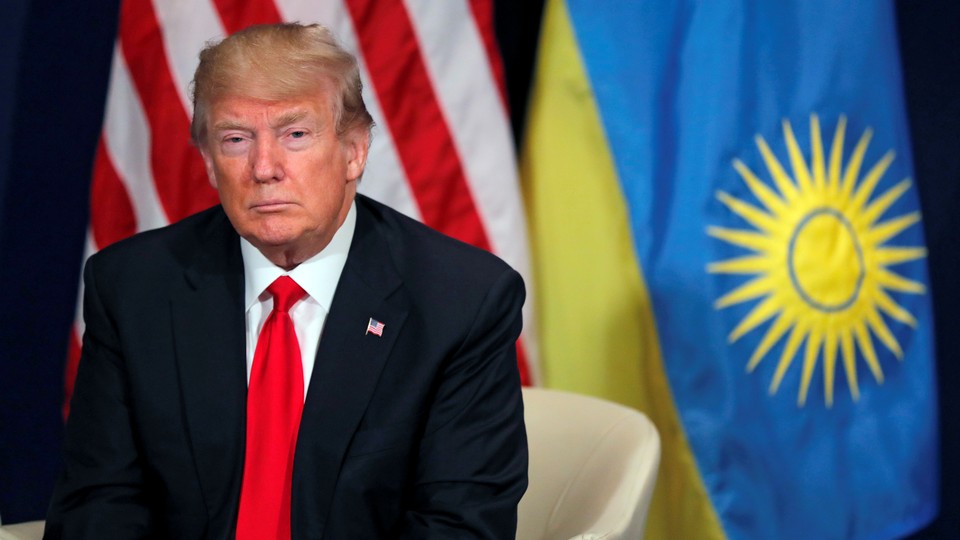 "A stunning admission from the world's most powerful man" is how Piers Morgan, the British TV presenter, characterized what President Trump said to him in the first interview he's granted to an international outlet. Morgan, who has been close with Trump since winning The Apprentice in 2007, seemed to have scored an extraordinarily uncharacteristic offering by the U.S. president—an apology. (Trump has in the past resisted calls to apologize for even the most widely criticized claims, from his assertion that a judge with Mexican ancestry could not fairly hear a fraud case against Trump University, to his unsubstantiated claim that he was the subject to an improper wiretap by former President Obama.)
Morgan tweeted triumphantly late Thursday night that "President Trump has publicly apologized for retweeting far-right group Britain First." But when the preview came out Friday morning, it wasn't quite that. The four-minute clip showed Morgan pressing Trump on his controversial retweets of the far-right ultranationalist British political group "Britain First" in November—a move that prompted outrage in the U.K., and a rare rebuke from Trump's British counterpart, Prime Minister Theresa May. But Trump's response was more deflection than admission.
Morgan: You retweeted an organization called Britain First, one of the leaders, three times.

Trump: Well, three times. Boom, boom, boom. Quickly. Yeah.

Morgan: But this caused huge, huge anxiety and anger in my country because Britain First is basically a bunch of racist, fascist—

Trump: Of course I didn't know that.

Morgan: Well that's what I wanted to clarify with you. What did you know about them when you did those retweets?

Trump: Well I know nothing about them and I know nothing about them today, other than I read a little bit. And I guess—and again I'm in the United States so I don't read as much about it. Perhaps it was a big story in Britain, perhaps it was a big story in the U.K., but in the United States, it wasn't a big story. I did a retweet. … When you do your own tweeting, when you do your own social media, it's fine. When you do those retweets, they can cause problems because you never know who is doing it to start off with.
Still, the exchange does mark a slight shift in Trump's stance on his retweets—which distributed to more than 40 million followers unverified videos purporting to show Muslims committing acts of violence—and the accompanying outrage. When the blowback first started, including sharp words from the British prime minister, the president chose to tweet back at May directly, writing, "Don't focus on me, focus on the destructive Radical Islamic Terrorism that is taking place within the United Kingdom. We are doing just fine!" While Trump insisted in his conversation with Morgan that his retweets were not an endorsement of the group —"I wasn't endorsing anybody, I knew nothing about them"—he stopped short of actually apologizing. The regret he offered was hypothetical and conditional.
Morgan: Can I get an apology out of you just for the retweets of Britain First? I think it would go a long way.

Trump: Here's what's fair: If you're telling me they're horrible people, horrible racist people, I would certainly apologize if you'd like me to do that. I know nothing about them.

Morgan: And you would disavow yourself of people like that?

Trump: I don't want to be involved with people. But you're telling me about these people, because I know nothing about these people.
But the interview did more to demonstrate Trump's overall consistency with regard to taking responsibility. It fit the pattern of previous incidents, like when he blamed the first American military death of his administration on the military itself ("They lost Ryan," he said in reference to the death of Navy SEAL Ryan Owens, who died during a raid in Yemen). When he canceled an anticipated trip to the U.K., where his approval rating stands at 22 percent and where public figures have called for his invitation to be rescinded, he said it was because of his displeasure with the new U.S. embassy location in London  ("I am not a big fan of the Obama administration having sold perhaps the best located and finest embassy in London for 'peanuts,'" he said of the embassy move, which was initiated under the Bush administration).
And then, later in the interview, he struck another consistent note:
Trump: I think a lot of the people in your country like what I stand for, they respect what I stand for, and I do stand for tough borders.

Morgan: To those who don't, what do you say to them?

Trump: I don't care. I don't care. It's just one of those things. I don't say anything. You know why? Because I don't care.