Israel Should Not Publicly Honor Trump
It's not smart to alienate a large segment of the American people.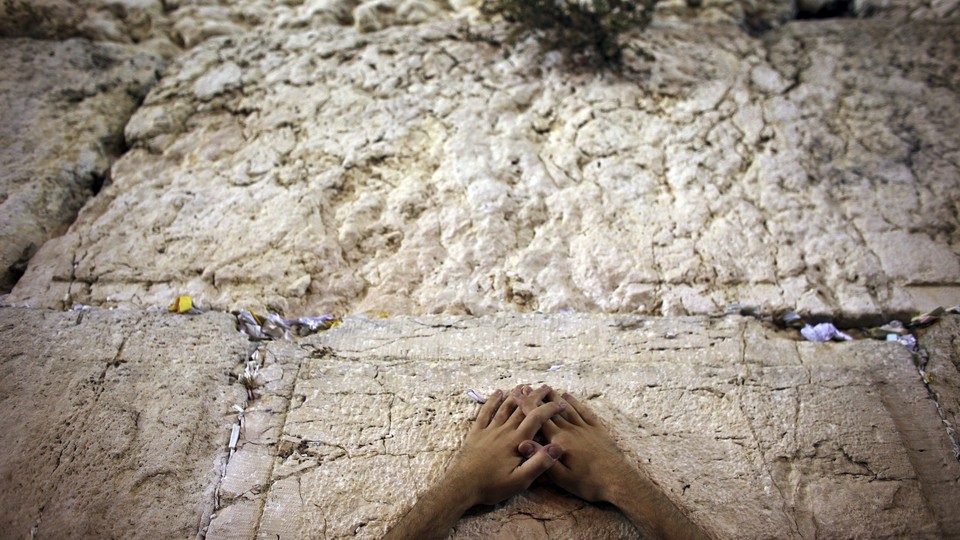 In the waning days of 2017, an Israeli minister announced a plan to make a historic mistake—and it had to do with the seemingly anodyne matter of rail infrastructure. Yisrael Katz, the transportation minister, proposed to name a high-speed rail station planned for the Old City of Jerusalem for Donald Trump.
Katz said he wanted to name the proposed stop after Trump because of his "courageous and historic decision" to move the U.S. Embassy from Tel Aviv to Jerusalem. Of course, Israel's attachment to Jerusalem as its capital is understandable and profound. And much of Israeli public opinion supports Trump's decision. But none of that means that it's wise for the Israeli government to start lionizing Trump in the form of a permanent and public tribute.
At an emotional level, the urge to honor the man who honored this attachment to Jerusalem seems entirely understandable. I have had a keen attachment to Israel since I made my first of many trips there, as a teenager. I see the recreation of the Jewish nation in its ancestral homeland as one of the great stories of the past century, and I am deeply committed to Israel's onward development as a Jewish state with Jerusalem as its capital. But none of that means it is in Israel's best interests for the United States to move its embassy to Jerusalem now, crippling U.S. credibility as an honest broker in forging the settlement with the Palestinians that Israel still needs to escape its existential dilemma. Moreover, even if you believe that securing recognition for Jerusalem as Israel's capital is worth that cost, it's another matter entirely to elevate the man who gave that recognition—when that man is Donald Trump.
Michael Oren, the talented and eloquent former Israeli ambassador to the United States, tries to make the case for just such public homage. "The Jewish people," he said in a recent tweet, "don't forget Cyrus [the Persian King who freed the Jews from Babylonian captivity] and Truman. And we'll never forget Donald Trump who recognized our eternal, undivided capital."
But here's the problem with Oren's heartfelt logic: Sound diplomacy must be based on a strategic view of how best to serve one's national interests. This proposed naming by Israel—if indeed the station is ever built—fails that test because it misreads the extraordinary nature of the current American moment.
Since President Truman became the first world leader to recognize Israel in 1948, minutes after Israel's declaration of statehood, Israel's long-term national security has been crucially based on its relationship with the United States. There have been inevitable tensions at times, but the United States is Israel's indispensable ally.
This relationship has been built on two fundamental pillars. First, the United States and Israel have significant mutual interests. The United States has supplied all manner of economic, military, and diplomatic support to Israel for decades, while Israel has been a valuable, dependable, and democratic ally in a volatile but vital region. In the more recent past, Israel's explosive growth as a high-tech innovator and incubator has built an expanding web of relations between the U.S. and Israeli private sectors.
Second, and just as important as these tangible interests, the relationship has been built on a deep and historic sense of shared values. And on the strength of these of shared values, Israel has assiduously cultivated warm relationships with the American public, members of Congress, and U.S. administrations.
Moreover, Israeli governments of both the left and right have historically conducted strategic diplomacy with the United States on a bipartisan or even nonpartisan basis—not with Democrats or Republicans, conservatives or liberals, but with the entire United States political establishment and the American people.
This sense of shared values, together with Israel's concerted efforts to build strong ties with the American people, has been instrumental in creating the emotional bond that for so many years has led virtually every serious presidential candidate of either party to profess undying loyalty to the Jewish state.
And that's why the proposed beatification of Donald Trump, lifting him, in Michael Oren's judgment, to the pedestal of Truman and King Cyrus, is so tone deaf and mistaken. The proposed naming of the rail station breaks with Israel's bipartisan tradition of dealing with America, heedless of the current reality of U.S. politics and public opinion.
After all, for large parts of the U.S. political spectrum, including virtually all Democrats, substantial numbers of independents, some Republicans, and a huge majority of American Jews, Trump is seen as beyond the pale, outside the bounds of normal political conduct. For Israel to embrace and exalt a leader with authoritarian tendencies who is viscerally offensive to so many core American supporters of Israel—who is seen to sully his office on a daily basis, to disregard truth with malice aforethought, to sympathize with white supremacists, to impugn the free press as the enemy of the people, to brag about assaulting women, to lack the simplest attributes of human decency and empathy, and to tear at the fabric of America's civic and constitutional culture without a second thought—would be to ignore the indignation, disappointment, and raw anger this will provoke in wide swaths of the American public.
Whether this would create a lasting rift is hard to know, but it would be foolish to take that risk.  And if this naming went forward, who can say what other public honors would be bestowed upon Trump, if he is deemed a worthy successor of Israel's earlier heroes. Public opinion is a fragile thing. Taking it for granted would be a dangerous move.