Donald Disappoints Davos
If the global elite was expecting a show, they didn't get it.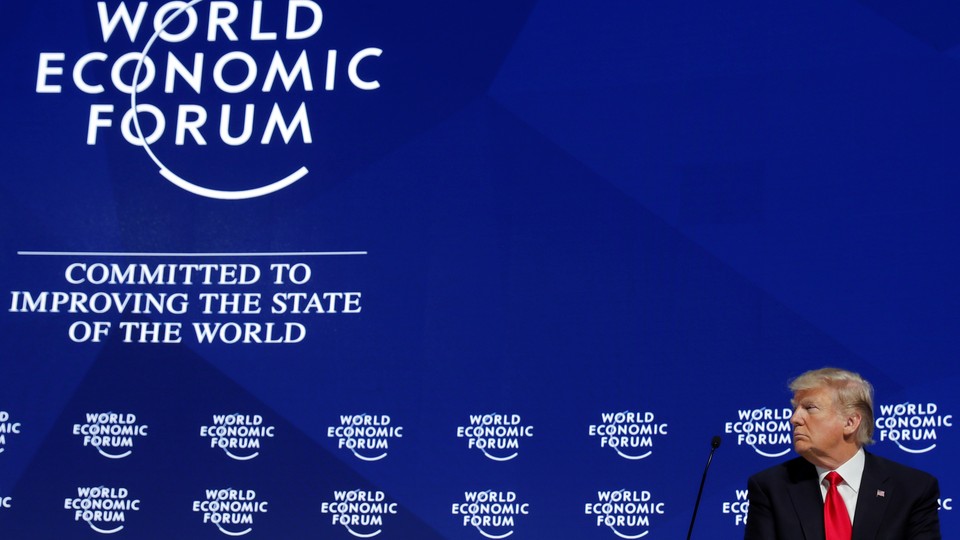 DAVOS, SWITZERLAND—In the internal psycholeadership struggle between Donald Trump's good side, or what Senator Lindsey Graham has called "Tuesday Trump," and his dark side, which Graham calls "Thursday Trump," it was the first that prevailed at the World Economic Forum in Davos—much to the disappointment of many attendees.
Trump gave a friendly speech, one that was respectful of the billionaires, political leaders, and NGO chiefs that flock in late January each year to fraternize and frolic amid towering snow peaks. But that was not the show many in Davos really wanted. They got no fire. They got no fury. They got a listless, low-energy Trump—a pleasant Trump.
On the first day of the forum, when the U.S. government shutdown was threatening Trump's attendance, many Davos types were in one breath declaring the American president a disaster for all good things in the world, and in the next expressing morbid curiosity in the brash and often insulting leader. The contradiction fit the broader irony that had propelled Trump to the Swiss Alps in the first place. Here was a president whose very ascendancy rebuked the kinds of values—global interconnectedness, trade, all things "elite"—so ostentatiously celebrated at Davos, and whose power threatened the relevance of the kinds of people gathered there. And yet Davos needed him, because all that elite consensus can be so dreadfully dull.
Amr Moussa, the former Arab League Secretary General and the Egyptian Foreign Minister, told me that without Trump, WEF would be just a lot of people running around without credible vision, purpose, or power, all pretending to be great and good, but not doing anything interesting. He predicted that Macron, Merkel, and Modi—the event's other three headliners—would be rudderless and fail to create much stir. He was right.
I asked Moussa what he and the other Davos elites expected from Trump. He paused before saying: "If Trump is nice to us in Davos, we won't believe him. If he beats us up and attacks us, we will revile him. But we need him. He defines who we are by who he is."
The cost of being one of the lucky attendees at Davos often runs anywhere between $75,000 and tens of millions of dollars, depending on how deeply interwoven one's firm is with WEF founder Klaus Schwab's operation. And like with any high-priced theater ticket, say for Hamilton, the audience wants to see some sizzle, some genuine drama. They want to be in the room when Trump happens.
Schwab tried to provide it. He organized a 37-member, dazzlingly attired, feather-hatted, Swiss Honor Guard band, which played the Coburg March as Schwab and Trump walked on stage. This was dazzle that no Davos attendees had ever seen before, and some even thought it was off-putting. The spirit of Davos, in this view, is supposed to be one of serious discourse, not one of celebrating and paying tribute to heads of government, particularly Trump.
But at least the show started with some pomp. And tensing up the lead-up to Trump just a bit more, Schwab triggered boos by saying in his introductory remarks: "I'm aware that your strong leadership is open to misconceptions and biased interpretation."
But the wow died fast. In words clearly Stephen Miller-free and crafted by one of the administration's resident "globalists," National Economic Adviser Gary Cohn, Trump actually said to a red meat-wanting audience that wanted to dislike him:
"Represented in this room are some of the remarkable citizens from all over the world. You are national leaders, business titans, industry giants, and many of the brightest mind in many fields. Each of you has the power to change hearts transform lives and shape your country's destinies. With this power comes an obligation, however—a duty of loyalty to the people, workers, customers, who made you who you are."
What? What happened to shithole countries? Where was the Putin love? He even dropped in a line that "maybe joining TPP is possible." This after he famously withdrew from the agreement that would set up a massive free-trade area among Pacific Rim countries, and is now going forward without America.
Trump even touted—and essentially took credit for—high employment rates of Hispanics, African Americans, and women in the United States. No barbs or jabs. He wasn't high-energy, New York obnoxious. He was just benign—with the single exception of a parting shot at the press.
That was the opportunity to give the audience at least some value for the money. Trump took aim and said "it wasn't until I became a politician, that I realized how nasty, how mean, how vicious and fake the press can be." The boos from the audience were instantaneous and robust. But Trump didn't test it further. He pivoted fast, back to the confines of pleasantly bland Tuesday Trump territory—the tension in the air just seeping away.
Just after the speech's conclusion, the Financial Times deputy editor Roula Khalaf tweeted out sentiment she heard:
Some disappointment that Trump was scripted. "We're here for a show and he didn't deliver it" says a member of the audience#Davos2018 trump

— roula khalaf (@khalafroula) January 26, 2018
Many suggested that Trump had done better than they expected, in the sense that his speech was conventional and "healing" given his presumed disdain for the international order. He even acknowledged the benefits of trade, having run for office, and attempted to govern, with a protectionist bent.
But Kishore Mahbubani, an intellectual and former diplomat from Singapore, captured it best. "The most controversial thing I can say," he said, "is that this was a middle of the road, unexciting, rational speech." He continued, "what you read about him, you expect an edgy, tough speech—and there wasn't any edginess in that at all."
Polite applause came at the end. But one attendee declared: "Definitely not worth staying until the very, very, very end of Davos to hear that!"