The Rise and Fall of Steve Bannon and Nigel Farage
Both men have receded to the political margins, but there's no telling if that's where they'll stay.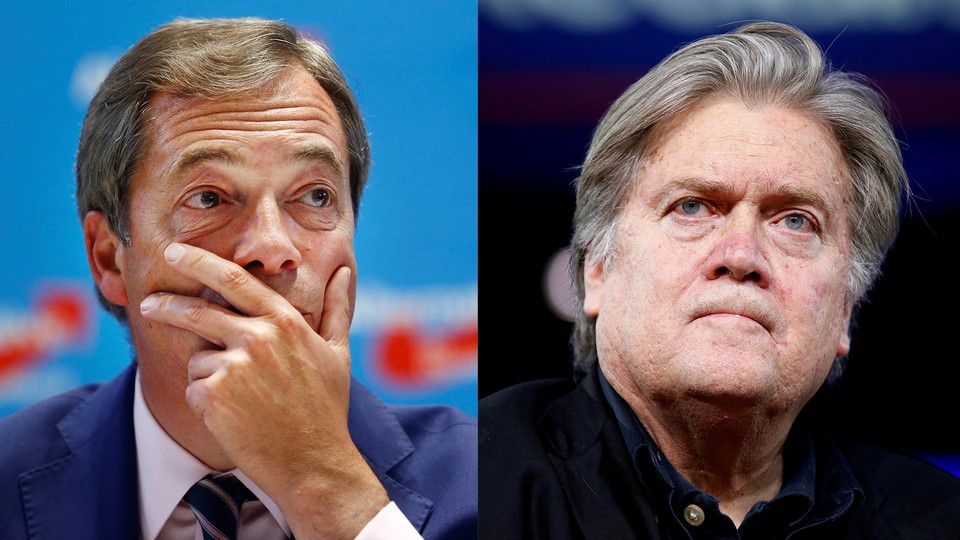 Steve Bannon and Nigel Farage are both populist figureheads known for championing their own brands of nationalism that had historic implications for their countries in 2016—in the U.S., the election of Donald Trump; in the U.K., the historic decision to leave the European Union. But two years later, these men, who rose from relative political obscurity to the center of power, appear to be falling back to where they started.
In the U.S., Bannon, the former Trump ally and White House chief strategist, has fallen out of the president's good graces after it was revealed he had lambasted the president and members of his family to Michael Wolff, the author of the international bestseller Fire and Fury. In the U.K., Farage, the former U.K. Independence Party (UKIP) leader and vocal Brexiteer, has become a national punchline after calling for the U.K. to hold yet another referendum on EU membership, only to later retract the call.
The public decline has been steep for Bannon, who, in addition to being excommunicated by the president earlier this month, has also been ousted from Breitbart (the conservative news outlet where he served as executive chairman) and cut off by his billionaire patrons, the Mercer family. "Steve Bannon has nothing to do with me or my Presidency," Trump said in a statement after Bannon's comments in Fire and Fury were first made public, adding that when Bannon left the White House in August, "he not only lost his job, he lost his mind." He is now reportedly wanted for questioning in special counsel Robert Mueller's Russia probe.
But Bannon, for a time, had everything to do with the president and his administration. From the moment he joined the Trump campaign in August 2016, his nationalist and populist messaging became an integral part of Trump's promise to "Make America Great Again," earning him the title of White House chief strategist as well as a short-lived stint on the National Security Council. His role didn't diminish after he left the administration, either. As my colleagues Rosie Gray and McKay Coppins noted, "From the moment Bannon left the White House last year, his stated mission was clear: expanding the coalition that elected Trump into a lasting ideological movement that would remake American politics."
Bannon's fall is particularly stark compared to his unlikely rise—from heading a relatively young conservative outlet to arguably becoming one of the most powerful men in the world. Farage followed a parallel, though less dramatic, trajectory on the other side of the Atlantic. During the U.K.'s  2016 Brexit referendum, Farage, like Bannon, managed to push his seemingly marginal views on nationalism, euroskepticism, and anti-establishment sentiment into the mainstream, culminating in the surprise decision by 52 percent of Britons to leave the EU.
But if the Brexit vote demonstrated Farage's influence, it also revealed his limits. In the months following the U.K.'s decision to leave the EU, support for Farage and UKIP (from which Farage stepped down as leader soon after the vote) began to wane, culminating in the party's crushing defeat in the country's June general election, in which it won zero seats in the House of Commons. The party's base also remains feeble. Henry Bolton, UKIP's current leader, revealed in November that the party was consistently losing between 800 and 1,000 members a month, with the current membership standing at just under 25,000 people.
It's a decline some have attributed, paradoxically, to UKIP's success. "Both UKIP and Nigel Farage have been less influential since the vote for Brexit largely because Britain voted for Brexit," Matthew Goodwin, a professor of politics at the University of Kent and a visiting senior fellow at Chatham House, told me, noting that their decline doesn't necessarily mean failure. "[UKIP] has had a profound influence both in forcing the referendum and then campaigning for Leave, so in effect the outcome of the referendum removed the raison d'être of the party."
It may have cost Farage his political raison d'être, too. A survey by YouGov in June found that the popularity of vocal Brexiteers like Farage has plummeted in the year since the referendum, with 78 percent of respondents saying they dislike or really dislike Farage (58 and 83 percent of those surveyed said the same of Conservative Brexiteers Boris Johnson and Michael Gove, respectively). Bannon, meanwhile, has fared no better. A YouGov/HuffPost survey found that only 13 percent of Trump voters still regard Bannon favorably after his public spat with the president this month, with approximately two-thirds of the president's supporters turning on him.
For all the ideological similarities between Bannon and Farage, there are also important differences. For one thing, they didn't find their start in the same way. Farage, despite his own railing against the British establishment, has spent much of his life in politics; Bannon, conversely, is more of a political novice, having spent the majority of his career working in finance and Hollywood. And while both share similar views on nationalism and immigration, only Bannon has succeeded in propelling those views to the U.S.'s highest office; Brexit, meanwhile, has become the responsibility of the U.K.'s ruling Conservative party, not Farage or UKIP.
It's their ideological similarities, however, that could spell trouble for both of them. "They have an exaggerated sense of how many people actually bought into their core agenda," Rob Ford, a professor of political science at the University of Manchester and a research investigator at the independent think tank U.K. in a Changing Europe, told me. He noted that while both men were able to successfully leverage a contentious wedge issue—nationalism—to unite different groups among their respective electorates and catapult themselves to the top, they didn't necessarily earn enough widespread support to stay there. "Ultimately their influence does have some relationship to their electoral power. Farage got himself on the agenda because he was pulling votes from the Conservatives; Bannon catapulted Trump to the top through a series of upset primary wins. So the same mechanism that put them up can pull them down—and is already pulling them down, it seems."
On the other hand, if their past careers are a guide, the fact they lack influence now does not mean they will forever. For Farage, this will depend largely on the outcome of the ongoing negotiations between the U.K. and the EU. "If voters perceive that the type of Brexit that is delivered is not seen to be hard enough … then it's perfectly possible for UKIP (or a party like UKIP) and for Nigel Farage (or a politician like Nigel Farage) to appeal to those voters who feel betrayed," Goodwin said.
For Bannon, however, a comeback could be more complicated. "Bannon still thinks of himself as a revolutionary," Axios's Jonathan Swan noted, adding that this self-perception hasn't changed. "It's just that now he has no vehicle, no staff, no platform, and no major donors funding his ambitions." Still, others say Bannon's influence hasn't really gone away. "Bannon may be gone," the Guardian wrote of Trump's latest controversy over his alleged use of the word "shithole" to refer to several countries, "but the biggest nativist of all is still in the Oval office."