Can Free Public Transit Fix South Korea's Smog Problem?
It's a costly move that has only produced meager results in other cities.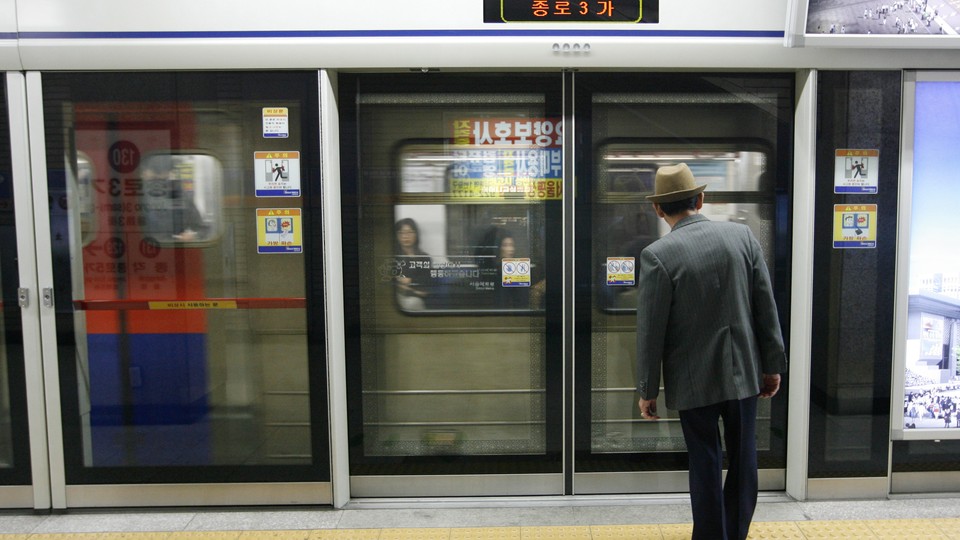 When it comes to air pollution, China gets most of the attention as one of Asia's worst offenders (and rightly so). But South Korea has a massive pollution problem of its own, earning the unenviable title of worst air quality among OECD nations—and experts predict the problem will only get worse over the next five years.
So when a thick layer of yellow dust settled over the city last week, local leaders took a drastic step to confront it: declaring an air quality emergency and, for the first time ever, giving commuters free rides on public transit.
During the morning and evening rush hours last Monday, the city waived subway and bus fees as the level of "fine dust" started out at 79 micrograms per cubic meter (considered "moderate" on the air quality index). They were waived again on Wednesday and Thursday as concentrations alarmingly reached 157, which falls well into the "unhealthy" zone. In addition, the city also shut down 360 parking lots at government buildings and implemented an alternate-day driving system for public employees.
It's all part of an emergency measure implemented last July when the city's concentration of fine particulate matter (PM 2.5) reached a shocking 179 micrograms per cubic meter. Not surprisingly, the city has gotten praise for being the first in the country to enact such bold moves, but it isn't without political controversy.
Since signing the Paris Agreement in 2016, the country has been committed to cleaning its air. President Moon Jae In's administration vowed to shut down old coal plants (while also opening up new ones) and to cut domestic emissions by 30 percent by 2022. On the local level, Seoul has been nudging its residents to take the more environmentally friendly route by building bike paths, pedestrian-only zones, and, most notably, a five-mile High Line-styled park. It also replaced diesel buses with natural gas vehicles and provided emission-reducing devices to car owners.
As part of an emergency plan announced last year by Seoul Mayor Park Won Soon, the city will make public transit free during rush hours on days when the air quality index reaches above 50 and is expected to stay there for at least a day. Free rides will be provided on the second day as well. To pay for the measure, Park set aside 24.9 billion won (about $23 million) in December, declaring the worsening air a disaster in order to tap into the city's disaster-management fund. "The value of human beings is far greater than that of money," he said last year.
Making transit free (or at least cheaper) is not an uncommon strategy to combat air pollution: Paris began offering free transit in response to smog in 2014, Milan slashed fares on its worst days, and Madrid has put out a proposal to do much the same. As a megacity with one of the most highly praised transit systems, Seoul seemed a good candidate to make the strategy work.
Yet as the air continues to worsen, critics argue that money could be, and should have been, better spent. The daily paper Chosun Ibo reports that the city swallows roughly 5 billion won (about $4.7 million) in lost fares each day the measure is in effect. That means more than half the funds have already been used up in the span of just one week—and with unremarkable results. Road traffic fell only 1.8 percent on Monday (a little over 2,000 vehicles). Meanwhile subway ridership increased by 23,000 people and bus ridership by 3,500. On Wednesday and Thursday, traffic volumes decreased by only 1.7 and 2.4 percent, respectively.
What's more, Park's political opponents have criticized his move as illegal, arguing that micro-dust was never written into the city's disaster and safety management legislation, and that Park is using the measure to win votes for a regional election in June. Legality and political controversy aside, even environmentalists have voiced concerns over the temporary and, more importantly, voluntary nature of the whole plan. With the exception of closing parking lots and implementing alternate-day driving systems for public employees, the city stopped short of issuing any mandates for the average driver.
"In the long term, this is going to need to be mandatory rather than voluntary, and instituted on a daily basis rather than as an emergency measure," Lee Se Geol, secretary-general for the Seoul chapter of the Korean Federation for Environmental Movement, told South Korea's daily newspaper The Hankyoreh in 2017.
The science of whether free-transit incentives can actually alter commuting behavior hasn't exactly been promising. It has been shown to be effective in some small cities and communities, like around college campuses. In 2002, Chateauroux, France, saw an 80 percent increase on its mass transit system after only one year of making rides free, even turning a profit in the following years. Chateauroux's population at the time clocked in at 49,000.
Seoul, on the other hand, has almost 10 million people. For the car-oriented megacity, whose mayor has characterized its residents as "addicted to cars," a meager 2 percent increase in ridership isn't far from what other big cities experience. There's the problem of free transit incentives attracting the wrong crowd, as The Atlantic noted in a previous report on the use of free public transit in Estonia's capital city of Tallinn:
The lure of "free," the report implied, attracted the "wrong" crowd—the "right" crowd, of course, being wealthier people with cars, who aren't very sensitive to price changes … Free subway rides entice people who would otherwise walk, not people who would otherwise drive.
Some may value the comfort and privacy of driving, and giving those up to save a couple dollars on public transit may not exactly be top priority.
---
This post appears courtesy of CityLab.