America Wins the Gulf Crisis
Qatar's isolation means Washington gets concessions.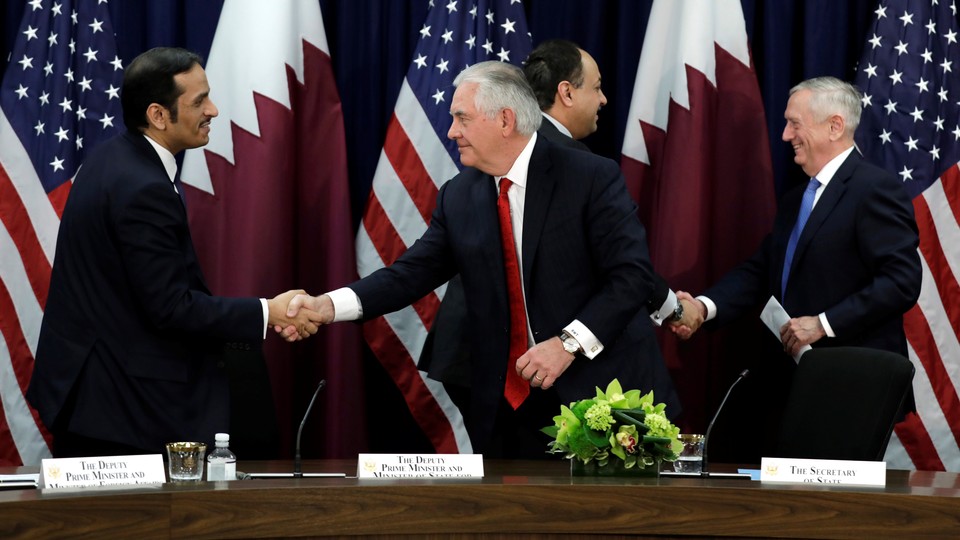 Tuesday wasn't a good day for the Arab states that imposed an embargo on Qatar last summer. Saudi Arabia, the United Arab Emirates, and others had spent nearly the past eight months trying to persuade the world of Qatar's perfidy, its alleged support of terrorist groups, and its interference in their internal affairs. Instead, they found senior Qatari officials at a strategic dialogue at the U.S. State Department with the American secretaries of state and defense.
In those eight months, Qatar relied on exactly the kind of diplomacy its neighbors loathe: It drew closer to Iran and Turkey, deepened its economic and defense relations with Russia, and embarked on a robust campaign of public diplomacy with the Trump administration. The U.S. had sent mixed signals about whom it supported in the Gulf crisis. Even as Secretary of State Rex Tillerson and Defense Secretary Jim Mattis urged all sides to work out their differences, President Trump tweeted that Qatar was supporting terrorism.
What changed with the U.S. position compared to when the crisis started, said Simon Henderson, the director of the Gulf and Energy Policy Program at the Washington Institute, is that the "White House has essentially become silent on it." Trump stopped accusing Qatar of supporting terrorism. "[A]nd the view of the State and the Pentagon"—that Qatar is a valuable counterterrorism partner and that the crisis should be resolved through negotiations—"has prevailed."
He added: "The only actual indication of a change in White House position came a couple of weeks ago when Trump had a telephone conversation with Emir Tamim of Qatar. ... The statement issued by the White House was a very friendly one."
The readout of that call noted that Trump thanked the emir for "Qatari action to counter terrorism and extremism in all forms." Ultimately, Qatar emerged stronger Tuesday after the strategic dialogue. Among the agreements they signed, the U.S. "expressed its readiness to work jointly with Qatar to deter and confront an external threat to Qatar's territorial integrity that is inconsistent with the United Nations Charter."
Qatar's Arab neighbors, especially Abu Dhabi, the emirate that is believed to be the most resistant to ending the impasse with Doha, will certainly take notice.
"If the apparent closeness of the U.S-Qatar relationship as evidenced by this strategic dialogue being held … at such a high profile … if this doesn't shock Abu Dhabi into changing its position, then, frankly, I don't know what will," Henderson said.
What did the U.S. get in return for this commitment? Quite a lot.
Since July 2017, Qatar has pledged to combat the financing of terrorism, agreed to share information on those who financed terrorism, and held a counterterrorism dialogue with the U.S. (Qatar agreed to some similar counterterrorism measures with its neighbors in 2014 and, they argue, never followed through.) Additionally, it has increased military cooperation with the U.S. and announced it was expanding its Al Udeid base, so the 10,000 U.S. military personnel there can bring their families. It has also spent $12 billion to buy 36 F-15QA fighter jets. On Tuesday, Qatar agreed to disclose the financial information for its state-run airline, Qatar Airways, a longstanding demand of U.S. airlines that complain that Middle Eastern airliners receive unfair state subsidies. Qatar is the only country in the region to do so.
Andrew Bowen, a visiting scholar at the American Enterprise Institute, told me that after the president's initial criticism of Qatar, the emirate realized it had to solidify its relationship with the U.S.
"I think that this is just saying, from Doha's point of view, 'We need to really make sure that our relationship with the United States is on firm footing. That we need to address the areas the United States has raised, try to rebuild trust with the president.' " he said.
He added the Trump administration's contradictory approaches to Qatar at the start of the crisis may have forced Doha to rethink how it deals with the U.S.
"I don't think this administration really had the intention of using chaotic nature of their response as an opportunity to push Doha to do more things," he said. "It's more symptomatic of the fact that the complete interagency incongruence has created an environment where Doha has had to take more proactive steps to address the various competing elements of how various actors in the U.S. government view Qatar."
That effort seems to have worked.
"Qatar is a strong partner and a longtime friend of the United States," Tillerson said Tuesday.  He added that the U.S. remained concerned about the Gulf crisis.
"It is critical that all parties minimize rhetoric, exercise restraint to avoid further escalation, and work toward a resolution," he said. "A united GCC bolsters our effectiveness on many fronts, particularly on … countering terrorism, defeating ISIS, and countering the spread of Iran's malign influence." The GCC refers to the Gulf Cooperation Council, the regional bloc that includes Qatar and the countries that are acting against it.
Mattis cited "excellent" military relations "even in the midst of its [Qatar's] own current challenges."
Ultimately, though, while Qatar's relations with the U.S. are improving, there are few public signs its dispute with its neighbors is close to being resolved. Abu Dhabi and the Saudis had hoped to cause Qatar the kind of economic pain and diplomatic isolation that would force it to make concessions. That didn't happen—and those countries don't appear to have a Plan B. One way out of it, Henderson said, is if Trump convened a GCC summit and put pressure on all sides. "A deal could be reached."
Speaking this week at the Heritage Foundation, Qatari Defense Minister Khalid bin Mohammad al-Attiyah had a simpler solution.
"I think the only person who can solve the GCC crisis is President Trump," he said. "And I think he can solve it in a phone call."