France's Fight Over Sexual Freedom
A letter from prominent French women embodied a backlash against #MeToo—and then sparked its own backlash.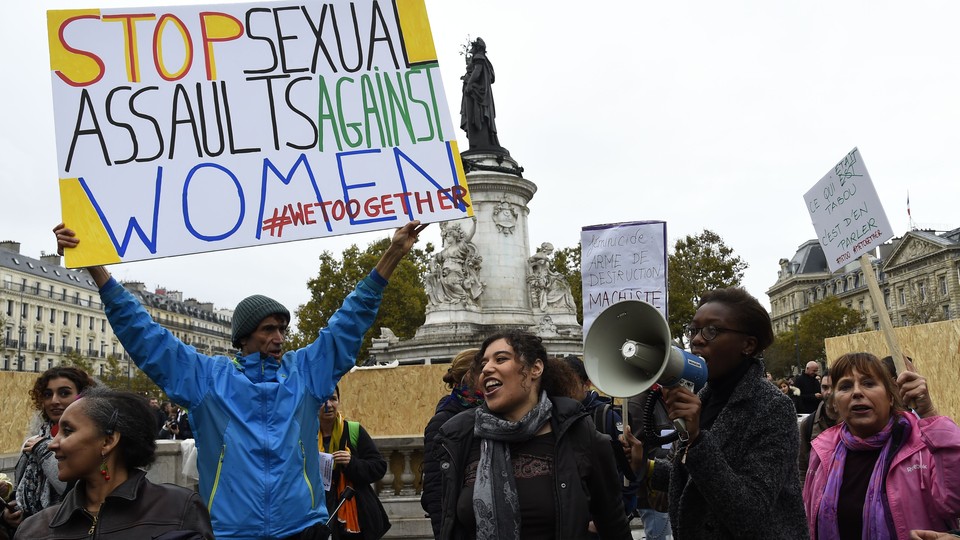 PARIS—After the backlash, comes the backlash to the backlash. It's been fascinating to follow the torrent of responses in France this week to an open letter in Le Monde signed by French actress Catherine Deneuve and 99 other women, effectively saying that the #MeToo movement had gone too far and that women should own up to their own sexual agency. (I wrote about the letter here and you can find a full translation here.)
"Sexual Freedom Threatened, REALLY?" ran the headline of Thursday's Libération, a left-wing daily, beneath photos of three signatories: Deneuve, Catherine Millet, the author of The Sexual Life of Catherine M., and Brigitte Lahaie, a talk-show host and former porn actress. The implication was, why should we listen to these women? "To entertain the idea that a groper on the metro 'is the expression of a great sexual misery, or a non-event'"—as the Deneuve letter had—"presumes that you live on a planet without rush hour and have enough power and/or hours on the couch to relativize it at your leisure," the paper wrote in an editorial.
Marlène Schiappa, France's undersecretary of state with a portfolio for equality between men and women—surely a thankless task—went further, calling parts of the letter "profoundly shocking and even false." "We already have tremendous difficulty making young women understand that when a man rubs his sex up against a woman in the metro without her consent, that's a sexual assault, punishable with up to three years in prison and a €75,000 fine," she added. Women should understand that there is absolutely "no shame" in coming forward with such claims, Schiappa said.
Le Monde, which had published the letter that set the whole thing off, dedicated its lead story Thursday to the ensuing debate. It published an interview with Christine Bard, a historian of feminism, who said: "The logic of the letter seems less reactionary than that of classic anti-feminist arguments, because it puts freedom first. But it manipulates the notion to defend 'the freedom to bother'—that is, the sexual freedom of men—and to minimize, or rather legitimize, macho and violent behavior." Another main critique—and a valid one—is that under the guise of defending female sexual empowerment, the letter could effectively be a case of the oppressed protecting the oppressor. "What bothers me about this … is that often the dominant parties start to act like victims," Ocean Rose Marie, an actor and creator of the one-woman show "The Invisible Lesbian," said on French radio on Thursday. It's like when "whites talk about anti-white racism," she added.
The letter contains some fuzzy logic that conflates flirting with unwanted groping, as in its most contentious lines: "We believe that the freedom to say 'no' to a sexual proposition cannot exist without the freedom to bother. And we consider that one must know how to respond to this freedom to bother in ways other than by closing ourselves off in the role of the prey." Beyond that, though, I think the letter struck some reasonable notes: hesitation about a rush to summary judgment; a wariness about efforts to regulate desire (not to be confused with sexual assault); a belief in female sexual empowerment; a concern that removing a Balthus painting from the Metropolitan Museum of Art, however creepy Balthus may be, sets us on a path toward censorship. Some of the strongest parts of the original letter are about protecting artistic freedom. It's as if the signatories want to protect their artistic body from violation but are a little more cavalier when men's hands reach their actual bodies.
One of the letter's co-authors, Sarah Chiche, told L'Express, a newsweekly, that she'd decided to write the letter after an editor asked her to add more tensions between men and women in a novel she'd written. In Le Monde on Thursday, she called the criticism of the letter "insidious moral censorship" and said she was concerned about effects on creative life. "A director of Carmen is transforming Bizet's heroine into the murderer of her murderer. Others want to recreate Sleeping Beauty to save the princess from a non-consensual kiss. Ever since Catherine Deneuve signed our letter, now Buñuel's Belle de Jour will be seen as a horrible apology for violence against women," she wrote. "Fueling the conflict between two liberties—one that protects and one that disturbs—is an old French passion, and sexuality is its current battleground. Our letter only re-ignited it."
There's another undercurrent here. In warning about a new "puritanism," the Deneuve letter also revealed a classic cartoonish vision of America, land of puritans and prudes—even though the conversation on harassment would never have begun in France, or maybe anywhere, if it weren't for the investigative journalists at The New York Times and The New Yorker who broke the Weinstein stories. The grotesqueries of the Trump administration may be the backdrop to the Weinstein scandal, but here in France, the fallout comes in a strange moment of generational shift, in which President Emmanuel Macron, who just turned 40, has been shaking things up. The letter in Le Monde was written by women of a certain age who seem eager to preserve the same establishment that let the shenanigans of one-time presidential hopeful Dominique Strauss Kahn be an open secret for years.
In the United States, the #MeToo moment may be changing Hollywood and changing workplaces, but very little has actually changed in France. The Deneuve letter is the product of a more fatalistic culture that seems to believe human nature is what it is, men are what they are, so women are expected to find a strategy, to figure out how to exploit the system to their advantage—often using their sex appeal—then to protect their place in that system. And if that system were to change? In another open letter, on the site of France Info, several dozen feminists who were identified as "militants"—you barely see the word "feminist" in the French press without that adjective added—posed that that question, criticizing the Deneuve letter. "As if it were a problem that our society tolerates sexist ideas just a tiny bit less than before, and the same for racist or homophobic ideas," they wrote. "Wow, it was so much better when we could treat women like well-behaved sluts," they added, mocking the tone of the Deneuve letter. "Are the pigs and their male and female allies worried?" they continued, referring to the calls to #BalanceTonPorc, or "rat out your pig," to speak out about abuse. "That's normal. Their world is changing. Very slowly. Too slowly. But inexorably. A few dusty remembrances won't change anything, even if they're published in Le Monde."
When they wrote "male and female allies," they used what's called "inclusive language," changing the genders and spelling of words to accommodate the feminine plural in compound nouns, where the default is normally masculine plural. A debate over inclusive language in France (and Spain) has been one of the odder, but most visible, offshoots of the current feminist moment. And it will not be tolerated! Last fall, the Académie Française, the ultimate authority on the French language, said inclusive language posed a "grave danger" to French, and would make a muddle of the written language. I personally side with the Académie on this one. I think you can be a good feminist without bogging down sentences. But I concede that language is culture, and language is power.
This week I spoke to a French friend who serves on the board of a French company. She said the board was in the process of recruiting a new C.E.O. My friend had been impressed with one candidate, a woman. But another person on the board, a man, said No, we can't hire her because we already have a woman in another management position, and besides, this potential hire doesn't have children, and women without children tend to be bitter, so she might squabble with the other woman in management. This is anecdotal. But it shows how deeply entrenched sexism is in France. And how it will take far more than inclusive language to change it.