Macron's War on 'Fake News'
The French president wants to ban the spread of misinformation during the country's election campaigns—but who will decide which news is fake?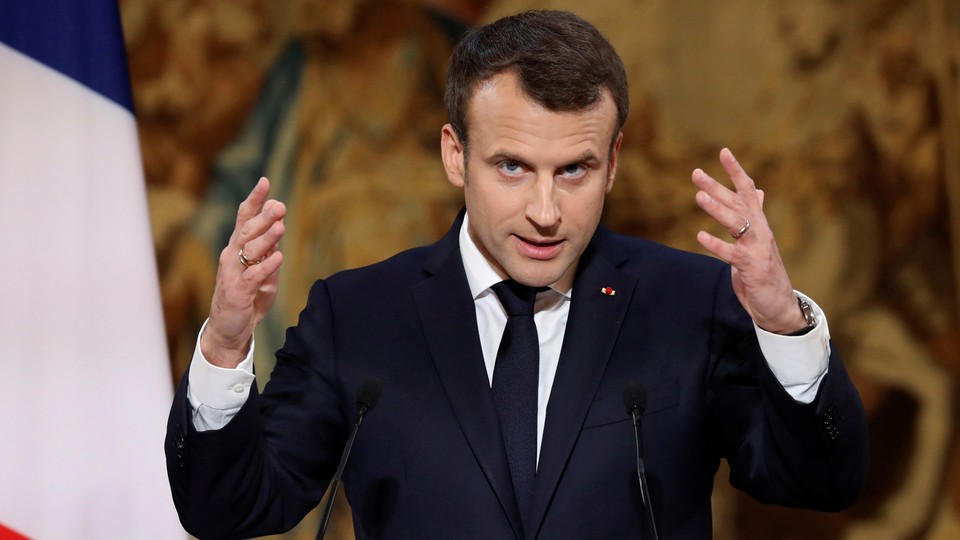 World leaders and information gatekeepers have struggled to determine how best to address the epidemic of "fake news." French President Emmanuel Macron joined the struggle this week, providing his own solution for how to curb the spread of misinformation online: Make it illegal.
In a Wednesday address to journalists at the Élysée Palace, the French president announced his plan to introduce legislation that would curb the spread of misinformation during the country's future election campaigns—a lofty goal he said would be made possible by enforcing more media transparency and blocking offending sites. "Thousands of propaganda accounts on social networks are spreading all over the world, in all languages, lies invented to tarnish political officials, personalities, public figures, journalists," Macron said, adding that "if we want to protect liberal democracies, we must have strong legislation."
Though the exact details of the proposed bill are not yet known, Macron said the law—which would apply only during campaigns—would boost transparency online by mandating that social media platforms must reveal who is paying for sponsored content, as well as impose a cap on how much can be spent. He said judges would be empowered to take down false content and even block access to websites where such content appears. The country's media watchdog, the CSA, would be given additional powers to "fight any destabilization attempt by television channels controlled or influenced by foreign states."
The issue is a personal one for Macron. As a presidential candidate last spring, Macron faced since-debunked rumors that he had a secret offshore bank account in the Caribbean. His campaign also suffered a "massive, coordinated" cyberattack just 48 hours before the final round of the French presidential election. The hack, which resulted in the release of tens of thousands of internal emails and documents, was linked to a group with ties to the Russian government, though Moscow denied involvement in the hack. It wasn't a denial Macron appeared to believe. During his first meeting with Russian President Vladimir Putin just two weeks into his term, Macron used a joint news conference to blast Russian media outlets Russia Today and Sputnik as "agents of influence and propaganda," which he accused of spreading "falsehoods about me and my campaign."
"The smears against him during the election didn't stop him [from] winning, but I think he wants to draw a red line and make sure it doesn't happen again," Rainbow Murray, a professor of politics at Queen Mary University in London, told me. "Despite concerns about freedom of expression, there's also an underlying legitimacy in saying that voters should not be misled by verifiably false information at election time."
France, like the United States and others, has laws that protect freedom of speech. In fact, Article 11 of the country's Declaration of Human and Civic Rights guarantees that all citizens "may speak, write, print freely, except what is tantamount to the abuse of this liberty in the cases determined by Law." Still, some critics fear the proposed law could represent a violation. Bruno Retailleau, a senior conservative senator, warned that "in a democracy, misinformation is better than state information," adding that "only authoritarian regimes claim to control the truth." Marine Le Pen, the leader of the far-right National Front and Macron's former presidential election opponent, called the proposal "very disturbing," adding: "Who will decide if the information is false?"
The issue resonates with people both within and beyond France. The country certainly wasn't the only one to battle the spread of misinformation during an important election campaign, and other countries, like Germany, have already pursued legislative efforts to combat the spread of false information. Still, vocalizing opposition to the proliferation of fake news is one thing—identifying it is another. It's for this very reason that the European Commission announced in November the creation of a high-level group to advise on policy decisions focused on countering the spread of false information online. "[Macron] sees fake news as really entrenching and further dividing society," Georgina Wright, a researcher with the European Programme at Chatham House, told me."But the reality is there is no clear definition of fake news—and there lies the complexity."
Some believe usage of the term "fake news" is itself problematic. Claire Wardle, the strategy and research director of First Draft News, a nonprofit research group, told CNN's Reliable Sources in November that the phrase "fake news" is a "woefully inadequate" way to describe the challenges of combatting false information that may be spread with or without harmful intent, arguing that it is instead "being used globally by politicians to describe information that they don't like."
World leaders and journalists aren't the only ones endeavoring to tackle the spread of misinformation. Social media platforms like Facebook and Twitter, where false information is often propagated, have announced their own plans for countering fake news. In October, Facebook began rolling out a transparency tool that will allow North America-based users to view the ads of any particular page running on Facebook, Instagram, and Messenger, regardless of whether or not that user is part of the ad's intended target audience. Twitter, on the other hand, has proposed that misinformation should be battled with the right information, arguing that users are at the forefront of challenging fake news. "Twitter's open and real-time nature is a powerful antidote to the spreading of all types of false information," the company said in a June statement, adding: "We, as a company, should not be the arbiter of truth. Journalists, experts, and engaged citizens Tweet side-by-side correcting and challenging public discourse in seconds."
Facebook and Twitter declined to comment on Macron's proposal.
Despite the legislation's early criticisms, there is little doubt about its ability to pass. Macron's ruling En Marche party enjoys a sizable majority in the National Assembly and could likely get the bill approved without opposition support. Macron is counting on this electoral calculus, according to Wright. "Macron's reform agenda for 2018 is incredibly ambitious and he probably sees this bill as one that could go through parliament more quickly," she said. "His government really needs to deliver reforms quickly if he is to show that France is indeed marching on and delivering change, so securing some sort of reform quickly will be key."