The Koreas' Olympic Unity Could Be Fleeting
How much do the Olympics matter in a nuclear crisis?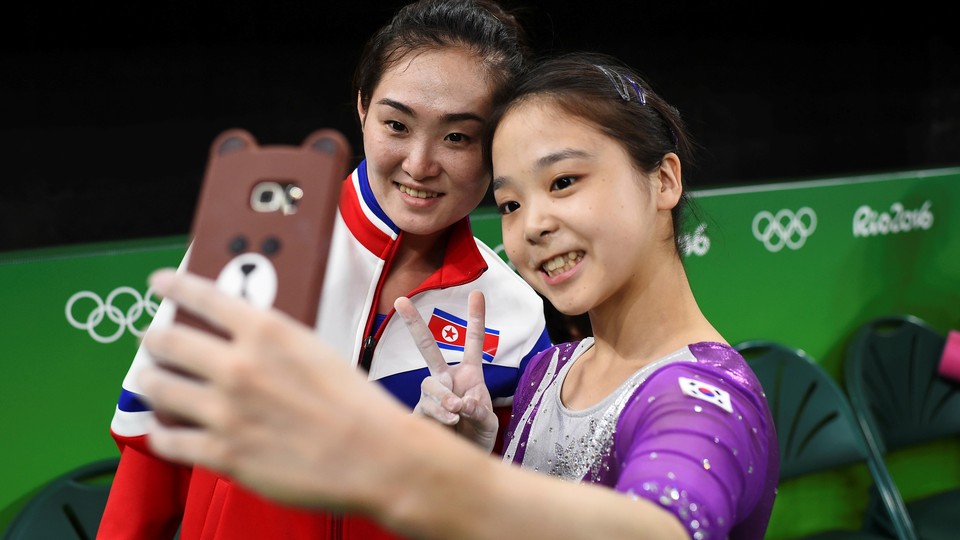 It looked like a breakthrough, and in a way it was. North and South Korea announced Wednesday they would not only march together under one flag at next month's Winter Olympics in South Korea's PyeongChang, but also, for the first time at the games, field a joint women's ice-hockey team. This announcement came after a year of high anxiety on the Korean peninsula, as North Korean leader Kim Jong Un has accelerated his testing of missiles and nuclear weapons, and presented a dramatic possibility of union between two countries, who share a small patch of land that both claim in its entirety, and who are still technically at war. But it says little about the prospects of a long-term rapprochement between Kim Jong Un's regime and the rest of the world.
We've seen some of this before: The two Koreas marched together under one flag at both the 2000 and 2004 Summer Games, as well as the 2006 Winter Games. But, as I wrote earlier this month, "those occasions were also hailed as historic breakthroughs, but Pyongyang and Seoul reverted afterward to their usual postures of mistrust, tension, and frequent reminders that the 1950-53 Korean War ended not in a peace treaty, but an armistice."
Wednesday's announcement, which came after the two sides agreed to meet this month in the border village of Panmunjom, could play out in many ways.
First, it could be purely symbolic, a propaganda effort by the North to buy goodwill in South Korea and the international community, where there is intense distrust of Pyongyang's intentions because of its past record of cheating on its international obligations regarding nuclear weapons and missiles. There are some signs that North Korea's neighbors and the United States believe this is the case. Axios reported Tuesday that H.R. McMaster, President Trump's national-security adviser, met secretly last weekend with Japanese and South Korean officials in San Francisco and "agreed that resumed communications by the North Koreans are diversions and don't have any effect on its determined pursuit of nuclear weapons." For the U.S. and its allies, in particular, getting rid of the North's nuclear-weapons program is the ultimate goal of any negotiations. For its part the North, its allies in China say, sees the weapons as its only credible deterrent against a U.S. attack.
Second, and not mutually exclusively, the announcement could help build confidence between the two Korean governments, as well as public confidence in the South over the North's intentions. There's precedent for this: The two countries fielded two joint teams—one male and one female—for the world table-tennis championship in 1991. The female team won gold, leading to emotional scenes in Chiba, Japan, where they defeated the Chinese. Athletes from both countries were cheered as they marched for the first time under their "unification flag" at the Sydney Olympics in 2000. A selfie taken by a South Korean athlete with one from North Korea went viral. But all these events occurred outside South Korea. The Winter Games are being held inside the country—and already plans for a joint hockey team have received a frosty reception among some in the South.
"The thing to be watching for at this moment is the South Korean response to the joint processional, because the joint processional brings into conflict the unified identity with the South Korean hosting identity around the Olympics," Scott Snyder, a senior fellow for Korea studies at the Council on Foreign Relations, said in an interview. "It'll be very interesting to see how South Korean people respond to that."
Third, it's possible the move could help repair relations between the two Koreas, but if the past is any indicator, such gains are typically tenuous. In the past, a change of government in South Korea has been enough to derail relations. Typically, more liberal governments, such as the current South Korean government headed by President Moon Jae In, engage with North Korea (he was elected last year on that very pledge). But when the more liberal governments give way to more conservative ones, dialogue is often frozen. Center-left presidents governed South Korea during both the 2000 and 2004 Olympics when the two Koreas marched under a single flag.
"The major factor [in a deterioration of relations] would be the shift in atmosphere around the inter-Korean relationship and, in particular, the transition to conservative rule in South Korea between 2008 and 2017," Snyder said.
North Korea's rhetoric and actions don't help, either. In 2014, it called South Korea's previous president, Park Geun Hye, a "crafty prostitute" for her diplomacy with the Obama administration; in 2010, it sank a South Korean naval vessel, killing 46 sailors, and in 2017 continued to test nuclear devices and long-range missile while claiming to be threatened by the South's joint military exercises with the U.S. Those drills have been postponed until April, well after the Winter Games are over. It's reasonable to expect their resumption could be paired with the missile launches and nuclear tests that are becoming the North's trademark. Because the announcements from the North and South cover only the games, there is less clarity on matters outside the realm of the Olympics.
"These agreements are so far only confined to Olympic participation and so we have not yet seen anything that further broadens the agenda," Snyder said. "Beyond that, some of them may potentially have impacts on public perception, but it's not clear it's going to translate into anything that's going to change the structure of confrontation around the peninsula at this stage."
Ultimately, even if Wednesday's announcement proves significant on the Korean peninsula, it may have little impact on international efforts to persuade Kim to renounce nuclear weapons. He not only views them as a deterrent, but sees the fate of Libya's Muammar Qaddafi and Iraq's Saddam Hussein as cautionary tales on why he should keep his weapons of mass destruction. None of these issues are being publicly addressed between the two Koreas, and it is uncertain if the U.S. will have an opportunity to bring them up, either. Snyder said that, in the absence of substantive diplomatic openings to address the broader tensions between the U.S. and North Korea, Wednesday's announcement looks more like a potential propaganda offensive designed to change the South Korean and international perception of North Korea. This, he said, is being achieved "without commensurate changes in the broader environment or without addressing the core issues that are bringing about increase in tensions between the U.S. and North Korea."