The Koreas Start Talking
And nuclear weapons aren't the only issue.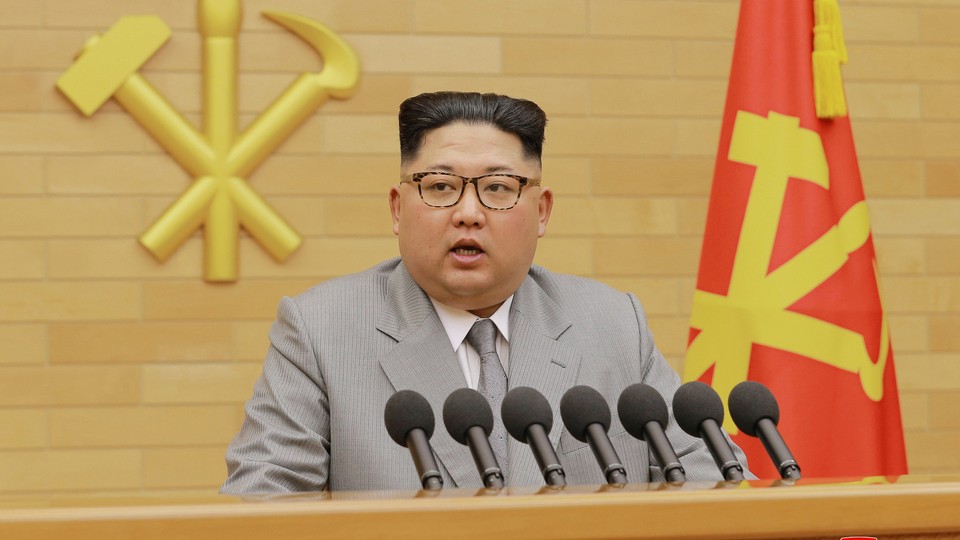 North and South Korean officials are meeting Tuesday for the first time in two years to discuss North Korea's participation in next month's Winter Olympics in the South.
Talks in the border village of Panmunjom will center on the games in PyeongChang, said Cho Myoung-gyon, the South Korean unification minister, on Monday. But he added: "When discussing inter-Korean relations, the government will seek to raise the issue of war-torn families and ways to ease military tensions." North Korea is going to be interested in sanctions relief, according to Scott Snyder, a senior fellow for Korea studies at the Council on Foreign Relations. The country is under a host of U.S. and UN sanctions for its illicit nuclear and missile programs.
Two weeks ago, such talks would have seemed unimaginable. Over the past year, tensions on the Korean Peninsula have risen over the North's ballistic-missile and nuclear-weapons programs. The North says its weapons programs are a deterrent against possible U.S. aggression and points to the joint military exercises between the U.S. and South Korea as evidence of Washington's intentions. The U.S. points out that its joint military exercises are legal under international law while North Korea's missile and nuclear-weapons programs are not.
Amid these tensions came an opening: In his New Year's Day speech, North Korean leader Kim Jong Un, while warning that "the entire United States is within range of our nuclear weapons," also offered the possibility of talks with South Korea—with an eye on next month's Winter Olympics. South Korean President Moon Jae In, who was elected last year on a promise to repair relations with the North, welcomed the remarks. It was, critics said, part of a classic North Korean strategy of trying to drive a wedge between Washington and Seoul.
"The real question, I think, is how much do we have to worry about that," Snyder said. "Of course, the North Koreans are going to try to divide the U.S. and South Korea. That's always been part of their playbook. ... [But] it's going to be challenging for the North Koreans to be able to pull that off."
Still, one hurdle remained for talks: the upcoming U.S.-South Korea military exercises that were scheduled to fall in the middle of the February 9-25 games. But on Friday, the two countries agreed to postpone the drills until April, well after the games end. Snyder said North Korea would likely seek a postponement of the joint drills at least until September, which is when it marks the 70th anniversary of its founding.
"I imagine that the North Koreans will make a pass at trying to push the exercises back further and the South Koreans will also want to talk about North Korean missile and nuclear testing," Snyder said.
This is the essence of the so-called freeze-for-freeze proposal put forth by North Korea and China; that is, Pyongyang freezes its testing and the U.S. and South Korea freeze their joint exercises. The U.S. has previously dismissed this proposal.
Snyder said that there could be one other area of direct or indirect conversation between the two Koreas: the opening of a dialogue channel with the United States. It's unclear what the U.S. position on this is. U.S. Secretary of State Rex Tillerson had previously appeared open to unconditional talks with the North, but was quickly reined in by the White House. But on Sunday, the president appeared to hew close to Tillerson's position.
"Depending on which official or which statement you draw from the Trump administration, that [talks with the U.S.] is either a plausible prospect or completely unbelievable," Snyder said. "But I think the South Koreans would probe that in any event because they have a direct interest in promoting tension-easing, and a big part of that is related to the U.S.-[North Korea] situation."
The problem with the Trump administration's mixed messaging, Snyder said, is it "extends across the entire range of possibilities" in U.S.-North Korea relations: "So you see how it's like a pendulum going back and forth between war and talks." Trump, he said, "really  flattens the probability curve with respect to potential outcomes with North Korea." Traditionally, he said, "we're used to a parabola where muddling through is the most likely scenario."
But "with Trump, if you're maximizing uncertainty, there's an equal possibility that you'll muddle through, fight a war, or sit down and make a deal. And nobody can really say until the last minute—like a reality TV show—which one it's actually going to be."
South Korean negotiators are likely mindful of their close alliance with the U.S. as well as their geographical and cultural proximity with their North Korean counterparts. They are likely to want to stage the dialogue in such a way that they talk about the Olympics on Tuesday and find ways to continue the dialogue with the North.
"It's a question of whether the North Koreans are going to be ready to bite on that," Snyder said. "At this point, I think, because of the limited focus of the talks ... I think there will be efforts to lengthen the process."
That brings up the question of the joint U.S.-South Korean exercises in April. Come April, Snyder said, everybody could pick up where they left off: The U.S. and South Korea resume military exercises and the North Koreans resume testing.
"The real challenge, I think, for Moon and company in South Korea is to provide a convincing rationale for Kim at this moment where he is actually talking to someone outside of North Korea to stay on the hook in terms of dialogue," he said. "Obviously, it's an essential prerequisite for addressing and easing tensions—there has to be a dialogue channel. That's what they will want. It's actually what everybody, collectively, can support—and yet I'm still pessimistic about the prospect."