The Precarious Politics of the Joint Korean Hockey Team
It's an unprecedented diplomatic breakthrough. But how can two rival nations build teamwork?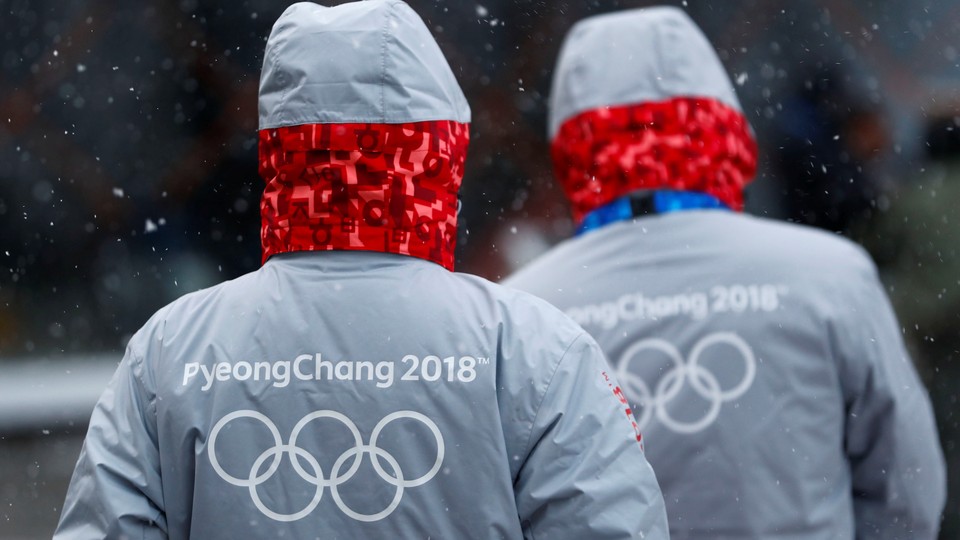 On January 9, roughly 30 years after North Korea bombed a Korean Air passenger plane in protest of the 1988 Seoul Olympics, Seoul and Pyongyang announced a stunning diplomatic breakthrough: North Korea would send athletes and performers to participate in the Winter Olympics, which begin on February 9 in Pyeongchang, South Korea. Then, 11 days later, the International Olympics Committee approved an ambitious proposal from South Korea: the formation of a joint women's ice hockey team with North Korea. The team, which will be created by adding 12 North Korean players to the South Korean roster, would be the first of its kind to compete in an Olympic event.
Seoul pitched the plan as a way to ease long-standing political and military tensions on the peninsula, even going so far as to bill the upcoming games the "Peace Olympics." Kim Kyung Sung, head of the government-affiliated South and North Korean Sports Exchange Association, said "[t]he significance of the two nations that share a bloodline playing together on a single team cannot be overstated." The merging of the teams, he said, "would be a natural way for them to move from a relationship of conflict to one of dialogue."
Yet with the Olympics less than a month away, many South Koreans have said that the groundbreaking plan would undermine the spirit of fair competition, partly at the expense of the South Korean players, who might find themselves fighting for playing time. Others countries, like Switzerland, have argued that the joint team would enjoy unfair advantages over the competition.
The joint team also poses something of a diplomatic quagmire. In return for their peaceful participation, North Korea may demand something from South Korea in return—cash, or the resumption of profitable economic cooperation programs shut down in response to its missile tests. Such deal-making "could give the impression that South Korea is deviating from its campaign of pressure and sanctions on North Korea," Kim Sung Han, a former senior South Korean diplomat in the conservative Lee Myung Bak administration, told me. An atmosphere of reconciliation could undermine the U.S.-South Korea alliance by making Washington "jealous," which might then give North Korea greater leverage for its ultimate aim: formal recognition as a nuclear power.
All in all, the joint team could put South Korea on precarious political footing. While sports can act as a diplomatic catalyst, "they cannot alter the fundamental political calculus," Kim Sung Han, the former senior South Korean diplomat, said. "The best-case scenario would be this leading to high-level summit talks ... multilateral dialogue for the denuclearization of North Korea. But I'm pessimistic." Kim and others in the diplomatic community believe that Pyongyang would try to use this opportunity to coax concessions out of Seoul, or to pressure the United States and South Korea to stall or cancel their upcoming joint military exercises.
For the South Korean team, the proposal came as an infuriating shock. "They're all thinking, 'these politicians are trying to make history while they're in office, but why do they have to try to make history with this?'" former women's national ice hockey player Hwangbo Young told me. A former North Korean women's national ice hockey team player who defected to the South in 1999, Hwangbo later represented South Korea at the 2003 Winter Asian Games in Japan, where she was shunned by her former teammates. "The South Korean players won't be feeling very accepting of the North Korean players," Hwangbo said. "This is going to backfire horribly."
Why did South Korea choose women's hockey for its Olympics experiment? The obvious reason is that the skill gap between the women's ice hockey teams is relatively small—South Korea and North Korea are ranked 22nd and 25th, respectively. Neither is in serious medal contention. After taking flak for voicing this opinion publicly, South Korea Prime Minister Lee Nak Yeon issued an apology. "It's because they don't take women's ice hockey seriously," Hwangbo said.
The plan is as beleaguered as it is ambitious. The joint team will have less than a month to train together. Adding North Korean players to the roster could complicate the usual offensive lineup and defensive rotations, not to mention the individual players' ability to sync up with one another. "[Building teamwork] is not going to be easy," Lim Jin Young, a former player who retired from the women's national ice hockey team late last year, told me. "With the expanded roster, there could also be a situation where some of the South Korean players will be unable to even put on their uniforms," she added. Although the joint team roster was set at 35 players to accommodate the North Koreans, the team will still only be able to play 23 players in each match, opening up the possibility that some might be unable to even suit up for some of the games.
Of course, with tensions on the Korean peninsula still high, there's far more at stake here than the game itself. In a recent visit to the team's training facilities, Moon Jae In, the president of South Korea,  said that "fielding a joint team, more so than North Korea's participation alone, would be a much better starting point for the improvement of North and South Korean relations." Moon seemed to be alluding to "ping pong diplomacy," which facilitated the normalization of U.S.-China relations after the United States sent a delegation of table-tennis players to Beijing in 1971 for a series of friendly matches.
While a joint team at the Olympics is a first for North and South Korea, this sort of sports diplomacy between the countries has, in the past, signaled periods of detente. In April 1991, the two countries combined both their men and women's table-tennis teams to compete in the World Table Tennis Championships in Chiba, Japan. A joint youth-soccer team at the FIFA Championship in Portugal followed in June. The two countries have also marched together under a blue-and-white "unification flag" at the Sydney Olympics in 2000 or the Asian Games in Busan in 2002. The flag will reportedly make an appearance at the upcoming Winter Olympics.
Olympic politicking aside, how well the North Korean and South Korean players work together will ultimately be a defining feature of the joint team's legacy—and a compelling test of Olympic ideals, which also include "a spirit of friendship [and] solidarity."
Former men's national hockey team coach Kim Sam Duk faced off against North Korea in the very first Asian Winter Games in 1986 as a player. This was only months after North Korea had unilaterally suspended dialogue with the South over the 1986 Team Spirit joint military exercises with the United States. "We really felt a sense of brotherhood when we played against each other—the North Koreans even more than us," Kim said. "We played with everything we had to win, but when one of our players would fall over, they would come over and ask us 'are you okay?' and offer encouragement. That was the first time I felt a sense of national kinship with North Koreans."
One of the players that Kim befriended afterwards was current North Korean women's national ice hockey team coach Ri Won Son, with the two later crossing paths at international events as coaches. "We would meet up after games just to talk and share good food," he said. "Between them and us, politics is just politics. Player to player, or coach to coach, there really is a shared feeling of warmth and solidarity," Kim said. "Maybe our players will experience something similar."
How much the historic joint team affirms the themes of peace and dialogue will set the tone for what's to come.