A Deadly Election Season in Kenya
The killings suggest a state that is now more predator than protector.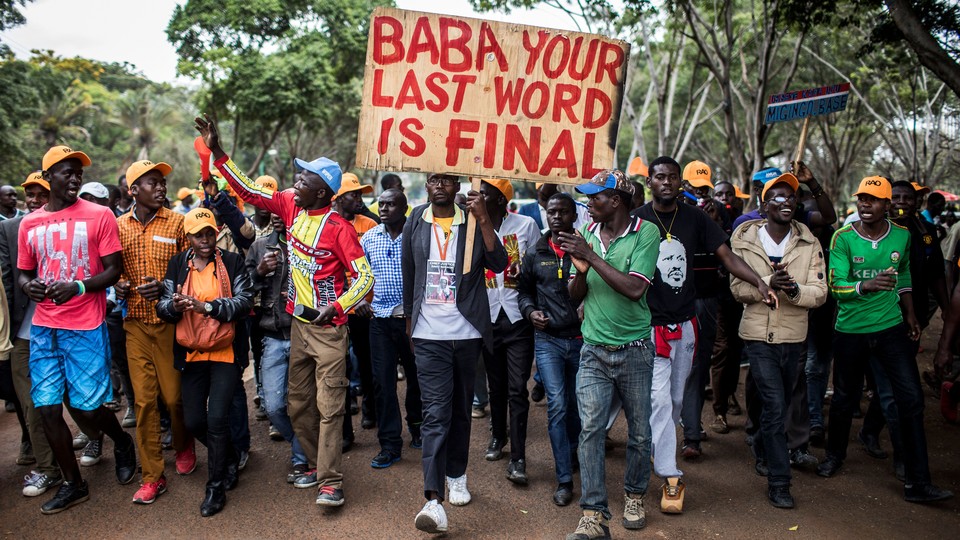 NAIROBI—Two days after her husband was shot in the head on a soggy October afternoon, Dorothy Achieng sat on a wood-framed sofa cradling their one-year-old daughter Maya. Around her sat a dozen friends and relatives, quietly commiserating. In front of her, two photographs of her handsome husband lay on a knee-high wooden table; in each picture, he's posing and smiling directly at the camera.
Thirty-year-old Paul Omina was killed in the poor, crowded Nairobi neighborhood of Mathare late last year as an extended, disputed, and sometimes violent election season drew to a close. That witnesses said he was shot by the police came as no surprise to virtually everyone I met in the neighborhood. For them, such brutality is rendered mundane by its ubiquity—there are well over one hundred extra-judicial killings recorded in Kenya each year, and even more in election years. But each statistic is its own tragedy.
Achieng, Maya, and seven-year-old Stephane, her other daughter, shared a single cramped room on an upper floor of dark building with uneven stairs rising through unlit stairwells. The apartment block sits above a pharmacy and hair salon, next to a broken road with clogged gutters leading to the filthy Mathare River, which gives the slum its name. Sandals and flip flops belonging to friends and neighbors piled up outside Achieng's doorway. "I don't know what is going to happen," Achieng whispered. "I don't know where to start, or even how to start."
Omina is one of at least 92 people—most of them young male supporters of the political opposition, allegedly shot by police in the head or chest—who died during Kenya's protracted and divisive election season. The election killings revealed the harrowing reality of Kenyan politics, an elite game in which the players are rarely victims. They also laid plain the impunity of the Kenyan police, which often behaves as if it is above the law it is paid to enforce. The killings suggest a state that is now more predator than protector.
"Paul was not so much into politics. He just wanted to vote for Baba, that's all," Achieng said, using a popular nickname for opposition candidate Raila Odinga. During the first attempt at the presidential election on August 8, Omina voted for Odinga. Incumbent President Uhuru Kenyatta won with 54 percent of the vote, but Odinga claimed fraud and went to court, winning an annulment and rerun of the poll. The new election was set for October 26, but Odinga declared a boycott just days before. His supporters mostly stayed home, and Kenyatta won again, with 98 percent of the vote, though turnout was only 39 percent.
The repeat election day saw a tense standoff with police at Mathare North Primary School, a polling station, where opposition protesters who heeded the call for a boycott were disrupting the vote. Rocks flew and tear gas was fired. Some who dared vote were identified by their inked finger and smacked about by the mob.
Police violence that day was casual, conspicuous, and predictable: A small group of young men would gather; someone would set a tire alight; stones would be thrown, and the police would respond with tear gas and a baton charge. As the protesters ducked down alleys, the officers would give chase, often shooting as they ran. Eventually the cops would re-emerge, hauling a young man behind them. The suspect would be flung into a police truck and officers would take turns whacking him with sticks, the beating accompanied by a creaking of the truck on its axles and stifled moans from the prisoner. None of this was hidden.
Omina and three friends, all Odinga fans, stood outside the school in the drizzle, but claim not to have been demonstrating. "We just wanted to see what was going on," Erick, 23, who accompanied Omina, told me. The story of what followed, recounted by Erick, was corroborated by rights researchers, Omina's relatives and others.
Omina was well-known at the school. He worked on a charity-supported allotment carved out of the school grounds by the river's edge. There, he grew tomatoes, collard greens (known locally as sukuma wiki), and pumpkins for the school and for sale in the nearby market. The school's 52-year-old headmaster, Jackson Monayo, knew the vote would be a flashpoint. In 2008, he had watched violence tear through Mathare North in Kenya's worst-ever post-election upheaval, which left over 1,100 people dead. In August of this year, one of his pupils, nine-year-old Stephanie Moraa, was shot dead by police as she watched street riots from the balcony of her parent's apartment.
Monayo remembered Omina fondly saying the allotment project, aimed at keeping idle young men out of trouble, had been good for him. "He was a changed man. He focused on the garden, not on the streets outside."
When police broke up the crowd at the school, Omina ran with his friends. They went around the corner, up a gentle incline, and towards home, pursued by cops. At a tee-junction a few-hundred meters away, they found Huruma Road empty, its wooden stalls abandoned, doors shut, and stoops empty. "When we reached the junction the police started shooting at us," Erick said with some hesitation (Fearing the police might come after him too, he declined to give his full name.)
The friends scrambled through an open downstairs door, slamming it behind them as a half-dozen gunshots cracked outside. But Omina was no longer with them. Erick peered through a gap between the metal door and its frame and saw his friend lying face down in the mud, his dark hoody flopped over his shaved head. "Omina, anuka! Omina, kuja!" he called out in Swahili: Get up! Come here! Omina didn't move.
The police moved towards Omina's motionless body. Erick watched through the crack in the door as they barely glanced at the prone body before turning up another alley and leaving. The silence that followed the gunfire was broken as people emerged. "They began screaming and came to carry him," Erick said. Someone rolled Omina onto his back, revealing a bloody puncture in his forehead above his right eye. Then he was lifted and carried across the street to a small medical clinic, where he was laid on a metal bed with a plastic-covered mattress. Erick said he was breathing then, but stopped soon after.
Achieng received a phone call from someone at the clinic a few minutes later. As she rushed there in a panic, she was uncertain of Omina's whereabouts. The huddle of his friends outside the clinic was a warning, the screams of "Wamemwua!"—they have killed him—the confirmation.
Achieng pushed through the crowd. She saw her dead husband, his t-shirt hoisted up to his chest, a mess of bloodied clothes around him, and a wad of cotton wool sticking from a neat wound in his head; she fainted. Although three others died violently in Kenya on that October 26 election day, Omina was the only one killed in Nairobi.
The Independent Medico-Legal Unit (IMLU), a Kenyan group that tracks illegal killings and torture and carries out autopsies on victims, said in a report soon after the rerun that police used "excessive and indiscriminate force including lethal force … especially in areas where opposition supporters heeded their leaders' call for a boycott." IMLU said police shot 34 people, killing 13 of them, between October 25 and 28 alone.
George Kinoti, then a spokesman for the national police, sought to counter IMLU's "sensational reporting" and defend officers' actions. In a brief statement, Kinoti claimed just two people died in Nairobi—one shot while carrying "a Somali sword," the other burned by a mob, he said. He did not include Omina in the tally and police said they have no record of Omina's death, and deny any responsibility for it.
A subsequent report from the Kenya National Commission on Human Rights (KNCHR) released on December 20 put the final death toll from 2017's election-related violence at 92. The actual number could be higher still, according to other rights researchers.
Like many Odinga supporters, Omina was a member of the Luo tribe from western Kenya. Justus Nyang'aya said police "profiled" opposition demonstrators, singling them out for "punitive policing." On social media, the hashtag #LuoLivesMatter has been used, taking inspiration from the America's Black Lives Matter movement.
Nyang'aya's researchers have investigated many of the election killings, including Omina's. Omina's case "falls bang in the middle of how policing should not be done," he said. "This particular young man could have been part of the demonstration, but where he was shot is not where the demonstration was happening. Police were chasing people, and it is only the police who had guns in that area and were shooting," he said.
When they saw Omina's body, splayed in the mud, he said, "they did not stop, they did not try to find out what had happened, if indeed they were not responsible. Instead they walked majestically away," he said.  "I really don't have any hope there will be justice."